---
The Southside Brides
---
(and Grooms)
In the following stories you will meet three couples. These couples have never met and all come from different backgrounds. Each story is as unique as the people in it, but there is one thing they all have in common. They all have ties to Southside Virginia and are getting married here this year. Celebrate with them as you read their stories, from first meetings, through first dates, to the planning of their upcoming weddings.
---
Bride:
Lindsay Jackson
Age: 25
Occupation: Social Worker - Chesterfield Center
From: Chase City, VA

Groom:
Ryan Britt
Age: 25
Occupation: Mail Carrier - US Postal Service
From Brunswick County, VA

Wedding Date: October 8, 2011
---
Lindsay Jackson was beginning her third year at Longwood University when Ryan transferred in to continue his studies there. Small worlds being what they are, Lindsay's roommate had gone to high school with Ryan and so when she was introducing Lindsay to a group of her friends, Ryan was among them.
Lindsay and Ryan hit it off right away and became friends. Lindsay said they hung around together with a group of friends at first and eventually decided to date. Their first date was a trip to see the movie The Exorcism of Emily Rose, which Lindsay says, "was an awful movie but a very good date."
After their first date in October, 2005, Lindsay and Ryan dated until October of 2009 when they went to Virginia Beach for a romantic get-away. Unbeknownst to Lindsay, Ryan had conspired with some friends to sneak in ahead and decorate the room. When they arrived, they found the room completely decorated with their favorite colors and even included monogrammed towels and wine glasses. Streamers and rose petals completed the motif. For all the wonderful decorations, one thing caught Lindsay's attention the most. On the wall was a sign asking, "Will you marry me?"
After Lindsay said yes to his romantic proposal, Ryan took her by the hand and led her out on the ocean-front balcony where a further surprise awaited. As they looked out on the boardwalk, they were cheered by a dozen friends who had come to celebrate with them and wish them a happy future.
After their return from Virginia Beach, wedding plans started to take shape. With Ryan's proposal being on the anniversary of their first date, Lindsay and Ryan wanted an October wedding date to celebrate the anniversary of their engagement.
Looking for an outdoor venue, they decided on MacCallum More Museum and Gardens, in Chase City. This choice of venue also provides a bit of nostalgia for Lindsay, whose grandmother worked at MacCallum More about ten years ago.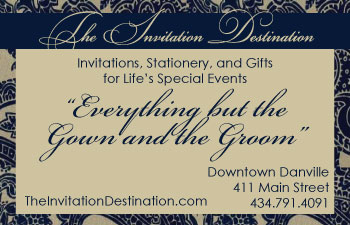 With numerous family and friends coming for the wedding, they felt the garden setting at MacCallum More would work well and be something many had not seen and would be sure to enjoy. The wedding colors, green, brown and pink are favorites, and will go well with the fall gardens.
Lindsay has had a lot of help and support while planning the wedding and reception. She told us that her maid of honor, a best friend since kindergarten, has been with her every step of the way. Her bridesmaids have been involved in picking out dresses and have helped in other ways, as well.
The wedding itself will be what Lindsay referred to as, "semi-traditional." With so many friends, the couple will be well attended. For the traditional ceremony, the wedding party will consist of six bridesmaids, six groomsmen and four ushers. Following the ceremony at the gardens, the celebration will move to the nearby Mecklenburg Country Club for the reception.
There are a few less traditional elements being planned or considered. In lieu of a conventional wedding cake, the couple has discussed having a cupcake tower. A photographer is planned, but they are thinking of adding a photo booth. They feel a photo booth will make for a fun scrapbook and contribute meaningful party favors for the guests. To relieve some of the stress for "the day of" activities, employing a mistress of ceremonies is one of the services they have considered.
Lindsay says they are paying for most of the wedding themselves, so for the young couple cost is important. Although they didn't set an overall budget, they did set budgets for various items or services. Through careful shopping, Lindsay and Ryan are balancing quality and service with price to get the most out their choices. Although plans were not final as of the time we spoke to Lindsay, they hope to go to either the Caribbean or the Dominican Republic for a honeymoon to start their life together.
---
Bride:
Rita Dixon
Age: 39
Occupation: Corrections, Jail Sergeant
From Clover, VA

Groom:
Richard Osborne
Age 43
Occupation: Construction
From Modesto CA & Birmingham, AL

Wedding Date - May, 2011
---
Our interview with Rita Dixon and Richard Osborne was a bit interesting. We met with Rita at a local fast food restaurant. Once we got set to talk, Rita called Richard on the cellphone and we had a teleconference via Blackberry. This method of conversation proved to be interesting. We learned in short order that Richard is a bit of a joker, and a few times during the conversation, Rita put on her stern voice and threatened to cut him off at the phone line if he didn't straighten up.
Rita and Richard may have been fated to meet, but their lives had to cross paths a couple of times before they actually met in person. Both Rita and Richard have a military background and served in the US Navy, but never served together. It wasn't until one day, some years later, that a chance meeting brought them together.
Richard works as a millwright and combination weldor in heavy construction. At the time they met, he was living in Hampton, but working in Richmond.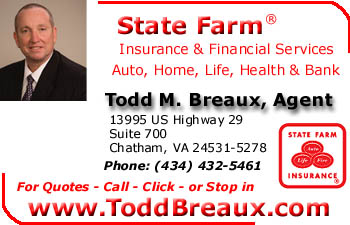 On this same day, Rita, who is from Clover, was shopping in Richmond. Both found themselves in Wal-Mart that day. Rita, who admits she has a thing for office supplies, and pens in particular, was in the stationery section. The occupational hazard of welding, Richard had recently destroyed the last of his workshirts and was headed for the men's department to find some replacements. As he passed by the stationery section, he saw Rita and decided instantly he had to meet her. Although we are still unclear on what line he used to strike up a conversation, we are betting it would have been something guaranteed to get a laugh. After chatting a few minutes, Richard found out Rita worked in corrections, and told her, "You can just go ahead arrest me now and plan to keep me." It looks like Rita took him at his word, because Rita says, "Now we are a team." and it looks like she plans to keep him, as a May, 2001 wedding is planned.

With the two living so far apart, their first date required a little traveling. They arranged to meet at Burger King in Lynchburg. This location was picked for its central location and the assumption it would be easy for both to find. Rita was able to find it on the first try, but it seems Richard got lost on the way and wound up with an eight-hour round trip. The long trip did nothing to deter him. He said, "I would have gone to Timbuktu to meet her."

We weren't quite sure how to take Richard at times. He told us after dating a while, he got her an "Act Right Ring" from Henebry's Jewelers. "I gave her the ring, and told her if she wants to act right, she can keep it and we would get married." We think maybe it is Richard who is "Acting right" as Rita still has the ring and they are moving forward with wedding plans.

The couple is working together with family and friends to put together a medium-sized traditional wedding. Rita's friend, Stephanie, has been especially helpful. The wedding will be in a local church where Rita is a member. Rita told us her father is a deacon and the church family roots are important to her. Due to the expected number of family and friends, the reception will be held at a different, larger chuch where they also have family ties.

As a sign of the times, Rita and Richard are doing a lot of the wedding themselves to keep the costs within a budget.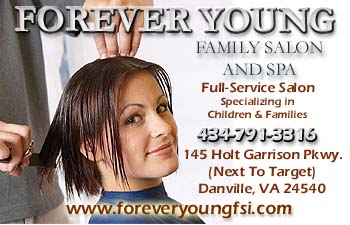 She told us they started with a budget in mind and now are just trying to shop carefully and keep things affordable while still having the details which are most important to them. One example of careful shopping and planning was what Rita called semi-DIY invitations. She found a source for nice invitations with blank areas to be printed. She is then having Benton Thomas, a local office supply and print shop, print the personalized parts of the invitations. A local stylist and photographer will also help keep within the budget.

One of the most touching parts of the entire story has to do with her wedding dress. Not one to go in for elaborate trappings, Rita had originally planned on a simple church suit for the wedding. Rita and her mother went looking for a wedding suit at a local gown shop, Timeless Traditions in South Boston. While looking over the choices, Rita's mother convinced her to "at least try on a gown." When Rita tried on the gown and looked in the mirror, she choked up and said, "Now I really feel like a bride." The choice was made. Rita will be wearing a gown and a smile all the way to the altar.

Offering suggestions to future brides, Rita gave us a few thoughts to share during the planning stage. Take your time, shop well and think things through. Watch the movie "Bridezilla" and then don't become one. Finally, start early and don't wait until the last minute.

The theme for the wedding is "Two Hearts" and the colors are red, black and ivory. In true Southside tradition, NASCAR is never far removed from plans. They told us these colors were also Tony Stewart's colors.

There was some debate as to how much the groom is "helping" with the wedding. He is charge of getting the cake and paying for the photographer, but keeps threatening to add to the theme with a Burger King crown as a reminder of their first date.

The bride's family has already accepted the groom-to-be as one of them. Richard says he is closer to Rita's mother and father in some ways than to his own.

Rita's entourage for the wedding will be her sister-in-law, Deborah Dixon, as maid of honor, with best friend Angela and cousin Katrina, as bridesmaids. As Richard is waiting for Rita's father to walk her down the aisle, he will be in company with his best man Willie and two groomsmen. One of the groomsmen is Rita's brother, Calvin, and the other is a friend, Sam. Richard's six-year-old daughter from a previous marriage will be acting as flower girl.

After the wedding, a honeymoon trip to Virginia Beach is tentatively being planned.
---
Bride:
Rebecca Raab
Age: 27
Occupation: Granville City Schools
From: South Boston, VA

Groom:
Lee Sandstead
Age: 38
Occupation: Art Historian
From: Tennessee

Wedding Date: June 18, 2011
---
The adventure of a lifetime or a lifetime of adventure? That may be the question for Rebecca Raab and Lee Sandstead as they begin the adventure of marriage this year.
Rebecca, born and raised in South Boston, has been to other places and back again. Lee, originally from Tennessee, has lived all over (including a few years in New York City) and has come to call Southside Virginia home. Working as an art historian and educator, Lee came to Southside in 2006 to work with a fledgling academic institution, fell in love with the area and decided to stay.
Having known of each other through mutual friends, Lee and Rebecca were aware of several common interests. Both were avid kayakers and runners. Lee had seen Rebecca running in and around South Boston and she knew he had a kayak and liked to get out on the river.
Looking for someone with whom to go kayaking, Rebecca took the initiative and asked Lee if he would be interested in a day trip on the river. They hit it off and spent five hours on the river, followed by refreshments at her father's house. After drinks, they realized they were both starved from all the fresh air and activity and prolonged the day with dinner at a local restaurant.
After this long first date, it was obvious there was something between them. Rebecca says she didn't have a chance to ponder the question "Will he call?" as it was only three hours before Lee called and asked to see her again the next day.
One of the things the new couple learned early on was of their shared dream to hike the Camino in Europe. In short order, they decided they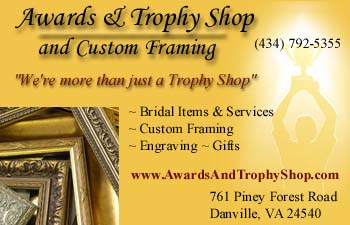 "had to stay together for a year to make the trip." As their travel plans became more serious, they began walking long distances around Southside Virginia in preparation for the nearly 600 miles of the pilgrimage. Over the weeks ahead, Rebecca and Lee hiked all over Southside. Rebecca said that even though she had lived here much of her life, she had never seen it as she did then. She told us, "I fell back in love with the area, after seeing it through Lee's eyes, like it was new."
Dreams became plans and plans became reality, and a year later Lee and Rebecca found themselves hiking the Camino from the Pyrenees Mountains in France to Santiago, Spain.
On the anniversary of their first date, the fourth day of their journey became the first day of their engagement when Lee asked Rebecca to marry him. With so many days spent walking together on the trail, they had plenty of time to plan their wedding and their future together. Along the way, they found themselves captivated by the culture, the food and the colours of the region. By the time they returned home, they had already decided many things, especially the theme of their wedding.
The Raab-Sandstead wedding will incorporate many aspects of their lives and passions. Rebecca's family owns property on the Banister River, which ties in with their first date on that same river. The casual outdoor theme runs true to the couple's love of the outdoors. With the river as a backdrop, they will use poppies and other wildflowers to mimic the colours of the Camino. Spanish beer, wine and shellfish will be on the menu. Friends they met on their trip have stayed in touch and suggested additional theme elements, including the scalloped shells which are symbolic of the Camino. The most significant influence, they said, is the landscape, which they will always tresure.
Rebecca's parents have been very enthusiastic about the wedding, going out of their way to do some remodeling and even erect a pavillion as an outdoor venue for the event. Rebecca said her mother "is a great party and event planner and has really been amazing in planning for the wedding."
Rebecca said she is not the typical bride. "I have never really looked at bride's magazines. I don't feel like you have to get caught up in all the things you are 'supposed to have' for your wedding." As they plan the wedding, they are trying to be conservative in their budget. Her dress is an example of this practice. Rather than spend a lot of money on a custom gown, Rebecca found a 25% off coupon for a dress which she bought online, then customized and embellished to fit her style. She offered some additional suggestions for brides planning a wedding. Make it meaningful to you. Think about what you like and don't get caught up in fads. Involve your fiance in the plans! "I even had Lee look at the dress before I bought it."
One big reason the couple is being conservative with wedding expenses is to save for their next great adventure. For their honeymoon, they are headed back to the Camino with plans to hike another 700 mile section of the route. For this couple, life is an adventure in more ways than one.
---
We want to thank the couples for the time to tell us about their stories and for letting us share this special part of their lives. We wish them all the very best.