---
Come Home to
a Franklin County Christmas
---
Story and photos
By Amy Hanek
On December 5th, Franklin County asked residents and visitors to Come Home to a Franklin County Christmas. This annual celebration has grown bigger and better every year and promises a lot of free fun to kids of all ages.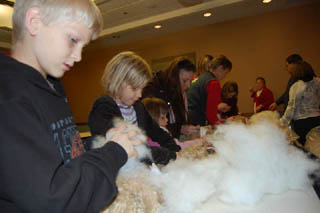 Last year, the Franklin County Parks and Recreation Department sponsored a free build your own bear event and weren't prepared for the onslaught of children. Set up inside the Chamber of Commerce building the line for free bears led outside and around the building. I know. I stood in that line with my three kids last year. And we were extremely disappointed when we were turned away fifteen minutes later. The frenzied volunteers had run out of bears. We were also very cold.
This year, the parks and recreation department really stepped up to the plate, offering more bears and a larger venue. Located inside the new Franklin Center behind the library, the line stayed inside, giving us a chance to warm up. And there might have been a few kids without bears at the end of the night, but not nearly as many.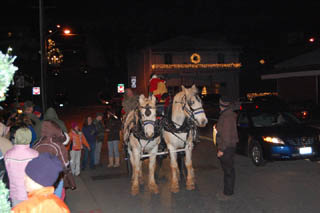 Also located in the Franklin Center was the big man himself - Santa. And every child visiting this jolly old fellow received a balloon animal.
Pony rides were given in front of the Franklin Center and horse and carriage rides took families up and down Franklin Street. A new ride was offered to smaller children behind the farmers market. The sign painted on the side of the train read, "Fuzz's Trackless Train." My kids didn't ride this train, but many did and it looked like a blast.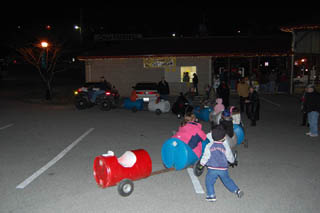 Funnel cakes, hot dogs, hot chocolate, Christmas cookies and cakes were all in high supply too. And rest assured, with temperatures dropping into the thirties that night, chilidogs and funnel cakes couldn't have tasted better.
With a fa-la-la-la in the air, many school choirs took turns performing at the farmers market. Local artisans sold homemade hats, scarves, blankets and bags and Christmas trees were for sale, making this location a one-stop shopping experience for patrons preparing for the season.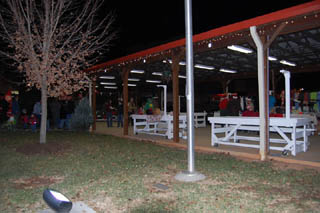 The highlight of the night had to be the infamous Wright Kids performance in the library. Drawing a very large crowd, this local children's musical group may be remembered by many as contestants in the last season of "America's Got Talent."
Driving home around 8 pm, my kids were warm and happy. Full of cookies and hot cocoa, they each hugged their new stuffed bears tight. And I have a feeling that this Christmas will be very good one.
__________
Amy Hanek lives near Smith Mountain Lake with her husband, three kids, and two cats.
An experienced freelance writer, her articles appear in area publications including "Prime Living ". Her column "Just Add Water" runs in the the "Laker Weekly".
Amy is also working on a regional ghost book covering the areas of Lynchburg, Roanoke and Blacksburg. It is expected out by the end of 2009. Schiffer publishing is the publisher.
You can read more of her stories at
www.houseonthegladehill.blogspot.com
__________

E-Mail amyh@discoversouthside.com
__________