---
Skateboarding in Southside
---
An Eye Opening Experience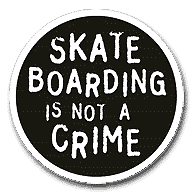 "Skateboarding is not a crime."
The rallying cry of Skateboarders everywhere.
I had seen it on bumper stickers or signs, and heard it as a cliché, but never really given it much thought. Also, like most people, my exposure to Skateboarding was limited to seeing teens and pre-teens scooting around parking lots and malls with their boards.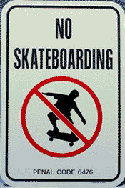 I had also heard occasional grumbling from storeowners worried about the kids on boards getting hurt, or causing trouble. But to be fair and honest, I had not seen much of either actually happening.
What I don't know about Skateboarding could fill a book, or three. So when a new Skateboard shop opened up in Danville and told us about a Skateboard competition, it sounded like something interesting to go see.
On Friday November 21, the City of Danville and New Earth Skateboard & Clothing Co. co-sponsored the First Annual Fall Skate Festival.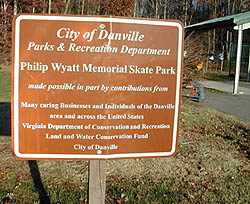 The Skate Competition was held at the Phillip Wyatt Memorial Skate Park in Dan Daniels Park, in Danville.
We arrived at the competition early to find many skaters already there practicing. Talking with some of the older kids on the way in was only the beginning of an eye opening. They were friendly and well spoken, and only too willing to talk about the sport, which had brought them to the park. They said the Phillip Wyatt Memorial Skate Park was one of very few public parks anywhere nearby. The other parks where they sometimes went were as far away as Virginia Beach, Lynchburg, or Roanoke in Virginia; or Eden and Durham, North Carolina.
Well before the competition started, the bleachers were filling with parents and friends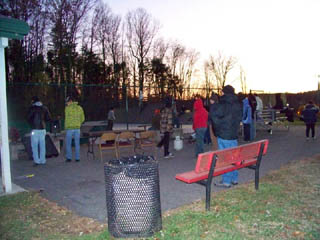 who had come to watch and cheer. These folks braving the cold were just as excited as any other group of fans waiting for a football game to start.
While waiting for the competition to start, we had a chance to speak to the sponsors and some of the parents.
Jason Bookheimer from the City of Danville was busy setting up spotlights and attending to a dozen other details, yet was still good enough to take a few minutes to tell us about the event, and future plans. Jason said, they had been working with Shane and Heather Bagbey, the owners of New Earth Skateboard,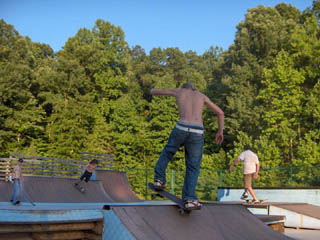 for about three months to put the event together. "This is the first time in a couple years there has been an organized event at the park." said Bookheimer. "We have a lot of local kids into Skateboarding. It is good to see a local business support it." He also told us they hope to do events in the spring and fall from now on.
While Jason went back to work, the crew from New Earth Skate Board was busy hauling in charcoal, grills, awards and food for the participants. Talking with the Bagbeys and their staff we were told they expected anywhere from 20 to 50 entrants, based on pre-registration and past events. They were very pleased to see the turnout already building to that level. Shane and Heather said events like this were one of the reasons they decided to open a Skateboard shop in the area. "It gives the kids something healthy to do, and a chance for us to interact with them, and do something for the community."
In the bleachers we spoke to some of the parents and found them to be very informative. Roxanne Sutterlin of Danville said, the park is within walking distance for her 15 year old son, Mike.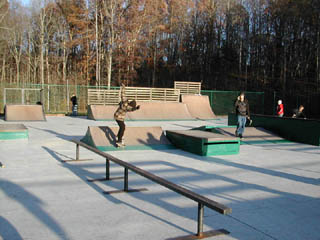 She is glad the park is available to the kids. "All the kids look out for each other here." she said. "I just wish it would be open later in the evening, to give the kids someplace to skate off the streets.
Faith Crews drove her sons Eric and Stuart, all the way from Cody for the competition. She told us, they regularly make the 50-plus mile trip to come here because there is no such park near their home. It is not uncommon for the Crews' van to have a load of kids from near their home when coming to the park. All the driving for practice sessions paid off as her son Eric later won his age division in the competition. [See sidebar for competition results]
In a follow up e-mail Crews told us, "Eric has been skating for 3 years. Eric and his brother have basically built a small skate park at home. But Eric likes the parks and streets so he can be within the skating community and be with the other skaters. They support each other and help each other progress. Plus, it is more enjoyable to be with others who are skating too!"
Speaking passionately about the sport, and her sons' participation in it, Ms. Crews pleaded the Skateboarder's case, "The skaters need all the support they can get. It is an awesome sport that requires at lot of practice, dedication, and a lot of science.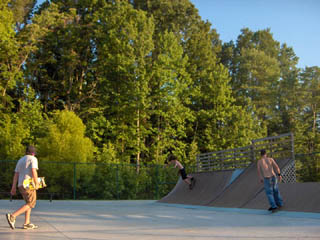 The sport also offers a wonderful community of peers to connect with. Skateboarders have a[n undeserved] bad reputation. Give them a place to skate! There will be less need for them to find other places to skate!"
Both Sutterlin and Crews, said there is a lot of science in Skateboarding. A lot of thought and research goes into picking their equipment. There are many different designs for boards and components and the boys have learned a lot. In most other sports, the players don't get a lot of say about what equipment they use. "It's not just the equipment." they said. Because of Skateboarding their sons look at architecture a lot differently. "They have even sketched their own ideas for park obstacles and designs." They also agreed it is great to see the older skaters acting as mentors for the younger ones. "You don't see that as much in other sports." they added.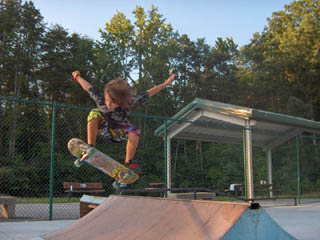 As the skaters progress to more difficult tricks and moves, it gets harder on the equipment too. When it comes to equipment, the boards take a real beating. Someone in the stands said, "And SHOES, my son wears them out like nothing." At that statement, there was a universal groan of agreement.
When asked about injuries, all the parents agreed there were no more injuries in Skateboarding than any other sports their kids were involved in. A couple parents even said they felt there were fewer injuries in Skateboarding then sports like football or soccer. Later research confirmed this.
Watching some of the competitors warm up we were impressed not only by their agility,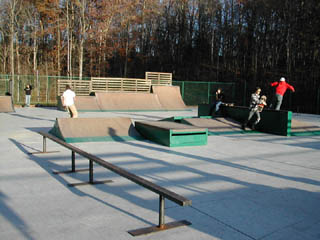 but by the way the conducted themselves around the other skaters on the crowded course.
Listening to some of the kids who came to skate, we heard them say, "It is going to be so cool to skate under the spotlights. Way better than having to see by moon light."
Meeting the sponsors, several of the Skateboarders and a few of the parents, and hearing all the enthusiasm and support, we were beginning to look at Skateboarding a bit differently. So we began doing a bit of research and here is what we found out.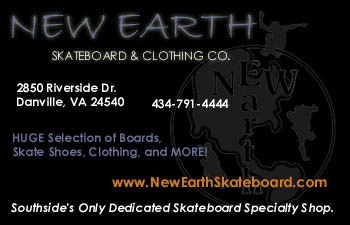 According to a U.S. Consumer Product Safety Commission report,
"Among the most popular sports, skateboarding is relatively safe. Safety studies show that skateboarding-related injuries fall well below other sports-related injuries.
Related fact: When compared to other sports like basketball and football, skateboarding is relatively safe. One-third of all skateboarding injuries are suffered by those with less than a week of skateboarding experience. As with any athletic activity, nobody should skate beyond their ability."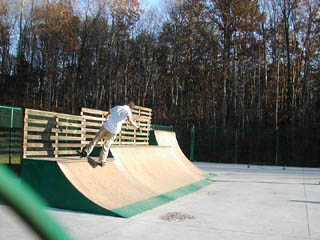 We followed this up by interviewing a local Physician, specializing in sports medicine. Dr. Carl Winfield of Providence Family and Sports Medicine in Danville was good enough to take time out of his day to talk to us.
Dr. Winfield has practiced family medicine for 17 years, and sports medicine for 12 of those years. During that time Dr. Winfield has been a staff or team physician for Averett University and DCC, and was formerly on staff at Ohio State University. The experienced sports Doctor is also a parent of three school-age children who have been involved in organized sports. So he speaks with some authority.
Dr. Winfield is a primary care physician and typically treats Skateboarders for minor injuries, such as sprains and abrasions. He said, "There haven't been that many injuries, and none of them severe enough to be memorable." He confirmed the injury rate for Skateboarding as relatively low compared to other sports, especially contact sports such as football. "Any time you combine a hard surface with athletics the potential for injury exists." said Winfield, bringing up basketball as an example. When asked how Skateboarding related to something like gymnastics, Dr. Winfield said it was a fair comparison.
Dr. Winfield stressed that the use of proper safety equipment was a key factor in preventing injuries. Wearing a helmet and wrist guards, along with knee and elbow pads is important. "Not only proper equipment, but the quality of the equipment, makes a difference." added Winfield.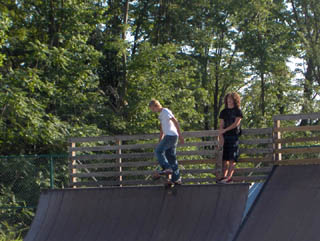 He also stated the most severe injuries involved those skating on the street where automobiles came into play. His safety suggestions included children between the age of five and twelve, being supervised by either an adult, or an older youth experienced in Skateboarding. He did not recommend Skateboarding for children under the age of five, due to lack of muscular and skeletal development before that age. Dr. Winfield summed it up saying, "No sport is risk free. But, considering the aerobic benefits, it is important not to discount Skateboarding as a legitimate form of exercise, if done correctly, with the proper equipment."
A Live Science article titled, "Skateboarding and Soccer Improve Kids' Grades" not only confirms Dr. Winfield's view of the health benefits of Skateboarding, but suggests there are cognitive and educational benefits from Skateboarding as well.
The articles opening line states, "A study of sixth-graders found that vigorous physical activity improved their grades."
While this came as no real surprise, it continued with,
"While children in regular physical education classes didn't do any better than sedentary children, those who skateboarded or played organized soccer or football at least three times a week had grades 10 percent higher in math, science, English and social studies."

One of the recurrent themes we encountered in our research was the issue of Skateboarders and others being injured by interaction with cars or pedestrians. We believe this is where Skateboarding gets a lot of negative publicity. The problem stems from lack of safe places to ride.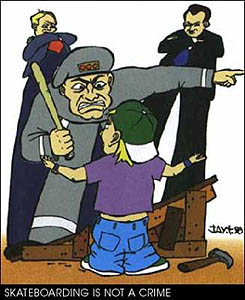 While there are many towns and cities, which provide walking or cycling paths, these paths are often not suitable for Skateboarding. Where there are many ball fields, there are few Skate Parks. This forces Skateboarders to seek places to ride such as malls or parking lots, which are often off-limits or unsafe.
According to the Tony Hawk Foundation,
"Skateboarding has exploded into one of the most popular sports in the U.S. Today, an estimated 12-million Americans own and ride skateboards, with more than a million new kids picking up the sport every year. Yet despite this phenomenal growth, there are only about 1,000 skate parks nationwide where skaters can legally ride."
In the course of researching this article, we have come to realize some things. Skateboarding as a sport is big, and getting bigger every day. Skateboarding is greatly overlooked as a legitimate form of recreation. There are not enough places for Skateboarders to practice their sport. While this situation is improving, it is not getting the attention it deserves.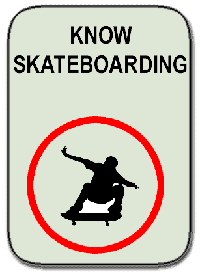 And I am seeing that Rallying Cry a little differently too.
"Skateboarding is not a crime."
But maybe - not providing more safe places for our young people to skate, should be.
By WB Carver
__________________
Photo Credits
In order displayed
Phillip Wyatt Memorial Park Sign - DSS Staff
Crowd Gathering - Hope Wood
Skater Topping Out - Faith Crews
Warming up 1 - DSS Staff
Stuart Crews & Others on Ramp - Faith Crews
Eric Crews Flying - Faith Crews
Warming up 2 - DSS Staff
Skater On the Edge - DSS Staff
Skater starting down ramp - Faith Crews
__________________
References
Dr. Carl Winfield
Providence Family and Sports Medicine
441 Piney Forest Rd.
Danville, VA 24540
434-791-4110
_______
"Skateboarding and Soccer Improve Kids' Grades"
http://www.livescience.com/health/060803_exercise_grades.html
_______
Tony Hawk Foundation
http://www.tonyhawkfoundation.org/background.asp
_______
National Safety Council - Skateboarding Safety Tips
http://www.nsc.org/resources/Factsheets/hl/skateboard_safety.aspx
_______