---
Convergence Art Guild's
Premiere Art Show
---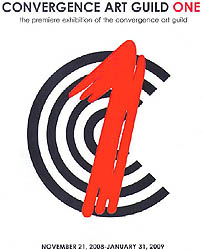 By Ed Wilborne
Photos by Gene Curtis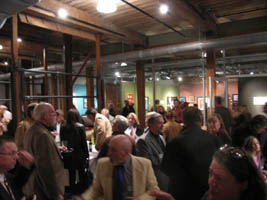 The Guild's very successful opening at the Robert F. Gage Gallery located in The Prizery
Convergence Art Guild was formed in Halifax County during the summer of 2008 "by artists for artists", according to its unofficial motto. In a very short amount of time, Convergence Art Guild has put together its premiere art show that opened at The Prizery in South Boston on November 21, 2008.
The turn out for the show's opening was substantial. A large number of the guild's members were there to host the reception,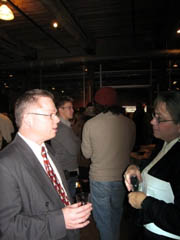 Ed Wilborne & Donna Brauda discuss the art on display.

including Gene Curtis (Board Member), Donna Brauda (Secretary), Ron Miller (President), Tammie (Vice President) and Martin Mabe, Forrest Layne (Treasurer), Nelly Zamora Jones (Board Member), Mark Anthony (Public Relations), Stephen Crowder, Rebecca and Ken Mulwee, Don Bagwell, Eva Cassada, Walter Potts, Michael Calvo, Tanner Jensen, Phil Ramsey, Theresa Sitar, Cheryl Watts, George Ford, and Ed Wilborne.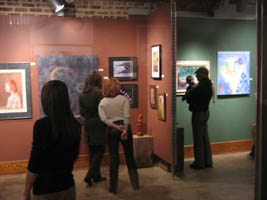 Reception attendees enjoy the art.
The artwork on display ranges from authentically handcrafted furniture from the late 18th and 19th century to sculptures in a variety of mediums, including bronze, wood and ceramic. And there is plenty of variety in between.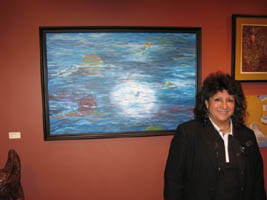 La Luna by Nelly Zamora Jones (pictured)
Donna Brauda, a local author, commented about her favorite piece, a painting titled "La Luna" by artist Nelly Zamora Jones, "a beautiful painting that has a reflection of the moon, leaves and water." Gene Curtis, another author and illustrator, said, "Polka Dots by Mark Anthony is my favorite."
Jack and Julia Peachum, writers and film directors from Clarksville, Virginia, said, "it is a wonderful exhibit and very enlightening. It is great to see this many talented people here in Southside Virginia."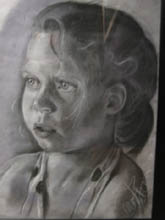 Polka Dots
Art by Mark Anthony

Guild member and full time artist, Mark Anthony stated, "I am getting a lot of good response. I am very humbled. I am amazed that people see something in my stuff that I wish I could see."

An excellent selection of hors d'oeuvres furnished by guild member Steven Schopen, artist, chef, and proprietor of The Molasses Grill delighted guild members and guests alike. Wine and other refreshments were supplied by guild members and were available to guests at the opening.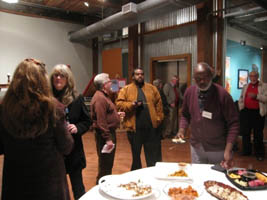 The Molasses Grill furnished hors d'oeuvres
Live music was performed during the opening. Performing the music and singing was artist and guild member Nelly Zamora Jones, playing nylon string classical guitar. Also, Dane Ferguson sang and played acoustic guitar. Each artist played individual sets of music.
| | |
| --- | --- |
| | |
| Nelly Jones sings and plays music for the open. | Dane Ferguson performing music for the open. |
The premiere exhibition will be showing in the Robert F. Cage Gallery at The Prizery in South Boston through January 31, 2009. You won't regret taking the time to view the art on display created by these local artists.
For more information regarding Convergence Art Guild, please visit the website at www.convergenceartguild.com. For information on The Prizery, please visit their website, www.prizery.com, for contact information and directions.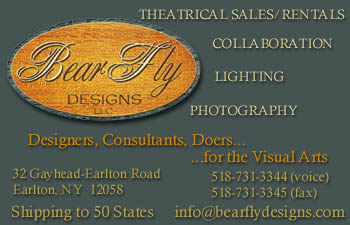 __________
Born and raised in Pittsylvania County Virginia, Ed Wilborne works as the Chief Information Officer for Gamewood, Inc. a Technology Solutions and Internet Service Provider based in Danville Virginia.
In his spare time Ed writes software for hand held computers, plays 80's music in a local band, writes poetry, and draws "The Adventures Of Verrnack & Blupirk".

Ed can be contacted via e-mail at: wilborne@discoversouthside.com
__________