---
"On The Funside"
---
A Christmas Miracle in Rocky Mount?
By Amy Hanek
This December, my house became a flurry of activity.
Family visited from as far as Pennsylvania and Florida and as close as Blacksburg and Christiansburg. Many family recipes were shared and prepared and shopping was done by the plenty.
My family and I were entirely consumed in the holiday rush, so, on December 23rd, it was a complete surprise to find the "big guy" hiding out – incognito – in the local Wal-mart.
It was the Tuesday night before Christmas, around 10:30 pm. My husband, sister-in-law, oldest daughter, nephew and I had just finished a "welcome to Rocky Mount" meal with my other sister-in-law and her family. The last of my husband's family had just finished a 16 hour drive from Fort Myers, FL and we met everyone for a very late meal in Applebee's.
After an hour of spinach and artichoke dip and chocolate chip cookie sundaes, my husband decided that we should stop at Wal-mart for more eggs. Off we went with seemingly, the rest of Franklin County. The lines were long.
As soon as we entered the busy store, my sister-in-law (from Pennsylvania) and I decided we really, really had to use the ladies room. So, hopping in a rather unladylike way, we rushed straight for the store's bathroom.
A cleaning cart blocked the door.
My sister-in-law groaned, quite loudly. We were in agony. Hearing this very unnatural complaint, the Wal-mart cleaning guy turned around to face us.
We couldn't believe our eyes.
This cleaning man was dressed normally, and wearing a nametag that simply read, "Jerry." But we weren't fooled.
Complete with a long white beard and mustache, rosy cheeks and eyes that sparkled; my sister-in-law and I knew that we'd found the big man himself – Santa Claus.
"Jerry" smiled warmly and explained that he would let us use the facilities. We thanked him and dashed inside. As soon as the restroom door closed behind us, we both revealed this man's secret identity.
"Did you see him?", I asked. "He looks just like Santa." "I thought the same thing." My sister-in-law agreed.
Just minutes later we were exiting the bathroom and I thanked "Jerry" for letting us in during our bathroom emergency.
"I'm going to be really busy tomorrow," he said.
"I'm sure you are…" I began.
"I have a lot of presents to deliver," Jerry added.
I stopped and looked at my sister-in-law. She looked at me. We couldn't believe our ears. It really WAS him. It was Santa.
An hour later, we were all leaving Wal-mart with our cartload of groceries. It turned out we needed more than just eggs.
I pointed out "Jerry" to the rest of our group. "Look, it's him." The others nodded in agreement.
"Jerry" stood near the exit, and laughed. "Ho, ho, ho, ho."
On the way home we wondered if the Vatican would consider this rare sighting a Christmas miracle. After all, it isn't every day you find Santa hiding out in your local Wal-mart.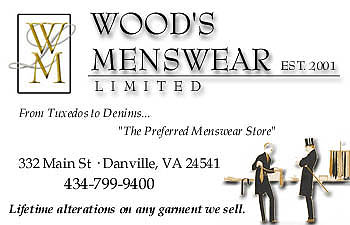 __________
Amy Hanek lives near Smith Mountain Lake with her husband, three kids, and two cats.
An experienced freelance writer, her articles appear in area publications including "Prime Living ". Her column "Just Add Water" runs in the the "Laker Weekly".
Amy is also working on a regional ghost book covering the areas of Lynchburg, Roanoke and Blacksburg. It is expected out by the end of 2009. Schiffer publishing is the publisher.
You can read more of her stories at
www.houseonthegladehill.blogspot.com
__________
Questions or comments about "On The Funside"
E-Mail amyh@discoversouthside.com
__________
On The Funside - Archives