---
Discovering Southside
---
Finding the North Line
In our quest to loosely define the geographical boundaries of Southside Virginia, we began our first of many road trips.
In search of the Northern boundary of Southside we decided to take a run up a north-south line through what we thought was the approximate center of the region.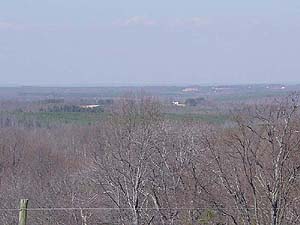 We began about mid-way between Danville and South Boston along SR 360 where there is a place often referred to as "High Point". Supposedly this is the highest point on Old Richmond Rd, between Danville and Richmond. We have not been able to confirm this however. (If anyone knows if this is true or not, please drop us a line.)
Unfortunately the day was one of those days you get in early February, which tries to impersonate some other season and is neither winter nor anything else. Just hazy and overcast. So the scenery wasn't what it could have been. But we could still see a long way.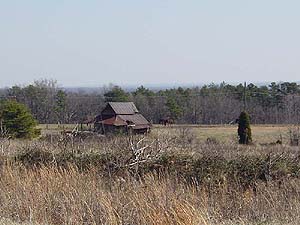 Looking south from High Point, you can see the scant few miles to North Carolina. If you look carefully, you can spot the stacks from the Hyco Lake power plant. Looking north with your eyes you can probably see 30 or 40 miles. With your imagination you can see all the way to the northern reaches of Southside and beyond. On a clear day, maybe you really can.
And so, beginning with the North Carolina border just a few miles over our shoulder, we headed West until we found a road to take us North.
Slatesville road in Pittsylvania county runs due north then northeast, through Java and Riceville, crossing SR 57 and running into SR 40 around Mt Airy. That seemed like a plan.
We made a quick stop for a picture of a one-lane bridge and a pretty stream/creek.
Somewhere between Java and Riceville, we had one of those situations where we looked at each other and said, "Did I just see what I THINK I saw?" We were so amused and shocked we just had to turn around for another look and a picture. We were to pay for this turn around later.
Sure enough, we had both seen what we couldn't believe.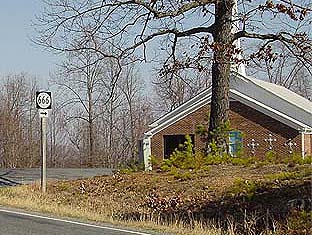 What a strange address for a church!!
With our curiosity satisfied, we headed on.
When we turned around to get another look at that church, we had heard a loud bang in the front end of the car. At the time we thought we had kicked up a rock or a stick and it just banged against the underside of the car. As we drove north the car developed a loud clang over bumps. This cannot be good.
The car felt fine and the noise wasn't getting any worse, so we were not panicking, but it wasn't going away or getting any better either. When we got to SR 40 near Mt Airy, we pulled into a little store and checked the car as best we could. Nothing obvious, all lugs were tight, couldn't see anything stuck underneath. What to do now? Discretion being the better part of valor, we decided to abort the trip and head home.
We took SR 40 east toward Cody and cut over to Volens to pick up SR 501 and head back to South Boston.
In Volens we stopped in a little store on 501 where you can still get the wax "coke bottles" full of what claims to be juice, and is probably 99% sugar water. But it is 100% nostalgia flavored.
Since the noise wasn't getting any worse and didn't seem life threatening, we decided to take the scenic route back, just to see a bit more of the area. Somewhere around Rosa or Liberty, we heard another loud bang. I looked in the rearview mirror just in time to see a rock bouncing down the middle of the road behind us, and the noise immediately went away. We went back and picked up the rock and sure enough, it had black rubber marks on one side and shiny rubs from metal on the other, all the tell tale signs of having been lodged in the suspension somewhere.
With the noise fixed, we turned around again and resumed our trip north.
Since we weren't far off 501 we doubled back and headed toward Brookneal.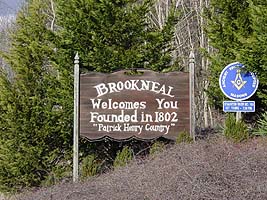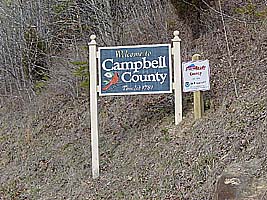 At the Campbell County, and Brookneal town, line there was a boat access road which beckoned to us. So we took a side trip, just to see what was down there. Aside from the boat access there was an old train depot.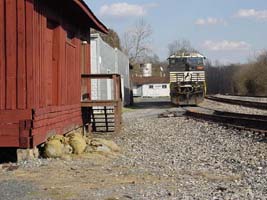 This old train yard, looked well as it might have fifty or even a hundred years ago.
We already knew Brookneal was considered Southside, so we didn't take the time to stop and ask around. We just gave ourselves the grand tour on the way through town. Brookneal is a typical small town with a slightly spread out business area. Not much over three streets wide and a couple miles from end to end, it would be pretty hard to get lost in Brookneal, in fact you would probably have to work at it.
Continuing north on 501 we stopped at a few local stores, looked at papers, flyers, real estate brochures, etc. looking for indications of the area identifying itself with Southside. We found a few clues, but they were getting sparse.
At a gas station, somewhere around Gladys, we asked one person who said, "Yes this is still Southside" then added, "I think Southside becomes Central Virginia on up the line a few miles." At another little store we asked someone who said they weren't local and had no idea what we were talking about. Hey, we were at about 50/50.
According to the map, Rustburg was the next thing along 501 that did duty for a town, so off we went.
Just short of Rustburg, we spotted what appeared to be a combination junkyard, repair shop, and local hangout, with the garage door open, and three likely looking fellows lounged on lawn chairs in the doorway. "Let's turn around and ask them", I said. Brenda looked somewhat skeptical, but has learned the put up with my notions. So with a minor trespass in a suitable driveway we headed back to chat.
Pulling into the driveway garnered us "the look" from the three locals. As I opened the door to get out of the car we were greeted by the mellow strains of Barry White emanating from some speakers hidden amongst the piles of treasures in the yard. As I sauntered up to the garage wearing what I hoped was my most disarming grin, I got a look that could best be described as the "You left the lights on in your spaceship" stare.
"You doin' alright today", I asked in hopes of breaking the ice. They allowed as how they were doing about right. So I proceeded to put them at ease by saying "you are going to think I am a bit nuts, but I am used to that." This lightened the mood a bit, so I ventured on. "We are trying to figure out just where "Southside" is and is not, and you looked like you might know. Would you say we are still in Southside?"
Once again, I got "the look". The older one of the three kind of shook his head and said, "Well sure, this is Southside". "Great", I said. It was when I asked, "Just how far north would you say Southside goes?", that they exhibited a knowledge of geography, that was ahhh, well, a bit different than what I was used to. "On up to about Baltimore I would imagine." "You mean there is a Baltimore Virginia?" I stammered in surprise. "No, Baltimore, BALTIMORE", he said with an equal measure of disbelief, as he looked to the younger man and said more than asked, "That's still in VA ain't it? I mean, we are south of the middle ain't we?"
About this point I decided we might be rubbing the edge of the North line, and maybe the edge of our luck. After telling us to stop back sometime... "BUT BRING BEER. We Like Miller Lite", I headed back to the car, which Brenda had wisely kept running, albeit a little faster than I had gotten out.
According to Wikipedia's description of Southside, Lynchburg may be associated with Southside. Being only a few miles up the road we decided to see what we could find out. Arriving at the Lynchburg visitor center at about five minutes before closing we hurried in to ask. The people at the center were very nice and although they felt that Lynchburg was definitely not Southside, but Central Virginia, they were glad to chat and load us up with maps and other literature. One lady at the counter felt if we headed southeast toward Appomattox, we would find ourselves back in Southside. By this time it was getting late, so we decided to head to Appomattox, ask around there a bit, grab a bite to eat, and call it a day.
By the time we got to Appomattox, they had started rolling up the sidewalks, so we thought it was going to be a lost cause for the day. As we passed the firehouse, we noticed a few people around and thought we would stop. If nothing else, leave it to a fireman to know where to get a decent meal at that time of evening. We really lucked out at the firehouse. Not only did we get directions to a good place to eat, we got information. The man who came to the door turned out to be the son of a long time mayor of Appomattox, and told us his father felt Appomattox was Southside.
[See sidebar - Ronnie Spiggle]
With this bit of info, and directions to Granny Bee's Home Style Cooking, we headed down to Main St, Appomattox.
After a good meal at Granny Bee's, we headed for home, but still had one more adventure for the day. The short version is, in the dark we took a wrong turn somewhere south of Appomattox and wound up headed back northwest. For most of the time we were on what we believe was Redhouse Rd. The road seemed to change names a few times but at one point we went through the Mike community and we thought, "What a cool name for a town. I wonder if there is a First National Bank of Mike."
Somewhere around Three Forks, we spotted a man pumping gas and pulled in to the station beside him. To his credit even if he was not particularly amused by our question about being in Southside, he was pretty good about giving us directions, "Yeah, stay on this road for another five miles or so and you will come into Rustburg"
"Rustburg!?" we cried. "You mean we came all the way back around.... Awww..." we exclaimed, stopping just short of an expletive" We smiled, thanked the man, and headed off into where the sunset would have been a few hours before.
As advertised, a few miles up the road we spotted signs for 501 south, and with an audible sigh or relief, knew we were home free. We made it back to Halifax and South Boston late and tired, but well traveled, well fed, and full of the events of the day. And with a few pins in the northern boundary on our map of Southside.
Join us next time when we head west to find where the sun sets on Southside.
WB Carver - Editor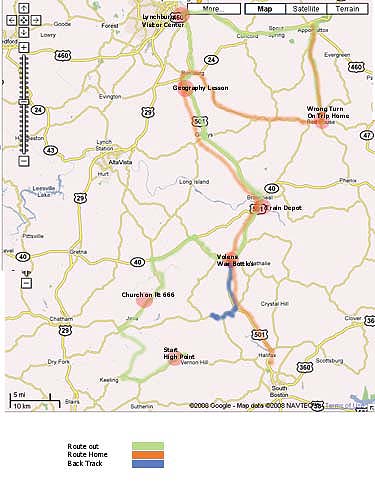 Earlier "Discovering Southside" Articles
Discovering Southside - The Beginning