---
Yellow Ribbons
---
Coming home to Southside
Sometimes a word has to be worth 1000 pictures.
For the past few months, one of my neighbors has been projecting an image of an American Flag on the side of their house at night. Being patriotic by nature, I have found it stirring to drive by and see it lit up in all its glory. I have been so inspired by it, I have told a number of people about it, and even kidnapped a few to take them for a ride by. Even so, I have often wondered why they have that flag shining on the house all night long. Recently, I found out.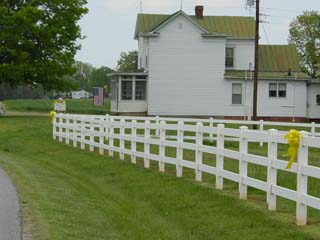 Now this is a neighbor in the country sense of the word where anyone within a couple miles qualifies, even if you don't actually know them. In the course of my normal travels I don't often go past this house. It just happens that the other day, when I went by the house, I noticed some yellow ribbons on the pasture fence. It made a nice sight, and it was then it dawned on me; they had someone in the service who had been away and was finally returning home. It made me smile.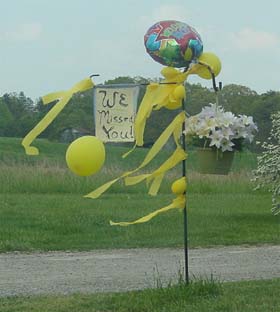 I went on about my business that day and returned home the same way. On the way back home, I noticed several other houses on the road also decorated. All along the road it was like a parade route with yellow ribbons, bunting, pinwheels, balloons, and signs. "Welcome home Steven", "We Missed You" "Welcome home Sgt. Steven Merricks".
I am the third of four generations who have served in the military. My Grandfather served in WW I, my Father was a Marine between WW II and Korea, and I was a member of the 82nd Airborne during the late 70's and early 80's. My Son enlisted during the current military action, but was killed in a car crash before he completed training. So this vision really hit home for me.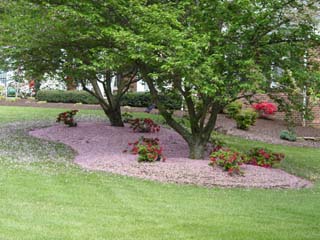 It was a beautiful afternoon. Red and white azaleas were in bloom and crabapple trees were dropping their blossoms in a pink carpet on the lawns. With most of the houses for a stretch of almost a mile displaying the good wishes of family and friends, words canít begin to describe the feeling I had driving down this road, with all the outpouring of support and welcome. With a lump in my throat, I turned around and took a few pictures, but even they can't convey the depth of feeling one gets when seeing something like this.
Sometimes a word has to be worth 1000 pictures.
The word is Thanks.
Thanks for serving.
Thanks for being there when your Country called.
Thanks for doing what duty and honor dictates, whether you agree with it or not.
And Thanks for making it home.
Welcome home Sgt. Steven Merricks, and all the others who have served and those who continue to do so.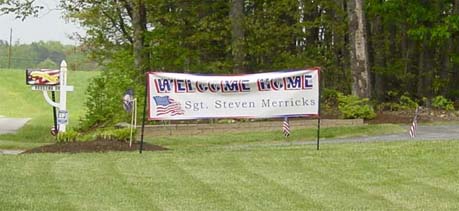 -= Story & photos by WB Carver =-