---
Discovering Southside
---
Finding the West Line
Trying to help a young man get settled into a new apartment for his first year in college can be a challenge. To stretch the budget, you beg, borrow and buy things at yard sales. When a stackable washer-dryer turned up on Craigslist, it looked like a trip to Collinsville was in our future.
With gas prices at an all time high, we couldn't resist the opportunity to combine a trip to pick up the washer-dryer with a road trip to check out the western side of Southside.
We headed out from South Boston on Rte 58 and kept our eyes on gas prices. At a gas stop near Brosville we got drinks for the ride and bought a winning lottery ticket! Three whole dollars. Count 'em. Three. Our winnings paid for our drinks and about a ½ ounce of gasoline.
It should be mentioned here that there is a game we play on road trips. Somewhere along the route, we get instant lottery tickets. One for each person in the vehicle, plus one extra. The person who wins the most on their ticket, gets the extra ticket. To date, we have "won" about 30 dollars. The truth to be told, we have probably spent around 50. Yes, we know. The lottery is a tax for people who are bad at math.
While we were gassing up and gloating over our winnings, a group of beautiful street rods pulled in on their way to a Cruise-In in Danville. While chatting with a couple of them we all noticed it was getting dark to the west of us. Very dark. There was a nasty thunderstorm coming and we were headed right into it.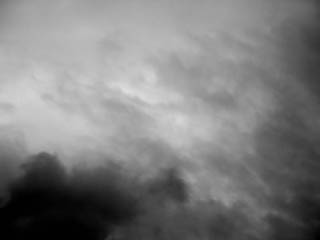 With no choice, but to cross our fingers and hope we would drive out the other side of the storm, we hit the road and headed west. We spent the next 40 minutes driving through one of the worst downpours we had seen in ages. All the way to Martinsville it was 25 miles an hour with wipers on full blast. Not the best way to start the trip.
By the time we got to Martinsville we had driven through the worst of the storm and the rain was letting up. Once we got close, we had directions to where we were supposed to pick up the washer-dryer, but due to a miscommunication, they assumed we were coming in from a different direction. With so many different versions of Routes 58, 220 and 57, we got turned around. Instead of coming straight through, we took the long loop around Martinsville and came back down to Collinsville from the north side. The bad weather prevented us from sightseeing or getting any pictures, but we did get the grand tour.
Once we got where we were headed, things were looking up. The rain had all but stopped, and loading the appliance went as smooth as possible.
We started the "Discovery" part of our trip while we were still picking up the washer-dryer. The couple we met were originally from the area; she from Martinsville, and he from Stuart. So we queried them about what they felt constituted Southside. They both felt Southside continued west for a good ways. He even said some people in Stuart considered it to be Southside. Considering Wikipedia's definition of Southside as "the portion of Virginia east of the Blue Ridge Mountains and south of the James River", we were inclined to agree.
With a better set of directions back to 58 we took off to find out how far west we could go and still be in Southside. In Henry County Route 58 is called AL Philpott Highway; named for Albert Lee Philpott, speaker of the Virginia House of Delegates, who lived in Bassett, Va. until his death in 1991.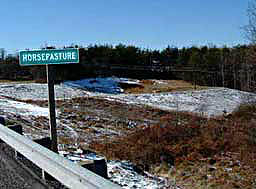 Once you leave the Martinsville area on 58 it quickly becomes a scenic ride through an area of small communities and farm land for most of the 25 or 30 mile run to Stuart. Before leaving Henry County, 58 runs through the communities of Spencer and Horsepasture. In Horsepasture, we made a quick stop for drinks and a leg stretch. I am sure there is a joke or a cliché in that somewhere, but I will resist the temptation.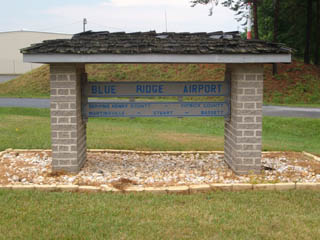 Our first indication we were getting to the edge of Southside was near the Henry and Patrick County line, where the small airport is named "Blue Ridge" Airport.
At the Patrick County line Route 58 changes it's name to JEB Stuart Hwy. Named for James Ewell Brown "Jeb" Stuart, who was born in Partick County, VA and was a Confederate general during the Civil War.
Along Route 58 we stopped to check out a rustic looking place called Greene's Country Store. Greene's is a great old-time general store where it seems you can get just about anything. We found livestock feed, seeds, starter plants, garden tools, and home decorating accessories. Local produce was on display and salt cured hams hung from the exposed beams.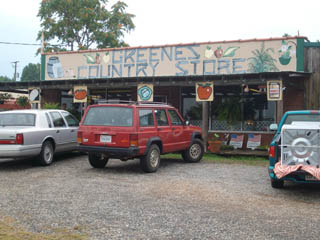 Assorted items were stored in old wooden barrels, and on rough cut shelving. We could have wandered around for a long time and not seen it all, but we were on a mission. So after getting a few items, we headed to the register. In jars on the counter were old-fashioned sucker sticks and rock candy. In a glass fronted case on the other side of the register, was homemade fudge sold by the pound or by the piece.
As we checked out, we asked the lady at the register, the standard question, "Are we still in Southside?" After a few moments deliberation, she pointed out the window at the mountains in the distance and said, "Well those are the Blue Ridge mountains right there. So, I'd say this is Blue Ridge." Point taken.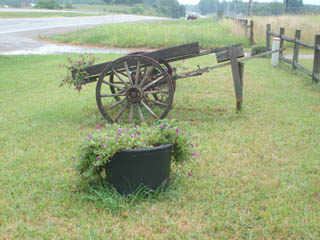 If you can't find it at Greene's Country Store, there is a gas station and small truck stop next door, which will most likely have whatever it is. Located about mid-way between Martinsville and Stuart, this is a great place to stop if you are touring along 58.
Right near Greene's is the R.J. Reynolds Homestead in Critz, VA. We would have liked to take the time to go for a tour, but we still had miles to go this day and had to pass. We have vowed to come back. The Reynolds Homestead website says it is only open for tours during the months of April through October so this trip will have to wait for spring.
Back on the road again, we drove the remaining few miles to Stuart. After a quick trip through town looking for signs or any indications of Stuart's allegiance to either Southside or Blue Ridge, we pulled into the shopping center parking lot. We had packed a cooler in the morning and planned to eat on the road. So In the shopping center we figured we would get our bearings, and see if we could get directions to a park where we could have a picnic lunch.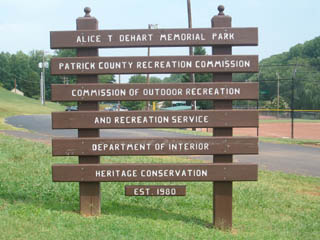 In the parking lot, we accosted a man headed into the grocery store and asked him if there was a park or something of the sort he could point us to. And of course, we asked "The Question" The man was very helpful on both scores. He gave us directions to Dehart Park just a few minutes away, and offered his thoughts on geography. His answer was, that Stuart being right at the base of the mountains, could only be considered either Blue Ridge or Southwest Virginia. Considering the fact we were standing in a shadow cast by just such a mountain, it was hard to argue.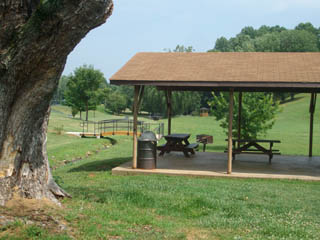 The short drive over to the park was well worth it. Alice T. Dehart Memorial Park is a great place to stop, rest and have a picnic. Although not secluded or particularly wooded, it is peaceful and has a nice little creek running through it. We found plenty of picnic tables and shelters and a nice view.
Right near Dehart Park is The Virginia Motorsports Museum and Hall of Fame, as well as Patrick Henry Community College.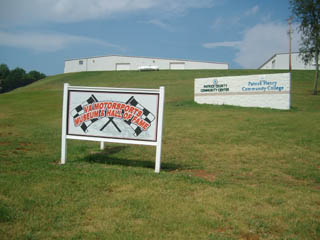 Stuart is also home to the Woods Brothers Virginia Shop & Museum.
After a leisurely lunch, we got back on the road out of town. Never ones to miss a chance to meet people, we made one last stop at a convenient store just before getting back on 58. After getting a cup of coffee for the ride we took one last chance to ask "The Question" and got an interesting response. From the two people working, we got two different answers. The first person we asked, said without hesitation, that we were in "Southwest Virginia". But she decided to call her co-worker from the back for a second opinion. When contestant number two came from the back and was asked; she replied, "Yes, this is Southside Virginia" She then went on to say, "When you hear them on the radio or TV talk about "Southside News" or the "Southside Forecast" they are talking about us here in Patrick County." So we had a 50/50 split.
On the trip back home we relived the trip and the enjoyable day. If we had to draw a hard line on the map, defining the western boundary of Southside, we would probably draw it somewhere around the Patrick County / Henry County line. Of course, we don't draw any hard lines on our map of Southside. So although the line gets a bit fuzzy somewhere around the county line, we are not going to draw it there. With the input we received along the way and all the motorsports heritage in Stuart, we have decided to make Stuart "Honorary Southside".
WB Carver
This is the third in an ongoing series of "Discovering Southside" stories; where your intrepid explorers wander the highways and country roads of south central Virginia in search of the answer to the question, "Is this Southside?"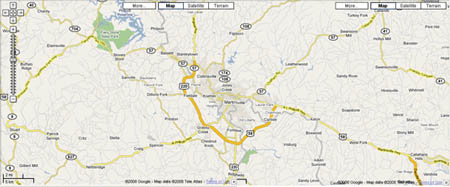 Earlier "Discovering Southside" Articles
Discovering Southside - The Beginning