---
The Perfect House
---
By Tammy Tillotson
I imagine a lot of young families experience growing pains. Our family is more than likely the norm and not the rare exception as when you're first starting out, you're happy living in a little caddy-shack of a place. It's so wonderful to be in love that you easily overlook the shrill whistling wind as it blows in from under the front door, the back door, the windows, and at least one or two other places. Those one or two other places you have no idea where they are other than you know they've got to be somewhere as the whistling keeps you up late at night and the gas bill gets more expensive each time the tank is filled.
Sometimes there's a creaking board here or a leaky faucet there. Other times it's an unusually large metal circle on the wall covering an old hole from a woodstove pipe, though it certainly resembles a Dixie paper plate – I'm sure you know the kind I'm talking about – the flimsy cheap variety that never holds anything because whatever food you place on it is ten times more likely to end up either on the ground or in your lap before lunch is over.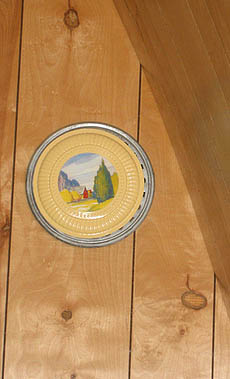 So, you eye that Dixie paper plate on the wall several times a day and want to either use it for target practice or draw a great big smiley face on it, especially since you had the perfect picture to cover up that unsightly blemish, but your spouse eyeballed it wrong and placed the nail too high.
Still, our parents raised us to be thankful for a bed to sleep in, the bills to be paid and a dry roof over our heads. So don't get me wrong, we certainly are, incredibly thankful that is. We're also thankful to have wonderful neighbors. The kind who are glad to swap vegetables, call on the phone just to say it looks like rain and they couldn't help but notice your laundry still out there on the line waving around merrily, or who come right over to help when your two-year-old inadvertently manages to lock you out of the house when you run back out to the car to get the forgotten gallon of milk in the trunk, which you just had to have for the little ones' lunches.
Yes, all of these things help make the perfect house. Or, all of these things are the small details, which make a perfect house a home. This is the kind of house many of us probably imagined, if not dreamed of being able to come home to one day, as we went off to college and were living on peanut butter and jelly sandwiches, cold leftover pizza and Ramen Noodles. Then we graduate, marry, and have children of our own only to realize that peanut butter and jelly sandwiches, leftover pizza and Ramen Noodles really aren't that bad. They're still cheap and now our kids love them too! Some days we may even justify it, saying we're doing our kids a favor by teaching them early how to be responsible and economical all at the same time. The way things are at present, I certainly hope these lessons will be ones my children will appreciate when they're adults.
Yes, we are extremely thankful and extremely proud to call our home words like cute, cozy or quaint. Somehow those warm fuzzy words sound so much cheerier and happier than the harsh reality of the words that we're otherwise thinking though tactful enough to keep to ourselves, well, at least most of the time. Phrases like Barbie's dream house, or maybe Polly Pocket's. Then there are the days when our little ones are streaking around the sardine can in their adorable matching footed pajamas, the brown ones covered with the monkey print, and we find ourselves half complaining and half praying…
Lord, remind me…just how many monkeys came stuffed in that bright red barrel?
Or making the simple request, Please, no more monkeys…no more stuff, period…we just don't have room.
Then eventually, whether we really want to or not, we face the sad conclusion that yes, we really do need some more space. The children aren't getting any smaller and the cozy is starting to feel a little less cozy and a lot more crammed. So begins the gigantic task at figuring out where should this warm cozy nest be moved to?
I can't say for sure, but I imagine people must be a zillion times more particular about choosing a house than any other animal. The osprey nest near the Ivy Hill boat landing in Clarksville, Virginia immediately comes to my mind.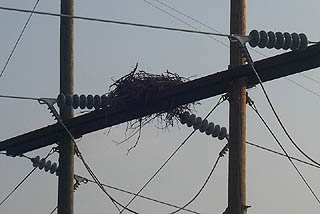 Osprey nest near the Ivy Hill boat landing in Clarksville

The nest is in the middle of a power line tower and the same pair of osprey come back year after year to hatch more babies. I've seen them arrive. Waited until I could hear their cheeping sounds coming from the nest. Watched as the mother pushed the little ones out and taught them how to fly. It's quite a fascinating cycle and one that other members of my family have enjoyed watching over the years too.

However, the nesting spot isn't exactly ideal. If I were a mother osprey, I certainly would've argued to my mate, "Doncha think it's up a little too high? Besides, it isn't exactly the safest place in the world as aren't you worried about getting electrocuted? Not to mention, it's definitely a little too close to the busy road!"

To which, I'm sure the daddy osprey would have argued just as vehemently, "Woman, it's warm! What more do you want!"

I'm sure that was certainly at least a valid point, if not the main selling one, that ultimately sealed the deal for the mommy osprey.

So, my husband and I continue debating where we should move our nest. We discuss realty with out-of-town friends who find it incredulous that living expenses are so reasonable here and who continue to ask why we're still renting when we should have built something or bought something ages ago. However, at the end of the day we often feel no closer to making a final decision and I believe the conversation ends something along the lines of, "Before we do that we'll plop a 3,000 square foot double-wide in the middle of a field somewhere!"

I quietly understand that is the cue meaning, "No more house talk for a few days."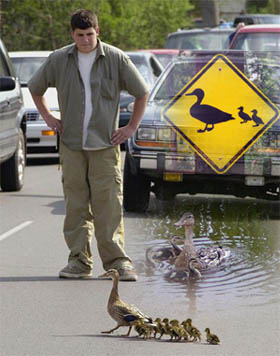 But as I read Make Way for Ducklings to my little monkeys at night, I am very encouraged. I am reminded that like the osprey, Mr. and Mrs. Mallard managed to find the perfect location for their family of ducklings. They just had to keep looking and use a little more imagination. We can do that too, though I do hope we won't require a police escort to get us all there!
However, the next time my husband and I are seated around the kitchen table, lost in a jumbled array of floor plans, our three-year-old scampers up into a chair and curiously asks, "What are you doing?"
Eager to consider our son's input and get him excited about the whole house searching process, my husband calmly answers, "We're trying to find a new house. Would you like a new house and maybe a new room all to yourself?"
A thoughtful and serious look appears on our son's face as he points to several of the various floor plans and asks, "So…which one of these is the gingerbread?"
~ John 14:3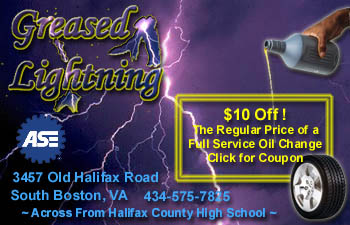 Tammy Tillotson is a freelance writer in Chase City, Virginia. She is the editor of the upcoming Writers Studio Young Authors Anthology entitled Bull Bay Review.
You can E-Mail Tammy Tillotson at: tammytillotson@discoversouthside.com