---
For Better, For Worse
---
'Til Death do us Part
By Gertrude M. Slabach*
Photos Courtesy of the Carrington family
He was a star basketball player at Booker T. Washington High School back in the late 1930's. She was two years his junior, and she was his greatest fan. She still is (his greatest fan, that is).
She was Miss Booker T., and she wore his silver basketball medal on a chain. She still has that medal, and she keeps it in her jewelry box to this day.
"Well," he chuckles when I ask what it was that made him think she was the right girl for him. "She just wouldn't leave me alone, so I thought I'd just go ahead and marry her and carry her."
In this month when we celebrate love and commitment, marriage and endearment, Fred and Bessie Carrington are celebrating also. Married for over sixty-six years, life is different for them now than it was on October 15, 1942, when they said, "I do."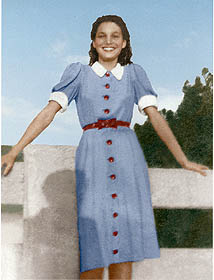 She was nineteen. He was twenty-one. Even so, he was serious about his vows. So was she.
They were to be married at the preacher's house. On the way to the house, he was worried about a tire on his car.
He prayed, "Lord, if this marriage is not to be, keep me from getting to the preacher's house because I don't want a marriage that will fail."
He made it to the preacher's house, and they made it to the altar. The preacher charged him $3.00 for the ceremony.
"And I was thinking," he chuckles, "I could use that $3.00 for the tire on my car!"
Looking back sixty-six years later, he reflects, "I didn't have any business getting married that young. I wasn't mature enough for that responsibility."
Yet when he took those vows, he meant them. Yes, indeed. They made it to the altar and said their vows. They've been saying those same vows every day, ever since. For better, for worse; for richer, for poorer; in prosperity or adversity, in sickness and in health; as long as we both shall live.
When they vowed, "In prosperity or adversity," they meant it.
He was drafted in World War II.
"I hate war," he says now, "and I said I wasn't going to kill anybody.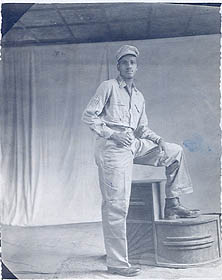 They could shoot at me, but I wasn't going to shoot at anybody."
He was hit by shrapnel twice, once in his leg and once in his back, but was never hurt badly enough to be sent home.
It was difficult being separated from each other. Phone calls were unheard of, and letters took a long time getting overseas. When he was in the service, she kept his spirits up by writing almost every day.
"At least three or four times a week," he remembers, "I'd get a letter from her. That kept me going."
Their first child, Pamela, was born while he was in Philippines. He saw her, his own flesh and blood, for the first time when she was probably eighteen months old.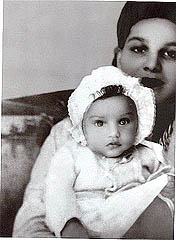 When he came home, Pam didn't know her daddy. Yet it was not long before the two of them developed an unbreakable father-daughter bond that is as strong as ever today.
After the war, they moved away from home and family so he could go to school. He attended NC A & T for three years, where he studied Auto Mechanics. He was presented with a university certificate that reads "Doctor of Motors." Although faded and barely legible, that certificate still hangs on the wall of his garage in the back of their home. He was such an outstanding mechanic that he sometimes helped the professor teach the class.
As a mechanic, he has probably worked on 80,000 cars. She worked at Burlington for several years to help make ends meet.
When they promised, "For better, for worse," they meant it. Those vows helped them face one of the darkest times in their marriage, when they lost their little son. They were living in Greensboro, North Carolina at the time because Fred was in mechanic school.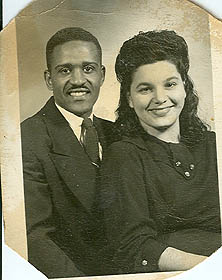 "There was a place for married people to live there," he tells me. "It was like a barrack."
"We used oil to heat, and our furnace leaked, so we had a globe underneath the furnace to catch the oil," she explains.
When Freddie was nine months old, he crawled to that container and drank some oil. They scooped him up and rushed to the hospital. He died in the hospital there, and the doctor told them that their child had suffocated. They came home to South Boston briefly to bury their baby, and then returned to Greensboro so he could finish his schooling.
When they declared, "In joy or in sorrow," they meant it. They've had their joys. Whether it was singing together as a duet, going to church, or visiting with friends, they did it together.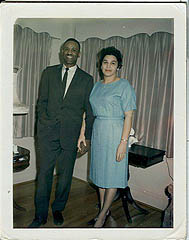 "People liked to hear us sing," she smiles now, remembering. "He is a tenor, and I am an alto."
Yet their song contained pain and sorrow more than once. When their second son Dwight Jerome was seventeen, he went riding with friends one night.
"Dwight knew he was to be in by 11:30 PM," Fred shares. "When he didn't come back that night, I knew something was wrong."
Even now, there is grief on his face as he recalls what happened. "I searched all night for that boy," he gesticulates, still remembering the horror and heartache of that night.
There had been an accident, and the car was in a ravine, so the boys were not found right away. It happened on 501 North going to Lynchburg, and Dwight died in that accident.
Later, they learned that the boy who was driving was called "Lightening" because he drove so fast.
"We didn't know that about this boy," she shares, "and we wish someone had told us, for we never would have let Dwight go with him."
Dwight is also buried in South Boston in the same cemetery as his brother Freddy.
Two sons gone and one daughter left. No sons to carry on the family name. There are grandsons—three of them, as well as great-grandchildren, who live in Maryland, South Carolina, and the Virginia/DC area. Those three grandsons became the joy of Granny and Granddaddy Jap's lives, as they are called. They took many trips throughout Virginia and North Carolina to watch and support the boys in their numerous athletic competitions, awards ceremonies, and graduations.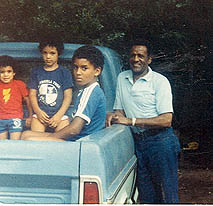 "Do you ever get over the hurt of burying a child?" I ask.
She replies, "You never forget [your children], but somehow, the Lord takes the grieving away and you never really find out when it happened."
Plus, she has comfort that saying goodbye at their graves was not the end.
"I'll see them again in Heaven," she declares. "Yes'um, I'm looking forward to it!"
He adds, "We have had a lot of grief. But the Lord has been with us."
They modeled an attitude of acceptance. They found ways to continue their journey without bitterness.
"There never was any complaining," their daughter Pam says now. "Our home was always filled with friends stopping by, with family visiting, with guests for dinner (those invited and those unannounced), with the aroma of good food cooking, card games, Friday night fish fries,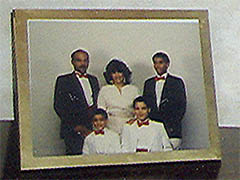 Saturday night croquet games in the backyard with homemade ice cream, club meetings, and always lots of music and singing."
Well known and well respected in the community, they continued to practice their faith in everyday life. He worked and retired from the U.S Post Office as well, where he wore many hats over the years, from custodial duties to mail sorting and eventually, payroll delivery.
When they affirmed, "In sickness or in health," they meant it. There has been sickness. There have been surgeries. As they've grown older, it is at times harder to remember some things. Forgetfulness happens. They help each other remember. Yes indeed, they meant those vows. They still do.
They had dreams and hopes. Some of those dreams died young. Others exceeded their expectations. Good times filled their days. So did hard times.
Fred and Bessie Carrington are members of Ebenezer CME church. They used to sing together, but they are unable to now.
"I'd still like to sing with him, but I can't," she reflects. "Since I had my tracheotomy, I don't have the wind to sing anymore."
When they said, "For as long as we both shall live," they meant it.
They are the oldest couple in their church, and have buried many friends.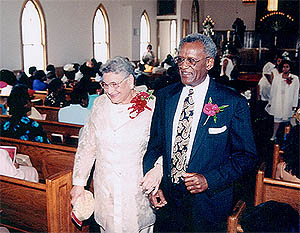 While there are some widows in the church their age, there are no other couples in their church with both members living.
"God has been with us through it all," he comments reflectively.
Looking back over the years, they readily agree that they have no regrets. They did everything they wanted to do, went where they wanted to go, and celebrated life through friends, family and church.
"And," daughter Pamela adds, "they always put God Almighty first, and He seems to have done the rest."
When asked their secrets for a happy marriage, they pause and look at each other.
"If you could tell other young couples what to expect and what to do to have a marriage as good as yours, what would you tell them?" I query further.
"We have a lot of the same interests," she responds. "We go everywhere together."
"Yes," he replies. "But she doesn't drive anymore. I told her I wouldn't ride with her from here to Halifax. I do the driving, and she helps me remember where we're going."
"It takes a lot of love and talking things out," she adds.
"You know, divorce has never been an option for us," he comments. "Now there were times," he laughs, "when I just walked on out the door so I could cool off first when we were having a fuss with each other."
"But he always came back," she hastens to add, smiling as she remembers.
"There has to be a lot of give and take," he tells me.
"And another thing," he adds, "when I was in the service, like I told you, she wrote to me all the time. That kept my spirit up and it let me know that she wasn't forgetting me."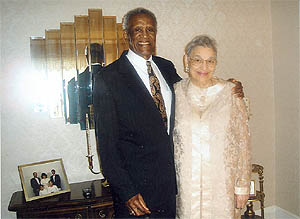 I watch them, two lovebirds sitting at their kitchen table. Their secrets to a happy marriage are really nothing new, and they aren't really secrets. They are truths we all know, if we but pause to think.
I will learn from them. Marriage is more than being young and in love. It is commitment where divorce is not an option. It is staying in touch with each other when miles and months separate us. It is going to God with our grief and allowing Him to bring healing. It is doing enough things together so that people or events cannot drive a wedge between. It is learning to enjoy being with each other so that we don't want to be apart from each other for long.
Marriage is talking things out when we disagree — and sometimes walking away from a discussion for the moment lest we say things we will later regret. Marriage is also coming back after walking away from a disagreement. Marriage is more giving than taking. It is allowing him to drive when I'm not capable, and helping him find his way when he is unsure.
For better, for worse; for richer, for poorer; in sickness and in health. That is what marriage — and commitment — are all about.
Happy Valentine's Day, Fred and Bessie!
*Thanks to Pamela Carrington Brown for her assistance in providing material for this story.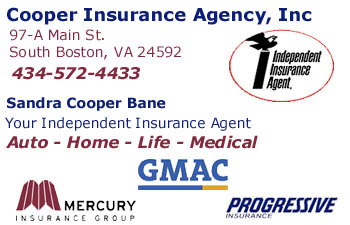 __________
Born and raised in western Maryland, Gertrude Slabach has claimed Southside Virginia as home for over twenty four years. She is an RN and works part-time at Fuller Roberts Clinic in South Boston, Virginia.
Gertrude and her husband Dave have six children; four sons and two daughters.
She is the author of three books: Aren't We Having Fun Dying?!, Southside Glimmers, and Always Mama's Girl. The books can be purchased at Windmill Farm Bake Shop, the South Boston-Halifax County Museum, or by contacting her at:
gertslabach@DiscoverSouthside.com
Read more about Gertrude Slabach's Books in print here >>>
__________