---
Ask Bubba
---
Bubba the Wedding Planner - Feb 09
Dear Bubba,

I just axed my sweetheart to marry me and wunder of wunders, she said YES. Now I am the happiest guy in town, excpet for one small thing. I ain't exzackly loaded. So I can use your help planning the wedding. We figgure we will only invite close kin, but that is pretty much the whole trailer park so we can use some suggestions..

Signed,
Junior Jones, Jr.,
Matrimony, VA
Dear JJJ,
It seems like this whole dern megazine is on a weddin' kick this month. So as not to be out did, by the rest of the staff, Bubba will jump in here and see what he can do fer ya.
If this takes off Bubba might just start a whole new enter-prize.
"Bubba The Weddin' Planner"
Without further fiddlin' here is some ideas for your Weddin' that won't bust yer budget.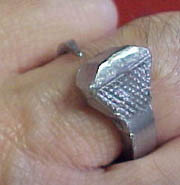 First place you can save a few bucks is on the rings.
The price of gold and diamonds has gone threw the roof. Unless you want to spend more than the price of a new truck on a ring, consider having your local blacksmith (that's a farrier for you highbrows) fix ya up a couple of these beauties from horse shoe nails. They are L-egant and functional too.
After ya sweet talk her into setting a date, you are gonna have to invite folks to the celebration.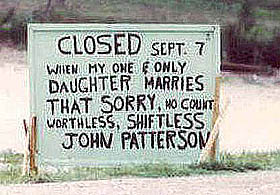 Now some people think it is a fine thing to send out those fancy invites with the 27 envelopes and RSVP notes in them. But them can run into money. If you live in a small town like most of Southside, think about making a public announcement instead. In many cases the future father-in-law will be only too happy to do this for you. Saving you the time and trouble.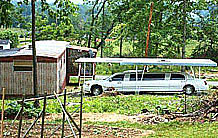 Unless yer brother-in-law has the keys to a company limo ya can borrow...
Ya might have to rent something. Limos can get kinda pricey so we suggest getting the most bang fer yer buck with something that will not only git yer bride to the church, but can tote the whole weddin' party.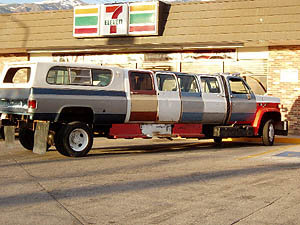 Not to mention makin' the beer run when supplies run low.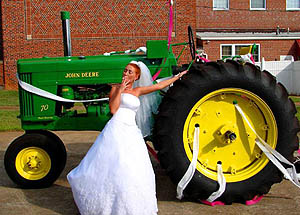 Of course, it ya have a nicely restored antique vee-hick-el you can always use it instead.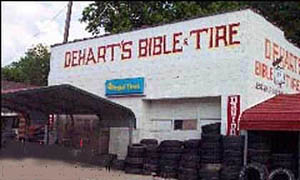 For the weddin' hall, consider one of the more resonable priced chapels.
Some even comes complete with they own in-house preacher.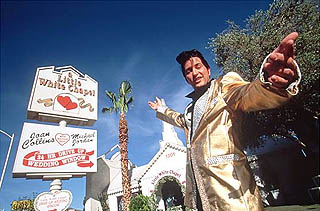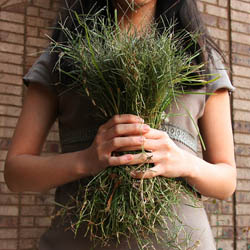 If you are having a spring or early summer weddin', the Bride's flower Bow-Kay can be got from wild flowers available in most any field, or the neighbor's garden (just don't git caught poachin' flowers as some folks can get right testy about their gardens).
Just make sure you don't get any poison ivy mixed in with the greenery. It can make for a unhappy honeymoon.
Once ya get hitched, you are off to the reception.
Bubba recons you could spring for a couple cases of spendy Shampane like that Don Pettibone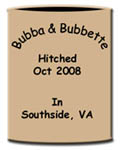 that 'sposed to be so fancy. But since most of yer kin ain't gonna 'pre-she-ate the difference, ya might stick to beers and cokes. You'll save a bundle on the suds. As an added benny-fit instead of goin' fer them fancy etched Shampane glasses, you can order up some custom Koozies like these.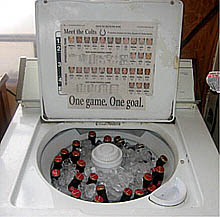 If you are gonna have an open bar, be sure to keep it well stocked.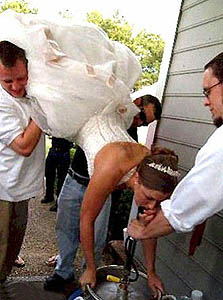 And it's good to make sure the bride has plenty of attendants so she don't muss up her dress.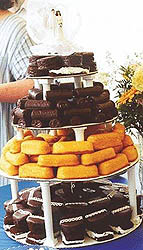 For a weddin' cake try this do-it-yerself deal. Garr-on-teed to be a hit with most of the family.
If you feel the need to step up to something a bit more fancy to match your theme, check out this beauty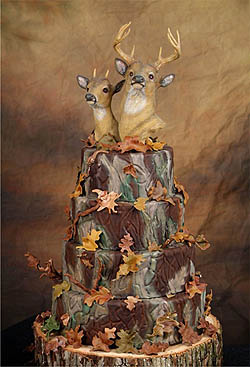 Your choice of caterer is very important. Be sure they is aware of how many folks will be at the reception and can provide enough food.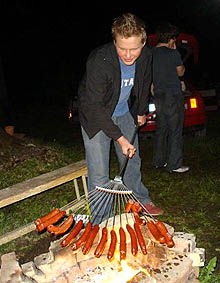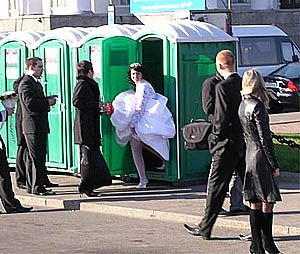 Somewheres along the way, you and the new Missus is gonna want to change out of your weddin' duds before heading off to your honeymoon. You might be able to step behind the nearest hay bale, but the lady will need a proper place to change. So be sure to provide such.
Hope these tips help you save some doe on your wedding so you can have the extry left over for the dream vacation you planned for the honeymoon.
Be sure to tune in again when Bubba's Travel Services™ (Trailer Mark Pendin') offers up some travel tips and packages to fit any budget.
Good luck,

Bubba
------------------------
That's all for this month.
If you have a question burnin' a hole in yer noggin, Bubba can help.
Just E-Mail Bubba
askbubba@discoversouthside.com
------------------------
Disclaimer: Use of the Bogus advice above is probably foolish.
And in some parts of the country it might even git ya shot.