---
Ask Bubba
---
Bubba the Outhouse Fill-Osifer
Dear Bubba,
Indoor plumbing with flush commodes is a real fine thing and all, but it seems all too often in Southside the power goes out. Sometimes for days. Then whatcha gonna do? We had this happen the other day and what with me and the missus and all eight of the kid-critters, things got real touchy after about three or four days.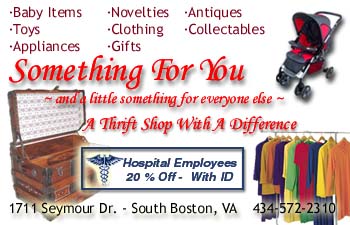 Now I know our grandfolks got by just fine on outhouses, so I figured we might put one up for just such E-Mergencies.
So we was wondering if you had any plans or suggestions you would wanna share.
Runnin' for the outhouse.

Signed,

Willie Makit and Wife Betty Dont
Uppa Creek, VA
Dear Willie & Betty,
It jest so happens that Ol' Bubba has been corn-siderin such things his own self. So while you were lookin' fer yer paddle, Bubba has been out scoutin' around for idears. Here's what he come up with.
(NOTE: Them pics is clicky iffin ya REALLY gots ta git a closer up look at 'em)
First, is a couple egg-samples of yer classic Outhouse.
Ain't they purdy?
| | |
| --- | --- |
| Now here is one that is kinda quick and dirty, but if all ya needs it for is once in a while, it might hold ya. | |
Now this here one is a bit nicer, but still on the simple side.

Aunt Sally-Mae didn't think much of it though.
Fer when the in-laws comes ta visit. Here is a coupla of them two-story jobs ya always hears about.
Jest be shore ya get out there first and get the penthouse.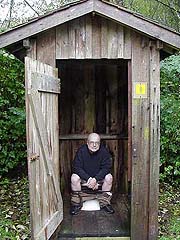 Ahh Oops. Sorry. Don' know how that one slipped in there. Bubba's cuzzin Bob doing some serious thinking.
Bubba almost hates to say this (Sorry Mr. Foxworthy) but you might just be a Redneck if.....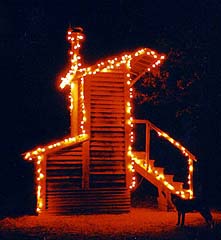 ....Ya decorate yer outhouse fer Christmas.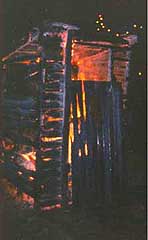 Here's a tip fer ya. Iffin the outhouse don't get maintained real good. Ya are gonna has to disinfest it.
Here is one way, but it might be a bit x-stream
Well we is gonna keep it short this month. Onna counta, Bubba's gotta run.
Git it?,

Bubba
------------------------
Disclaimer: Use of the Bogus advice above is probably foolish.
Makin' the inlaws use the basement of the outhouse is a crappy thing ta do, but they ain't likely to come back real soon neither.
Constructin' a outhouse with out a premit from the EPA (Evil Potty Agent-see) might not be legal neither.
------------------------
That's all for this month.
If you have a question burnin' a hole in yer noggin, Bubba can help.
Just E-Mail Bubba
askbubba@discoversouthside.com