---
Dana's Garden Spot
---
A Growing Business In Southside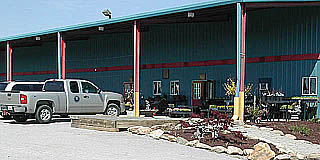 When Dana and Duane Peters opened Dana's Garden Spot in 2006 they never imagined less than three years later they would be celebrating a Spring Open House in such a big way.
When Duane's employer relocated him to the Danville area, the rest of the close-knit family followed and fell in love with the area.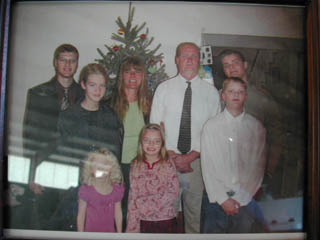 The Peters family knew they wanted to open a business in the area, but weren't sure just what kind. With previous Real Estate experience, they briefly considered that possibility, but really wanted to do something that could involve the whole family.
Driving along US Hwy 29 one day, the spotted a Greenhouse business for sale just outside Danville. The idea of a greenhouse and nursery appealed to them and they called for information. A family of strong faith, Dana says, "We prayed about it. We were still a bit scared, but knew it was the right thing for us."
They decided to take the plunge.
When the business first opened, it was intended more as a side business for the family to do together,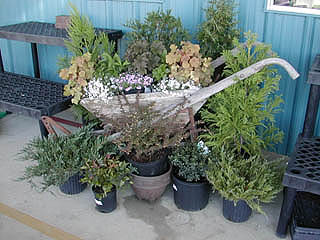 and for Dana to do during the day. Dana shook her head, "We were naive at first. We had no retail nursery experience and thought it was something our six-year-old Bekah and I could run by ourselves. There was a lot more to it than we thought."
Early on, Susan Cobb became part of the Dana's Garden Spot business. Dana says of Susan, "We are so happy to have Susan with us. We consider her one of the family."
About six week into the business, Duane lost his job and the business became a lot more than a side business. With the husband and wife team now involved full time, the business took on a new character. Like any new business, but with additional challenges, the family worked hard to make it successful. Dana told us they made a lot of mistakes the first year. Then learned and grew from those experiences the second year.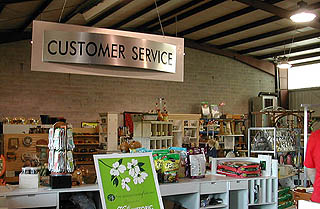 What is great about this type of family business is it gives them the opportunity to teach their children about pride in their work, satisfaction and work ethics.
With no small amount of family pride Dana told us the whole family pitched in. "None of the kids have even been ones to shirk a task. The little ones can plant with the best of them."
"We pray like it is up to God, and work like it is up to us", she smiled.
Dana and her family took a love of growing and love of learning, coupled it with personal integrity and grew the business. Good honest hard work, faith, and a commitment to service have been the keys to success. She believes the customers teach them about the service side, "We learn a lot from our customers too. They let us know what it takes to please them, and we listen."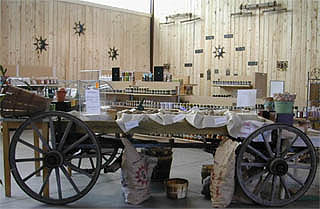 With earnestness in her voice Dana says, "We are not looking for material riches. We want to run a good business, make enough to pay our bills, and provide for our family and for the community."
They continued to rely on faith, and that faith was rewarded, Dana told us, "We take little personal credit for the success of the business. You grow where you are planted."
And grow they did.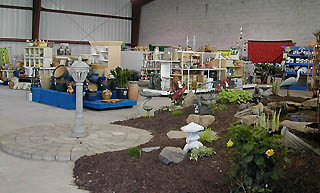 When an opportunity came along to expand into a larger facility, the Peters family took another leap of faith. Early this year, Dana's Garden Spot moved into their current location in the old 84 Lumber property on Hwy 29 in Blairs. The new location has six fenced acres, and nearly 17,000 covered square feet of building space.
To manage and fill the greatly expanded operation required more products and services than the original business model.
Dana spoke about what was involved in the new venture, and the vision for the future of the business.
"This move has been all about people and businesses coming together. We wanted people and products, which would compliment each other. We know that local people who support us are our bread and butter, but we also want this to be a 'destination' business where people will travel to come and enjoy the surroundings."
To accomplish this, Dana's Garden Spot partnered with some people and businesses that, according to Dana, "Have been just great to work with."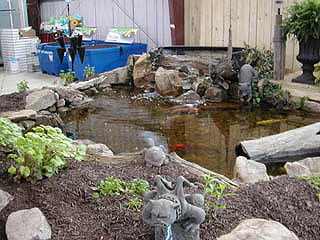 Dana made a point to give special mention to several people. In Terry Faulkner she has found a partner and a blessing. Bill Rogers, her landlord has been another of those people who have been so good to work with.
Mike and Angie Wheeley, of American Aquascapes, are bringing ponds and water features to the list of services Dana's can provide. A beautiful example of their work is a focal point inside the building.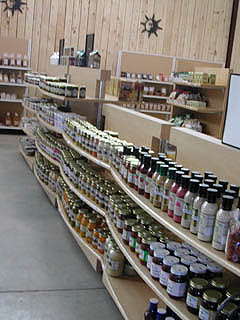 Rick and Liz, of Yoder's Country Market are bringing in Amish goods as well as other items. There is an entire section of the building, decorated in rustic style that showcases the goods from Yoder's.
Dana wanted to point out that Susan Cobb, who has been with them almost from the beginning, has been an important part of the businesses success.
As though saving the best for last, she told us that while her husband Duane prefers to remain behind the scenes most of the time; it is his creative and mechanical skills that really "make it happen".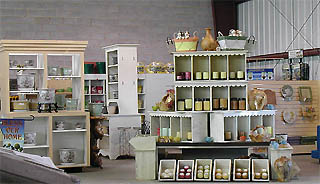 Speaking about their relationship in the business and in life she said, "We really push each other to be much more than we might be as individuals."
As we looked around the building we saw how all those involved in the growth of Dana's Garden Spot have indeed brought together many pieces to form a greater whole.
Stop by to see for yourself.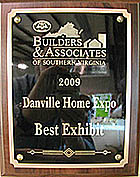 Dana's Garden Spot is located at:
5844 US Hwy 29
Blairs, VA 24527
In the Old 84 Lumber Building.
PHONE: 434-836-9200
The business is open
Monday - Friday 9-6 Saturday 8-5
They are Closed Sunday
On Saturday April 18th Dana's Garden Spot will hold a Spring Open House Celebration in their new home. Join them for a great day..
Or visit them on the web at: www.danasgardenspot.com