---
Southside Gardener
---
April To Do List for the Gardener
Contributed By William H. McCaleb
Master Gardener Coordinator
Virginia Cooperative Extension
1. Plant dahlia tubers after the danger of frost has passed. To prevent damaging roots later, set a support stake along side each tuber at planting time.
2. It is also prime planting time for other summer bulbs such as Cannas, gladioli and caladiums.
3. Now is a good time to divide such perennials as babyís breath, Shasta daisies, asters, liriope and phlox.
4. After they fade, cut back the flower stalks only on daffodils, hyacinths and other spring bulbs that perennialize in the garden. Let the foliage die back naturally.
5. Three secrets for a full-flowering clematis: 1) make sure it gets 5 to 6 hours of sun a day; 2) keep the roots cool with a two Ėthree inch mulch covering, and 3) sprinkle a little lime around this alkaline-loverís planting site.
6. Have patience with hostas you think may have died over the winter.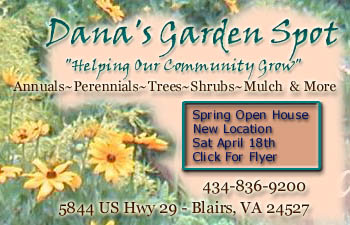 Many pop up late in the spring so donít be quick to give up on them.
7. From the middle to the end of this April, continue filling up the veggie patch with corn, snapbeans, peppers, cucumbers and tomatoes. In case of late frost, be sure to cover your plants overnight and remove the cover once temperatures are back above freezing.
8. Time to plant dahlias. Since most grow long and lanky, place a support stake in each hole now to help prevent damage to the tuber later.
9. The best time to prune back azaleas that are looking a little lanky is right after their flowers fade. Donít forget to prune back your forsythia as well following bloom drop. If they need fertilizer, this is the time to apply.
If you have questions about your landscape plants, you can also call the Extension Office and ask to speak to a Master Gardener or the Horticulture Technician.
_____________________
William H. McCaleb
Program Assistant, ANR
Master Gardener Coordinator
Virginia Cooperative Extension
171 S. Main Street
P.O. Box 757
Halifax, VA 24558-0757
434-476-2147
fax: 434-476-7777
http://www.ext.vt.edu