---
The Sport of Collecting
---
Collecting Sport Cards, Comics and More
If you were a kid back in the 50's and 60's you might remember when Baseball cards were on the candy rack of most local stores. The packs came with a stick of gum that was about the same consistency as the cardboard in the back of the pack. Unless you were an avid collector, you might have thrown the cards away or stuck them on your bicycle so the spokes made motorcycle noises.
A number of years ago, fueled by urban legends of finding that one rare card worth a small fortune stashed away in a shoebox in the attic, the collecting hobby took off.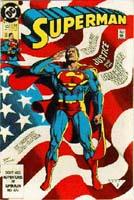 The popularity of Sport Card collecting has risen and fallen several times, but the core of collectors seems to remain steady as one generation of collectors replaces the last.
Comic books too seem to have an almost cult-like following. But the stereotype Geek-boy is far from the reality. Comic book collectors are a serious lot when it comes to collecting.
Collecting Baseball Cards and Comics has come a long way since the early days. Where once one could find packs of cards for sale nearly anywhere, today they are rarely found outside of specialty shops or online vendors.
Curious about the current state of the hobby, we checked in with Mack, Jenny and Brian McDaniel at B&D Sport Cards and Comics in Danville,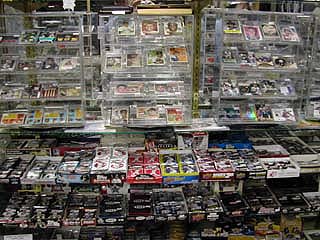 to get a feel for the hobby as it is today. B&D is a family-run operation and has been in the Sport Card and Comic Book business for 20 years, and so they are as knowledgeable as anyone you will find on the subject. .
B&D started when Brian (the "B" in B&D) was just 16. He and his cousin David (The "D") were serious collectors. When Brian gave his father a list of just five Rookie cards he wanted for Christmas one year, the total price for the cards was around $700. That Mack says, "Is when we decided to consider it as a business."
The family discussed the idea and decided if the boys were willing to take on the responsibility of running it like a business, the family would support them. Mack enlisted the help of two of his brothers and in February of 1989 they opened in the old Downtown Mall. At 16 Brian was responsible for ordering all the cards, comics and other collectibles. After about one year in the Downtown mall B&D moved to the Piedmont Mall where the business remained until 2000. From there they moved to the current Piney Forest Rd. location.
The business has undergone some changes in the past 20 years. After leaving the mall, Mack's brother's got out of the business. David joined the military and got out of the business as well. Jenny said, "Now we jokingly say B&D stands for Brian & Dad."
When B&D opened 20 years ago, there were five or six card and or comic shops in town. Today they remain as the only dedicated card and comic shop in the area.
Through the years the McDaniels have seen the collecting hobby change.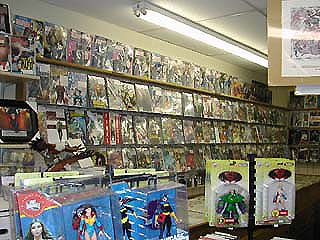 They told us, the Baseball card boom was in the mid to late 1980's. Then in the early 90's comics came back strongly. At that time gimmicks were the hook. Anything different was likely to make the comics sought after. Holograms on the cover, foil covers, special packaging, or anything that might be packaged with the comic could be a selling point.
"Today, they are story driven.", says McDaniel. "We are seeing better story lines and better writers. Anything that is well written keeps people coming back for the next issue."
People don't want to miss an issue. He pointed out the rack behind the counter that looked like a post office. "This is where we keep the subscriptions. We offer a free subscription hold service for our regulars."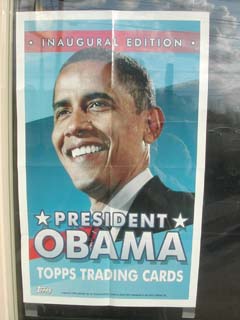 We asked about what determines the value of collectable comic books today. "Quantity is one of the main things," Mack pointed out. "Back in the 90's print runs might have been a million. Today they might only print 100k."
We were given some examples of special issues, which became valuable. When Marvel Comics killed off Captain America, that issue kept selling out, and got very hard to find. Some other special issues have become instant collectables. Recently Marvel Comics put President Barack Obama on the cover of Amazing Spiderman. It was a limited run and went from the $3.99 cover price, to $150 on e-bay the same day. That issue is now on its fifth printing and is still selling out. A lesser-known comic called Savage Dragon, by Image Comics did an Obama cover and it went to $50 over night. In the long run it might even be worth more than the Marvel comic due to its shorter print run.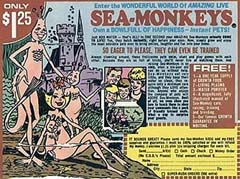 We were wondering about our collection of old comic books. Mack doubted they were worth much, as they seem to have all the ads for Sea Monkeys and X-Ray glasses cut out of the back.
Getting back to Sport cards we asked about the urban legend type find of an old Baseball card worth a small fortune. B&D told us those situations are extremely rare, but do happen once in a while. You are more likely to get a good find out of an unopened pack, than find something in an old collection. They said, "We have seen a few times where someone bought a two-dollar (current production) pack of cards and found a card worth $1,500, but "Grandma's attic" finds are extremely rare."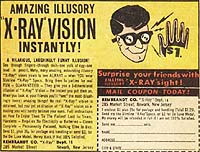 Prior to the 1990's, collectors looked for cards of a particular player. The valuable cards today are cards with a limited run or something special about them. Many cards now come with something like an actual piece of a "game used" jersey, a paint chip from a game helmet, a piece of a game ball or bat, or a hand written autograph. Limited edition cards may be numbered, like artwork, and will have a series number on them such as card number one of 27. Some of these cards may even be limited to one of one.
The problem with older cards they told us was usually due to the condition of the card. A card looses value very quickly with any damage. An otherwise valuable card might be worth only 1/3 as much with minor roughness on the edges.
Mack told us about one case where a woman came in with several photo albums full of cards from the 50's and 60's. It seemed almost painful for him to tell the story. The lady had several very valuable cards in the albums,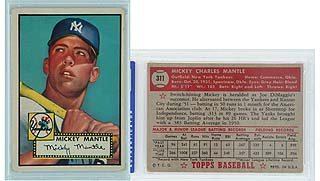 including the Holy Grail of Baseball card collectors; a Mickey Mantle Rookie card! That one card if in mint condition would have been worth around $25k. The cards had been glued into the album and would have been destroyed to remove them. The card as shown was worth nothing at all.
That led us to ask about the best way to store and preserve cards and comics. The best way, we were told, is in special boxes that keep the cards flat and sealed. These boxes are available at most better card and comic stores or online. Brian said that any way you can keep them cool, dry, flat and out of sunlight is good. When we asked about something like food containers, he said they have rounded sides and corners and tend to curl the cards. It is better to put them in a flat box stacked carefully. They went on to say one of the worst things you can do in storing the cards is to put a rubber band around a stack of them. The constant pressure of the band actually eats into the cards and curls the stack.
To be on the safe side, if you have cards or comics you want to protect, get advice from a veteran collector or reputable shop that specializes in cards or comics.
To find out the value of cards or comics in your collection, there are several companies publish price guides and are usually scaled by condition. These guides can be purchased at a shop like B&D, larger bookstores and online. Some of these even have a limited version available online for free. [Some of these publications are listed in the references below.]
If you are a card or comic book collector, you may well collect other related items as well.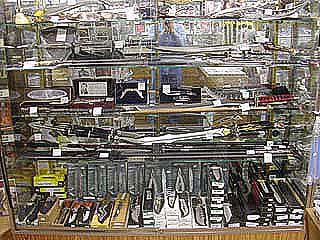 Many shops such as B&D carry a line of Action figures, statues, figurines, and reproduction weapons.
Popular collectable Items include, Medieval weapons, Samurai swords, and Civil War Reenactment supplies.
B&D has a nice collection of Officially Licensed Movie Replicas, including the Sword of Eragon and Excalibur. They also have replicas from other movies like Conan, Blade, and X-Men. Mack pointed out that every piece they carry has a certificate of authenticity. If you are serious about collecting these pieces, be sure they have a certificate.
In the time B&D has been in business in the Danville area, collecting has come a long way, and so have the collectors. The McDaniels told us they have seen plenty of second-generation collectors in the shop and even a few families on their third generation.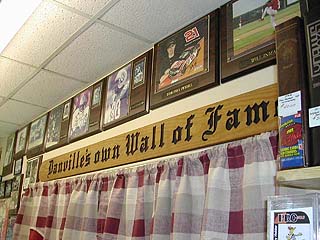 Mack takes great pleasure in getting the young ones excited about collecting.
If you enjoy collectables and are going to be in the Danville area; stop by B&D Sport Cards and Comics at 1326 Piney Forest Rd. in Danville. You will be in for a treat. While you are there, be sure to check out Danville's Wall Of Fame; B&D's collection of plaques and memorabilia of sports personalities who are all from the Danville area.
Discover Southside would like to thank, Mack, Jenny and Brian for their time and expertise in researching this article.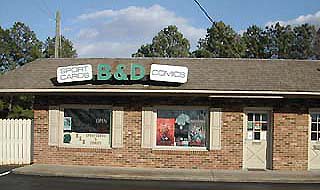 B&D Sport Cards & Comics
1326 Piney Forest Rd.
Danville, VA 24540
434-836-9133
For more information about collecting Cards and Comics.
About.com Sports Card Collecting
Wikipedia.org Comic Book Collecting
About.com Protecting your Collection
Price Guides
Beckett publishes an annual price guide, monthly publications for each major sport, and an online price guide service.
www.beckett.com
The Overstreet Comic Book Price Guide
Krause Publications publishes Tuff Stuff magazine, a price guide, and Sports Collector's Digest, a weekly for hardcore collectors containing ads and show and auction information.
For Fun