---
Bluebirds, Forgiveness, and Spring
---
By Gertrude M. Slabach
Photo by Sarah Beth Slabach and Gabriel Burkey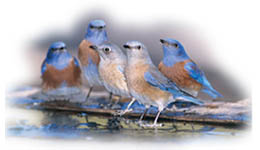 I believe in spring. After the barrenness of winter, I delight in anticipating spring. Birds building nests, warm breezes, and dogwood buds tantalize me with the lure of spring. After the sizzling summer, the feisty autumn, and the weary winter, I welcome spring.
My favorite view is the red birdhouse nestled in the dogwood tree outside my office window. It's been vacant, waiting for new tenants. There is a pair of bluebirds who seem to think that birdhouse might be a pretty good place to raise a family.
I can't wait to find out. It's important that some bluebirds raise a family there. I can look at that house now without the pain I felt last year. You see, I almost lost a battle then.
Last spring, I basked as I watched a bluebird pair bring twig after twig to the little house. They built their nest, and then moved in. I could set my clock by the times they'd show up at its front door.
Every day I'd report to the kids on the antics of my bluebirds. We'd wonder in awe at the instinct of my feathered friends. How did they know when it was time to return from the south? How did they know when to build their nest? How did they even know how to build a nest?
On sunny days or rainy days, they'd be there, flitting from blossom to blossom in the tree. I'd revel in the beauty outside my window--the red house with its black roof, back-dropped in white by the dogwood flowers. And the blue! Oh, the blue of those bluebirds! Each morning, the sight would help open my sleepy eyes. At dusk, they'd be there again, getting settled for the night.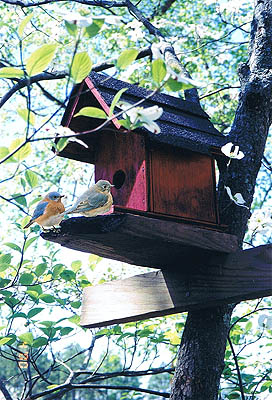 It was going to be a fun spring, I thought. We'd be able to count the eggs and take a peek at the babies when they had hatched.
Then one day I came home from town and was met by two sons. Their sober faces revealed a confession was in the making. They'd been hunting—in the woods and in the field. They had followed the "no guns in the yard" rule. From a distance, they'd seen a bird--a blue one--high in a tree. Convinced by a younger brother that it was probably only a Blue Jay, the older brother aimed his gun and fired. Their excitement at the target hit turned to dismay when they arrived at the base of the tree. The shooter picked up the bird, and they looked at each other, wondering— could this be Mama's bluebird?
Dejected, they carried the bird to the porch and waited to confess. That's where they were when I arrived home.
"Mama, I need to tell you something." The shooter stood on the porch, hands stuffed deep into his pockets.
Moms can tell a lot by the cock of a kid's head and by the look on his face. He had an I broke something, and I need to confess look masking his face. But the mask didn't hide his eyes. Those brown eyes showed wistfulness and pain.
The boys spilled out the whole story. Then they showed me the bird.
"Please tell me this is a Blue Jay," the shooter begged.
Any other time, he could have told me himself. He knew a Blue Jay when he saw one, and this was not one of them. In my heart, I would have liked to have been able to tell him it wasn't a bluebird. In his heart, he already knew.
"Maybe it's a different bluebird," he suggested wistfully.
"Maybe it is," I responded tearfully--yet somehow I knew it was not.
It wasn't. We watched the birdhouse that evening and the next few days. One lone female bluebird came to the nest. She seemed forlorn, waiting in the silent darkness.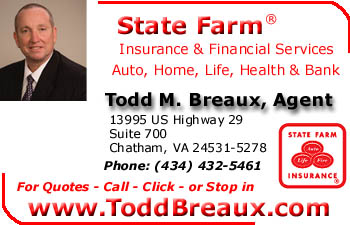 Perched on the stoop of her empty house, she seemed so alone. And then one day, she didn't come at all. The house was vacant, empty, and drawn. The usual chirping from the dogwood tree was absent.
I'd like to be able to say that I mirrored graciousness at the initial confession. I was upset and disappointed, and my guys knew I was heartsick at losing that bluebird.
So when there is pain and loss, how do I respond? What is my answer when I'm asked, "I'm sorry. Will you please forgive me?"
Forgiving wouldn't bring back the bird. But it would--and it did--change my black-and-white spring to a cascade of colors.
If you believe in spring, there's no other choice. If you believe in spring, then you believe in life after death, in growth after grief, and in beauty after pain. Forgiving the winter for its chilling frost, spring bursts forth in color and beauty and song.
Forgiving meant choosing to forgive again in the morning when the house and tree were empty--and I felt an empty ache inside me because I missed the morning bustle and flurry in that tree. I missed seeing a dash of blue seeking shelter inside the red house when it rained. I missed watching the songs bursting from their red-blue throats. I knew the female bird missed her mate. She didn't seem as feisty, and the purpose was lost in her flight.
One dreary, rainy day I sat at the dining room table and cried. And yes, I asked those "Why?" questions. It wasn't fair. Why couldn't it have been someone else's bluebird? Why did it have to be mine? Why did my son's bullet hit its mark from such a great distance? He had never accomplished that before! Why did it have to be then? Why couldn't his first experience at hitting the mark have been a positive one?
Time has a way of bringing healing when we allow it to become our friend. No matter what the season, there are lessons we can learn.
I used the sight of the forlorn female bluebird as a reminder to pray for my sister-in-law, who was raising four children without her mate. The birdhouse in the dogwood tree reminded me to pray for my son—and to thank God for his sensitivity in caring about mama's bluebird.
I found healing in forgiving, and in remembering that, as much as I cared about my little bluebirds, how much more does my Father in Heaven care about me! It was Martin Luther who said, "Our Lord has written the promise of the resurrection, not in books alone, but in every leaf of springtime." Do you think we could include bluebirds somewhere in there?!
It's spring again—and there are bluebirds in the yard. Two different pairs have each claimed a house. I see them daily, carrying twigs to build their nests. The earth seems fresh and new and alive.
I watch the bluebirds, and I remember the pain of the previous spring. The memory is there, but the pain is gone--because I have chosen to put the sand of the summer, the fret of the fall, and the winds of the winter, behind me. I have chosen to find life in forgiveness this spring! Time has a way of healing, I know. All I have to do is look around me--and observe Spring!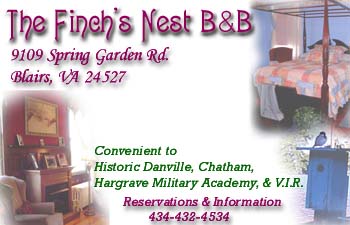 Author's Note:
This story was written in 2001, one year after "my bluebird" was shot by our thirteen-year-old son. The red birdhouse has fallen apart and another birdhouse now sits in its spot. My sister-in-law (who had lost her mate in a tragic accident) built a different nest with a new mate. Every year when that dogwood tree blooms, the bluebirds are back, building nests. Every year, I watch the bluebirds and remember that spring. This story is in the book Southside Glimmers.
__________
Born and raised in western Maryland, Gertrude Slabach has claimed Southside Virginia as home for over twenty four years. She is an RN and works part-time at Fuller Roberts Clinic in South Boston, Virginia.
Gertrude and her husband Dave have six children; four sons and two daughters.
She is the author of three books: Aren't We Having Fun Dying?!, Southside Glimmers, and Always Mama's Girl. The books can be purchased at Windmill Farm Bake Shop, the South Boston-Halifax County Museum, or by contacting her at:
gertslabach@DiscoverSouthside.com
Read more about Gertrude Slabach's Books in print here >>>
__________