---
Welcome Spring
---
By Tammy Tillotson
Spring has not officially come to Southside Virginia until I start to see daffodils popping up all over the place. To me, looking for daffodils could be compared to egg hunting at Easter time!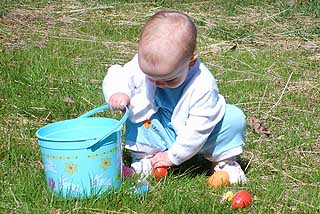 When I'm running tedious errands, grocery shopping, or just trying to find something cheerful about an otherwise ordinary day, the brilliant flashes of golden yellow are so wonderful and exciting!
Admittedly, daffodil hunting is something I've done since I was a child as my grandma loved daffodils and had a variety of different kinds in her yard. Sometimes my grandma jokingly called them "buttercups" and then I'd spend the better part of an afternoon searching for and finding the tiny yellow buttercups. I would eagerly take them to her and explain, somewhat indignantly, that there was a big difference between a buttercup and a daffodil. Daffodils looked like beautiful little teacups on petal saucers, while buttercups were much, much smaller. We'd laugh and rub buttercups under our chins or down our arms just to see how much we liked "butter" – the streaks of yellow pollen left behind.
It is only now that I have two rambunctious boys of my own that I realize my grandma was really on to something with this game of daffodils and buttercups. While she enjoyed the shade of a towering oak tree in one of her aluminum folding chairs, she managed to keep me busy for hours while I was loving every minute of it and getting enough exercise to tire me out!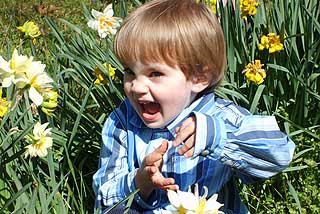 Each year the arrival of spring reminds me to savor these simple moments, to welcome new beginnings, to not forget to share these simple childhood games with my own children, and to appreciate and embrace the new games that my children teach me.
Over the past two springs I've learned that a toothbrush being flushed down the toilet is not the end of the world. An entire bottle of conditioner makes the toilet a little bit slippery for a week, but it will make the rug and the rest of the bathroom smell like peaches and cream for a month! My husband has also learned that his workday is not off to a bad start when he puts his boots on, howling when he finds the surprise our son left right where he knew his daddy would be sure to look. It's certainly hard for a person's toes to miss the sharp plastic ladder of a Matchbox fire engine when putting boots on in a hurry!
And this spring is no exception, as it would seem our family is once again off to a wonderful beginning. We've finally made a house decision and are busy making preparations to move our little nest, hopefully before the summer. So when the phone rang the other day and was one of those necessary calls I had to take, I told my sons, "Mommy needs to talk to this person about the new house, can you please play quietly for just a couple minutes." Actually, I know I said that much more pleadingly, but since my three-year-old still thinks we're getting a new gingerbread house, he's been overly eager to be helpful and quiet when I need him to be. Surprisingly, both children were quiet. Too quiet. Three minutes later a blizzard of Kleenex had snowed in our entire living room! A brand new box I had just opened not an hour earlier!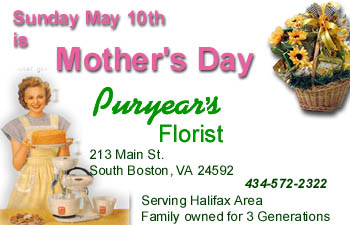 I should know better by now, but I asked anyway. "What were you guys doing?" To which a small answer came, "Well...he needed a Kleenex to blow his nose." That would be the older one pointing at and blaming the little one.
Momentarily, I completely forget it's spring and I'm supposed to be remembering daffodils and buttercups, as I am not at all amused. I do pause for a moment and try to think of something positive about the situation. It takes a couple deep breaths, but then I do feel just a twinge of thankfulness in that it was one of those boxes with 200 tissues in it instead of 500. Could have been exponentially worse. Then suddenly I have one of those brilliant "mothering" moments about how the punishment should fit the crime. My mind flashes to Beverly Cleary's character Ramona Quimby, and I vaguely remember an incident when Ramona uses a tube of toothpaste like it's a tube of cake decorating icing. Ramona made elaborate roses in the bathroom sink, to which her mother made her save all the toothpaste and put it in a little plastic baggie that she was to use while everyone else in the family got a new tube. Ah-ha. That gave me an idea.
Yep. My boys and I spent a solid forty-five minutes carefully refolding Kleenex. When my oldest son argued, "But we have another box in the cabinet." I would hear nothing of it. We were not being wasteful.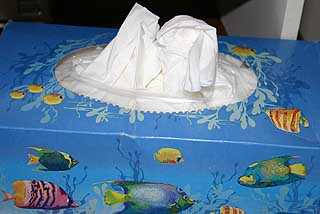 We were going to refold every single one. When my son questioned how we were going to fit all the tissues back into the box, I had an answer for that too. I opened one of the glued ends, slid the tissues inside, and then taped it back shut – rather proud of my genius solution to this dilemma while instilling the values I wanted my sons to be learning from me.
As I placed the Kleenex box back in its place my son looked up, laughing, and said, "Mommy, we should play this game again! But next time, you should wait for me to put them all back in the box so I can WIN!!"
Yeah, now I definitely think my grandma was on to something with those buttercups! Oh, and so you know, tape doesn't hold a box of Kleenex shut very well. Ask my husband. It seems there was another tissue blizzard a few days later at our house!
~John 21:5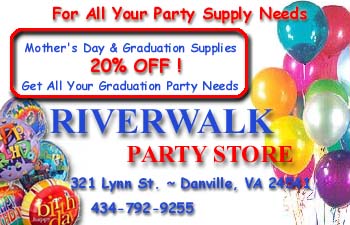 Tammy Tillotson is a freelance writer in Chase City, Virginia. She is the editor of the upcoming Writers Studio Young Authors Anthology entitled Bull Bay Review.
You can E-Mail Tammy Tillotson at: tammytillotson@discoversouthside.com