---
The
Philip "Flip" Wyatt
Memorial Skate Park Story
---
A Legacy of Giving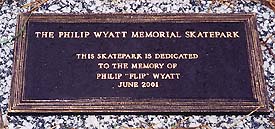 This story begins a little over 26 years ago. It is more than a story about a skate park. It is a story of how the family and friends of a young man turned a tragic loss into a legacy, which keeps on giving.
Last fall we were invited to check out a skateboarding competition at the Park in Danville. That competition opened our eyes to the true nature of the sport and the people involved in it.
After admitting that we knew little about skateboarding, we began to learn. In the process we have met many interesting people and gotten to know a few skaters and their usually very supportive families.
The fall competition, took place at one of the few organized and available skate parks in the area. The Philip Wyatt Memorial Skate Park in Dan Daniel Memorial Park in Danville.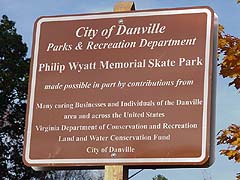 At the competition, we asked a couple people about the nature of the memorial park. Few really knew the whole story. Initially we were told it was named after a teenager who had been a skateboarder, and had died in a car wreck several years earlier. But details were few and a little conflicting.
That is when we decided to really learn the true story, we needed to begin at the beginning. After a few inquiries, we made arrangements to meet with the parents of Philip Wyatt for whom the park was named.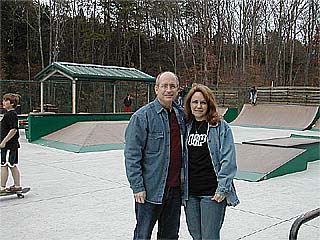 Terry & Denise Wyatt at Park - Day of interview
After several e-mails and phone calls, we were able to make our schedules mesh.
We met with Terry and Denise Wyatt at the park one afternoon. With the skate park obstacles and the sound of skaters practicing their craft as a backdrop, the story unfolded.
The Wyatts gave us the outline of the story first. An avid skateboarder until the day he died, Philip had always wished for a decent facility for kids to skateboard. Shortly after his accident on October 25, 1999, Emily Webb, a friend of Philip's, approached the Wyatts with the idea for the park. She wanted to help make his dream a reality, and asked their permission to pursue the concept. With their blessing and support, Emily took the idea before the Danville City Council. The council skeptically told Miss Webb if she was serious, to raise $1000 and come back with a proposal.
With the help of some local businesses and support from the community, it only took Webb a few months to more than double her goal and return to the council. From there the project began.
After getting the basics, we wanted to learn the story of Philip, and how he came to be so passionate about the sport and the idea of a park.
Terry and Denise took turns telling the story as we listened and started to learn about Philip, his friends, his family and his dream.
Philip was born Nov. 8, 1982. When he was a baby, his older brother Jason had a hard time pronouncing "Philip" and said it as "Flip". As such family things go, the nickname stuck and from then on Philip was called Flip as often as he was called by his given name. Years later when the "Flip" line of skateboarding products became popular, the name took on a new meaning.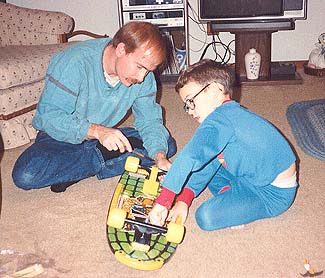 Philip and Terry Wyatt with Philip's First Skateboard
From almost the time Philip could walk, he liked skateboards. Philip was barely taller than a skateboard was long when he got his first real board with a Ninja Turtles theme. From there, Philip's passion for skateboarding only grew stronger.
After mastering the smooth floors of the basement and garage of the Wyatt home, Philip and his brother Jason began to construct ramps and other obstacles from whatever materials they could find. The sound of hard rubber wheels and scuffing sneakers was a constant background noise in the household.
Like parents remembering crayon marks on walls or toy dents in the furniture, Terry and Denise smiled as only a parent can when they said, "The scuff marks from those days are still there. "
As the boys grew older their cousin Derrick often joined them and Derrick's house became a frequent place to skate as well.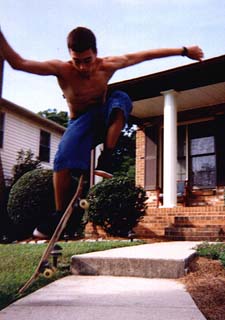 Skating at home and cousin Derrick's house was common

As their skills improved, the boys needed more challenges, which lead them to skate in public areas. This was perhaps the beginning of the events that lead to the dream of a park. A dream, which would not be realized until after Philip's passing.

As with many skateboarders, the quest for places to skate often took Philip and his brother or cousin to public parking lots or other places where they were not always welcome. Never troublemakers, they were still regarded as a nuisance by storeowners and others in positions of authority. When they were asked to leave one place they would try another until they found one where they could skate in peace. This led to a number of confrontations.

Giving us some background for an example, the Wyatts told us they both grew up in Danville, still work there, and have always felt connected to the city. Although they lived in Caswell County, NC during much of Philip's young life there was always that connection. Philip found more places to skate in Danville and so came here often.

They told us about a time when Caswell schools were closed and Philip assumed Danville schools would be also.

When he went to one of the Pittsylvania County schools to skate, he found the school was not only open, but the principal was not at all happy about his being there. "The principal took him into the office and threatened to charge him with trespassing", they said.

Emily Webb now in her mid-20's and employed by the university of Tennessee, shared some more insight. Her mother, since retired, was then a city employee and was aware of skaters and the difficulties they encountered. While she could not condone their use of city property to skate, Emily knew she was sympathetic to their plight. "I have a feeling she might have turned a blind eye at times when the kids were there skateboarding", Emily said.

As the boys grew older they sometimes traveled to find places to skate and often had to pay admission at parks far from home. This further fueled the desire for a recognized place to skateboard in the Danville area.

At 16 Philip began driving, which enabled him to work part-time and travel farther to skateboard.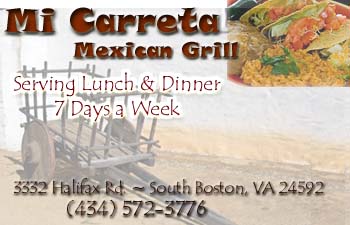 Philip got a job at McDonald's on Riverside Drive in Danville where was well liked. His job gave him the opportunity to earn money, which his parents say he was good about saving and putting toward his goals.
It was on his way home from work on Oct. 25 1999 when Philip lost control of his car in the single car accident that ended his life. His parents try to reach out to other young people with a message about Philip's accident. Philip had a full privilege license, and was a careful driver. He was driving on familiar roads, and was not speeding. What exactly happened will never be known, but it is felt that he either was momentarily distracted or overcorrected in a turn through the intersection and lost control of his vehicle. The Wyatts say it was likely his inexperience coupled with a distraction that caused the crash. Their hope is that other young people will remember this and exercise additional care.
Shortly after this, Emily Webb approached the Wyatts with the idea of doing something for a memorial. She and her Mother had talked about many options including planting a tree, a memorial bench or a plaque. Emily says now the idea snowballed - in a good way - and they finally came on the idea that a Skateboard park would be Philip's dream come true and a fitting memorial.
In mid-December of the same year, Emily who was only 15 years old at the time went before the Danville City Council and requested permission to raise funds for a local skate park and for a plaque in Philip's name to be placed there upon its completion. She was given permission to proceed and told to raise $1,000 and return before the board. Emily doubled her goal in a short time.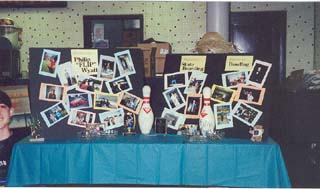 Display at "Pins For Flip"
From there on, the community really got behind the park idea. Local businesses donated and held fundraisers. There was a Skate-a-thon at the Recreation Center, a "Pins for Flip" event at the bowling alley and a "Tips for Flip" night at a local restaurant where servers donated half of the tips they collected that night. The McDonald's where Philip had worked, held a fundraiser while setting a regional record for the most cars through the drive-through - 331 cars in a single hour. Area businesses matched the fund raising amount, and over $23,000 was raised for the park fund in this single event.
Throughout 2000, numerous other fundraisers were held. Grants were applied for and awarded, and private donations continued to come in. During separate interviews both Emily Webb and the Wyatts repeated how they were nearly overcome by all the support and generosity of the community. Even local schools showed their support.
Emily told us that the members of the City Council were great about including her through the process. "These are things normally reserved for adults. I was just a kid, and they included me in everything.", she said. She went on to say how it shows even a teenager can make a difference if they try.
By early 2001, planning was well underway, and by mid-March the site construction had begun.
Excavation work at the Skate Park

The site for the skate park was handpicked on a walk-through of an area of the Dan Daniel Memorial Park designated for development as an adventure park. In the course of the interview, Denise Wyatt looked out at the scenery in the distance, and said, "It was great they let us pick this spot. It is such a beautiful place here."

The Wyatts pointed out the memorial plaque in a landscaped spot near the park gate. With a touch of irony, they said, "The date on the plaque says June 2001. That is when it was scheduled to open." Even such projects aren't immune to construction delays.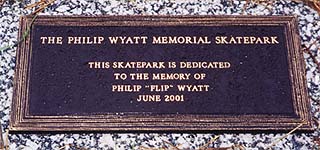 Dedication Plaque at Park
The Philip Wyatt Memorial Skate Park Grand Opening was held Aug 1, 2001. Over 100 people attended the dedication ceremony. Terry and Denise said, "The day the park opened and the sign went up, we felt Philip looking down and smiling."
Later when we talked to Emily Webb, she shared a similar sentiment. "I am proud and glad people will always be able to remember Philip by this." she said her voice thick with emotion.
The dedication of the park isn't the end of the story, but where the legacy of giving begins.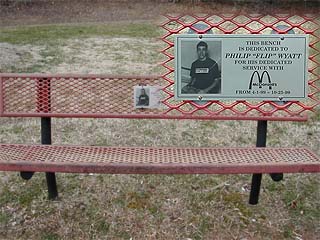 Memorial Bench Donated by McDonald's Corp. (Plaque Inset)
Here is where the family, friends, and community brought some very positive things from a tragic loss.
The entire experience helped not only the Wyatts, but also the community with the healing process. "We were amazed at how the community pulled together for this." said Terry. "It is hard to explain how much it helps to know how well liked your child is. You never really realize it until something like this happens and all the people who come forward to share their kind words about how much they thought of him." he continued.
Terry and Denise, both said, "People still come forward all the time and ask us for some personal item; or just to tell us they didn't know how to approach us at the time, but wanted to get in contact to tell us he was remembered."
One touching story involves a young girl, who made a small book and gave it to the Wyatts.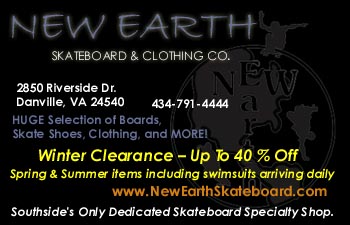 She was not in Philip's class or even his age. She was younger and Philip had just gone out of his way to show her some kindness. It made an impression on her and she always remembered." they told us as an example.
Terry and Denise spoke about some of the other positive changes they have seen as a result.
They told us that when Philip had his wreck, the school where he was a student, really wasn't prepared to deal with it. "It wasn't handled well, and they just kind of put it out over the morning announcements." Partially because of this, area schools have since taken steps to evaluate the way the loss of a student is handled. They have put things in place such as method of notification, grief counseling and making additional staff available for the students impacted.
In November of 1999 as part of the fund-raising efforts, the bowling alley in Danville (Then Danville Country Club Lanes II)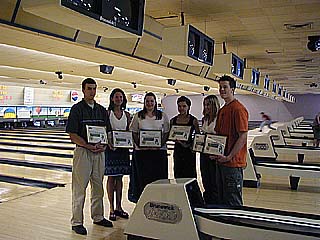 Scholarship Recipients at the Bowling Alley

Held a party to celebrate the Life of Philip "Flip" Wyatt and created The Philip Wyatt Memorial Scholarship. This scholarship was originally funded through the annual Event "Pins for Flip" and through private contributions. The first year, seven, $500 scholarships were awarded to area high school students. Scholarships continued to be awarded every year until 2006. In all, 16 recipients were awarded over $8000 in scholarships. This scholarship still exists, but is no longer funded.

Emily Webb and other friends of Philip's learned how young people can work with the system to bring about positive change.

The community has learned about the true nature of skateboarders. The skate park was initially supervised out of concern for injuries, vandalism or other trouble. It has since been determined such supervision is not necessary and the skateboarders have proven to be responsible and self-regulating.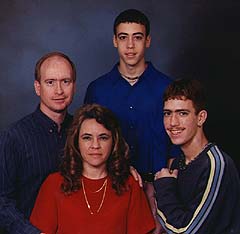 Last Family Portrait Taken

The park is now an open facility.

Of course the park is a special place for the Wyatts. In the time we spent there, a steady stream of skaters of all ages came and went. They told us, they often come to the park just to watch the kids skate and listen to the familiar sounds. "I feel like I can reconnect with Philip this way." Denise shared. Terry spoke about something a friend said one day. "The opposite of life here on earth is the 'Flip side'. We will see Philip again one day on the Flip side of life!"

Somehow, we are sure they will.

By WB Carver
Photos Courtesy of the Wyatt Family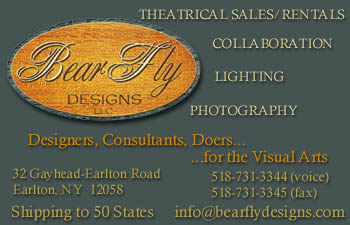 For more information about the Philip Wyatt Memorial Skate Park visit:
City of Danville Website - Philip Wyatt Skate Park
Danville Tourism Website - Philip Wyatt Skate Park.
If you would like to contribute to the maintenance or improvements to the Skate Park, contact Karen Cross at Danville Parks Recreation and Tourism at 434-799-5215 or e-Mail Jason Bookheimer Assistant Director Outdoor Recreation.
For more information about The Philip Wyatt Memorial Scholarship Fund, contact the Wyatt Family C/O - flip@discoversouthside.com
More Philip Wyatt Sites Online
MySpace Philip Wyatt Memorial Site.
A really good YouTube video about Philip.
Another good YouTube video of Philip posted by a different person.