---
Keeling Fly-In 2009
---
Event Coverage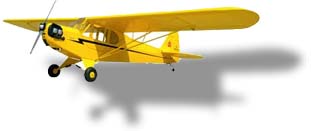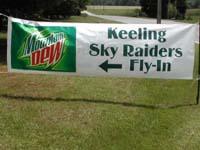 We have seen Radio Controlled Aircraft (Called RC for short) flying as an exhibition at different events, but had never been to a dedicated RC Fly-In. This changed recently through a chance spotting of a sign pointing to an RC Fly-In. We had seen the Keeling Skyraiders Fly-in sign before but didn't know what it was about. This time we decided to find out. Following the arrow a couple miles to the Skyraiders club field gave us an opportunity to get a taste of the RC Model Aircraft world, and meet some interesting people.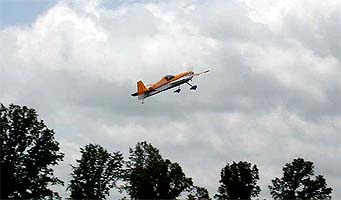 When we arrived, a look skyward told us the Fly-in was well underway. With the drone of high power-to-weight ratio radio controlled aircraft and the smell of nitro fuel in the air it was a pretty exciting beginning.
We had only been there a few minutes when Chris "Lucky" Carnes greeted us like old friends and took us under his literal and figurative wing.
We didn't know it when we first met him, but Chris is something of a celebrity. Not only is he a member of the Radio Active Airshows Exhibition Team, he has been featured in the national magazine Quest from MDA., and will also be featured in Model Aviation magazine, a publication from AMA. [See Chris Carnes Sidebar]
Chris told us a little about the event, and introduced us to some of the club members.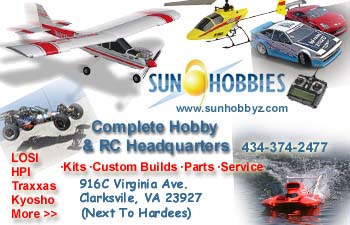 Our first introduction was to Mark Francisco, the club president. Mark told us a bit more about the club and the event, then took us down to the announcing stand to give us some flyers and other information.
The Keeling Fly-In is an interesting event in that it is a fund-raiser for a fund-raiser. Yes, you read that right. The Keeling event is held to raise money to sponsor their big fund-raiser in November. The November 6-8 event Fighter Flight Against Cancer is held at the Danville Regional Airport and all proceeds go to benefit the American Cancer Society. Last year in spite of being rained out two out of three days, the event was able to donate over $1,000 to the American Cancer Society after covering all its expenses.
Along the way we met several club members, most of whom were just as friendly and outgoing as Chris and Mark. This is a great group of folks and very family oriented.
Chris Carnes is from Chase City, Va.
He flies 3D aerobatics, giant scale RC and electric. What makes Chris so notable is this talented pilot is disabled by Muscular Dystrophy. Chris prefers to be known for his flying rather than his disability. As a member of the Radio Active Airshows Exhibition Team, Chris demonstrates through his flying that anything is possible.
According to the Quest magazine article "Carnes' co-aviators call him Lucky because, time after time when it seemed his planes were certain to crash, he miraculously brought them safely back to earth."
The talent and enthusiasm Chris displays is contagious; and those closest to home have become infected. Chris' wife Melanie and son Austin are both not only support team, but accomplished pilots as well.
We hope to talk to Chris again and follow some of his flying adventures in a future article.
Chris Carnes' Website is luckyrc260.googlepages.com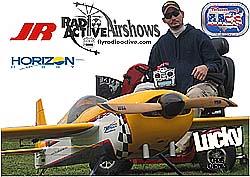 One of the members who deserves some additional recognition is Ralph Hitchings. Mr. Hitchings is not only one of the older members, but is the owner of the property on which the Keeling Skyraiders have their club field. Even more interesting is that The Skyraiders club got its name from the real AD Skyraider Reconnaissance Aircraft Mr. Hitchings actually flew in the Navy.
We asked Mr. Hitchings how he got into RC aircraft. He told us he had flown string control aircraft as a child, but it was his grandson who got him interested in RC in the mid-80's. He has since been a member of the Danville Air Modelers and the Keeling Skyraiders, which has been an active club for several years.
The RC pilots in the group ranged in age from 12 on up to their 70's, and some who weren't saying, maybe even a bit older.
The RC aircraft on display were anywhere from brand new, to 20-plus years old and showed examples of many different types from trainer fixed wings to more exotic stunt planes. Some of the models were purchased ready to fly, while others were hand built.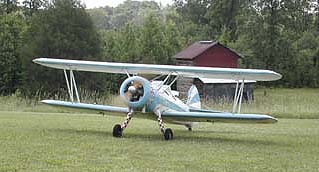 The variety was impressive. Single wings, biplanes, jets and helicopters were all represented. From hand-sized miniatures to the giant scales with wingspans measured in feet, there were as many sizes as there were kinds and styles. At a distance the giant scale aircraft were hard to distinguish from the real thing.
When we asked how much it costs to get into flying RC model aircraft, we were told that you can get a new entry level aircraft, with everything you need to fly, for under $200.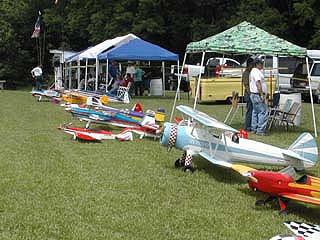 Not too bad to get started in a fun sport. If you are on a budget, you can get used equipment and with the help of friends and a little careful shopping you can find deals. Like any sport of course, you can also invest as much as your bank account (and tolerant spouse) can handle. We were told that some of the pilots had over $6,000 invested in their aircraft alone. This doesn't include some of the elaborate trailers and tow rigs we saw. Looks like when you decide to get serious in this hobby, "the sky's the limit". Pun intended.
While we were there, a few of the exhibition team members put on a demonstration of some talented flying. With several planes in the air at once, things got pretty exciting.
It was a nice afternoon, and we met some great people. We do hope to follow up with some future events and the people involved. If you are interested in learning more about flying RC model aircraft or would like to get involved in a club. Contact one of the clubs or members listed here, or check out some of the links below.
See more pictures from the Keeling Fly-In
Keeling Fly-In '09 Gallery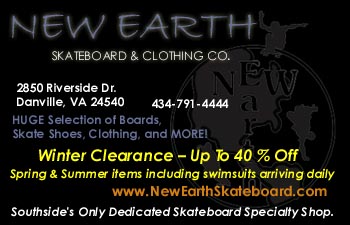 RC Links of interest

Fighter Flight Against Cancer
Event Website: www.fighterflightagainstcancer.org
Event Flyer: Download Flyer

Academy of Model Aeronautics
www.modelaircraft.org/

AMA District IV Clubs
www.amadistrictiv.org/clubs_loc.html

The International Miniature Aircraft Association
www.fly-imaa.org/index.html

Radio Active Airshows
www.flyradioactive.com/site/

RC Basics
rcvehicles.about.com/od/basics/u/Basics.htm

AD Skyraider Information
en.wikipedia.org/wiki/A-1_Skyraider

Douglas Skyraider Website
www.skyraider.org/

Chris "Lucky" Carnes
luckyrc260.googlepages.com/

Quest Article
www.mda.org/publications/Quest/extra/jan09/doghouse.html