---
Skateboarding In Southside Virginia
---
There is a lot going on in the Skateboarding world in Southside Virginia, and we will be bringing you event coverage, and stories of interest.
Next month we will bring you the story of the Philip Wyatt Memorial Skate Park.
The Philip "Flip" Wyatt Story - A Legacy of Giving
And we hope to give you a preview of the memorial website created by the Wyatt family.
So stay tuned.
In case you missed it, we ran a feature story on Skateboarding back in December. Titled "Skateboarding is Not a Crime" we share an eye-opening look at Skateboarding.
Listed below are some of the events coming up in the area.
These are great events for Skateboarders and spectators alike.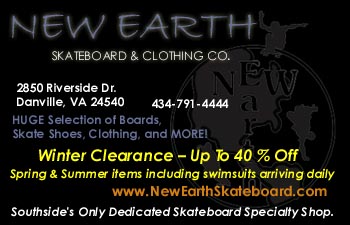 2009 SPRING EVENTS
(Contributed by Terry & Denise Wyatt)
The events listed below are all held at the Philip Wyatt Memorial Skate Park in Dan Daniels Park in Danville.
______________________
SATURDAY, MARCH 21 - ST. PATTY'S SKATE TOURNAMENT
EVENT HOURS: 4:30 - 7:30 p.m.
Celebrate St. Patty's Day by skateboarding till your heart's content. Please pre-register by March 19th, or payment may be made day of event.
______________________
SATURDAY, APRIL 18 - PLAY DAY SKATE FESTIVAL
EVENT HOURS: 3:00 - 6:00 p.m.
Enjoy a fun-filled day of skating to celebrate Danville's Playful City Play Day. This festival will be geared towards celebrating the freedom of skating. Prizes will be given away to the top two winners in each class.
Please pre-register by April 10, 2009.
______________________
SATURDAY, MAY 30 - SPRING SKATE OFF
EVENT HOURS: 11:00 a.m. - 2:00 p.m.
Don't miss out on the second competition of the year! Skaters will need to bring out their best tricks to take home the gold in this event. Each skater will get two solo runs to build the best score possible. Only two skaters from each category will continue on to the final round where they will compete head to head for first place.
______________________
SKATE PARK COMPETITIONS REQUIRE:
PARTICIPATION FEE: $5.00
FREE for Spectators
All participants must sign a waiver form before skating.
All participants are required to wear a helmet.
If under age 18, a parent or legal guardian must sign waiver form.
All categories are organized based on age for both male and female.
Call Outdoor Recreation at (434) 799-5215.
Events are co-sponsored by Danville Parks, Recreation & Tourism; New Earth Skate & Clothing Co.; and the Wyatt family.