---
Southside Gardener
---
March Tips for the Gardener
Contributed By William H. McCaleb
Master Gardener Coordinator
Virginia Cooperative Extension
What to do in MARCH
PLANT
Plant and transplant boxwood. It is best not to plant around the base of boxwood as they are shallow rooted.
Plant bare root shrubs after soaking in water several hours.
Plant new rose bushes in properly dug beds. Select a site which will provide at least 6 hours of daily sunlight. When planting shrubs, dig holes the depth of the rootball or container and 2 times the width. Rhododendrons and azaleas should be planted slightly higher.
Plant fruit trees, dogwood, magnolia, and other deciduous trees and shrubs before they fully leaf out. Dogwoods and magnolias are cold sensitive and should be planted in late March.
PRUNE
Prune hybrid tea roses in early March, leaving about 5 healthy canes from 18-24 in. long. Remove canes that rub against each other. Crepe myrtle should be pruned late March.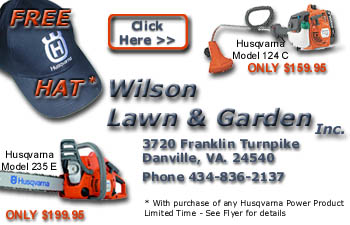 The "Indian Tribe" varieties, such as Natchez, Acoma, Hopi and Choctaw, are considerably hardier than many of the older varieties.
Prune only for a good reason; to remove elongated shoots that detract from the appearance of the plant, to remove dead or diseased wood, to encourage fullness on leggy plants, and to encourage flowering.
FERTILIZE
Fertilize lily bulbs when sprouts appear above the ground with a little 5-10-5 or 10-10-10 around each plant. To encourage floral growth, fertilize perennials with Plant-tone or 5-10-5 around plants in March and repeat at six week intervals with another treatment in late summer for late blooming plants. Vinca, ivy, and pachysandra may also be fertilized with 5-10-5 in early spring.
MULCH
Leave mulch over the plants to protect them during late cold weather. Keep mulch 8 in. away from tree trunks. Mulch large circles around dogwood to keep the bark from being damaged by lawnmowers and string trimmers and, ideally, mulch should be applied to edge of drip line to prevent compaction of soil.
Hardwood bark decomposes more rapidly than pine bark. The hardwood bark works well on banks and the pine bark for flower and shrub borders.
WATER
To promote better blooms, water daffodils if the weather is dry. Check first for freeze warnings. Wet soils that freeze 'heave bulbs' and can destroy young new roots.
CHORES
Clean old leaves and twigs out of boxwood, particularly in the center. Disease and pest damage can be avoided with proper sanitation. Turn compost pile.
If you didn't clean up the debris in your garden and tune up the lawnmower and other lawn-care equipment last fall, do it now!
Don't forget to wear green on St. Patty's Day!
If you have questions about your landscape plants, you can also call the Extension Office and ask to speak to a Master Gardener or the Horticulture Technician.
_____________________
William H. McCaleb
Program Assistant, ANR
Master Gardener Coordinator
Virginia Cooperative Extension
171 S. Main Street
P.O. Box 757
Halifax, VA 24558-0757
434-476-2147
fax: 434-476-7777
http://www.ext.vt.edu