---
AROUND DOWNTOWN SOUTH BOSTON
---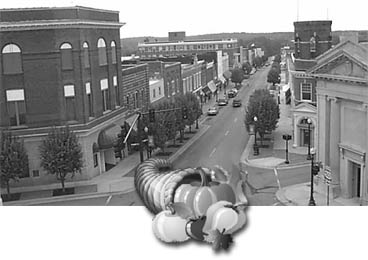 It's 'FALL', Time to Celebrate our Heritage
By Jerry Van Eimeren & Sara Davis
September, traditionally, is the time to celebrate the Fall harvest of the crops. Our parents & grand parents worked hard all year to plant their crops and looked forward to reaping the rewards of their efforts in the Fall. In South Central Virginia, more than likely, that meant the sale of tobacco at the auction warehouses.
That tradition is still celebrated today in Downtown South Boston with two major events in September. The first is the Tobacco Ball, which was a tradition from 1936 until 1941 as part of the National Tobacco Festival. It will be held in the Prizery downtown on September 20th with great food, entertainment and ballroom dancing. Tickets or information about this great event are available by calling (434) 753-2137 or email bdbass@cstone.net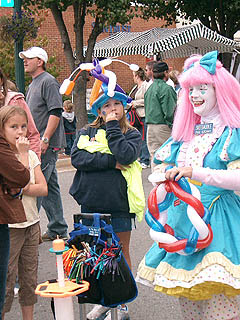 Our second Fall celebration is the 17th annual Harvest Festival which will be held in Downtown South Boston on Saturday, September 27th from 9am to 5pm and a concert celebration in Constitution Square from 7pm to 11pm. For young & old alike, the festival promises to be a day of great activities, wonderful entertainment, delicious food and handmade crafts. The streets will be lined with over 115 skilled crafters. A host of traditional, unique and beautifully handmade items will be available. Throughout the day there will be bounce houses, pumpkin-painting, a caricature artist, scarecrow-making, clowns and magicians.
Remember when you were a kid and you were given a new toy? The toy was great but the box and packaging was the greatest thing ever! You could make it into anything you could imagine. Well, that's what your kids can do at the festival when they visit The Scrap Exchange. They will be able to let their imagination run wild as they create a masterpiece from all kinds of exciting scrap materials.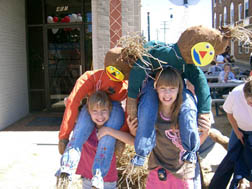 New to the festival this year will be famous juggler Paul Miller with Flow Circus and you don't want to miss singing and laughing along with Jill Klien Rone as she strolls the streets and entertains with her accordion. Speaking of music, visitors to the festival will enjoy a wide variety of entertainers on four stages, including a family entertainment stage. Continuous music will fill the air throughout the day.
Tobacco may not be as prevalent today, but a newer crop, grapes, has thrust Virginia into the 5th largest wine producing state in the Country. So adults at the festival can celebrate the Fall harvest of grapes by visiting our Virginia Wine Tasting Garden from 11am to 5pm. You will enjoy unlimited wine tasting from several Virginia wineries in your own commemorative Harvest Festival wine glass, sitting down relaxing to music and hor'douvres while making notes in your wine tasting guide. All this at a cost of $10 per adult (children accompanied by an adult are FREE & water & lemonade are available).
What's a festival without food? There will be lots of delicious food to satisfy any palate including crab cake sandwiches, funnel cakes, sweet potato fries, hot dogs, hamburgers, Asian cuisine, fish, hand-dipped ice cream and lots of pizza!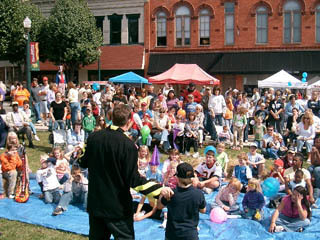 The festival may end at 5pm but it's not over. The evening will be focused on food, fun & music. There will be a Fall harvest music celebration in Constitution Square and The Prizery Downtown. Come down and enjoy a great evening meal from several of the food vendors and the band, 58 West out of Danville, will take the stage at 7pm to 11pm. They do some great beach music (so get ready to 'shag') as well as many of your favorites. Tickets are just $4 in advance at the information booth at the festival or $5 at the gate. (Children, 12 & under are free when accompanied by an adult) Beer & wine are available for purchase. The Prizery will host a concert by Hot 8, a New Orleans Brass Band at 7:30pm. Tickets are $28 for adults, $20 for seniors & students and $12 for youth. Go to http://www.prizery.com for tickets or more information.
There is no admission charge for the festival. Anyone wanting information about the festival is asked to call (434) 575-4208, email info@soboharvestfest.com, or visit the festival website at http://www.soboharvestfest.com. We look forward to seeing all of you and showing you our Downtown South Boston southern hospitality!