---
South Winds
(Random thoughts)
---
Man plans, God Laughs
Man plans, God Laughs. I believe almost every major religion or philosophy has some version of this truism.
Recently, I had a major decision to make. This was one of those decisions which would change my life, or at least lifestyle, for the foreseeable future. This decision involved career choices and financial considerations. It was a decision, which I could not make lightly.
So I stressed. All my pondering, considering, "Franklin Lists", and number crunching only brought me to a dead heat. I tried to reason it out with logic. I discussed it with close confidants. I tried positive self-talk and recited cliché's, such as "A bird in the hand..." and "Better to deal with the devil you know". Yet, I still endured the pain of sitting on the fence.
I knew what I wanted to do, and what was the most practical, but they were not the same. My heart and soul were pulling me in one direction, while economic and social considerations pulled me in another. I knew what was the most responsible and the most grown-up thing to do (in the mainstream, middle-American, work ethic, kind of way). But I also feel it is sometimes more important to feed one's soul than one's belly. The numbers said I would survive either way, but the next few months might be difficult if I made the wrong decision. The old saying "Do what you love and the money will follow" kept running through my head.
Due to the timing on some things, there came a point by which I had to make a decison to either jump or sit. My window of opportunity was closing in a few days...it was now or never. So, over the weekend, with no small degree of trepidation, I made my choice. I would take actions which would start the changes moving.
Monday morning came and I was determined to move forward before my resolve could weaken. For all my determination, I admit I was still a bit unsure if I was doing the right thing.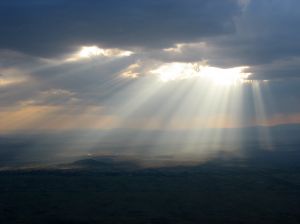 Sometimes life hands you clues if you pay attention. Before I could make my first step, several things happened in rapid succession. Each of these made the current situation more unpleasant, and the choice more obvious. Enlightenment came like rays of sun light through patchy clouds, accompanied by music from the celestial chorus. I knew I was making the right decision.
So I made the leap of faith and started the process of moving forward with my new plans. All along the way, things went better than I expected. I had done all the human footwork, turned the decision over, and it was paying off. I kept getting signs that I had done the right thing. As the day progressed, I felt great about the path I had chosen. That night I slept like a baby.
The next day I woke up elated. Now was time to put one foot in front of the other and move forward with the next chapter of my life. It was then I realized...
Man plans, God laughs. But if you listen very carefully, sometimes He lets you in on the joke.
Epilogue:
The following day, I got some news that was like a cold dash of water over my head. OUCH, the next few months are going to be much more of a challenge than I ever thought. Somewhere in the heavens, I heard what I thought was thunder on a clear day. Perhaps it was really laughter.
I am still waiting for the punch line.
-= FCOIT =-
If you have questions or comments about the Southwinds page
E-mail: fcoit@discoversouthside.com