---
Farmers Markets Build Community
---
Once upon a time, people grew or raised most of what they needed on their own farm. What they couldn't produce themselves, they found neighbors or tradesmen with whom to barter for things they wanted. As the world moved from an agrarian society to a more industrialized one, more people began to work at jobs away from home and buy their food from others. With this change, Farm Markets began to make an appearance on the landscape.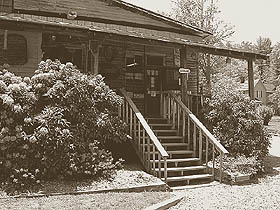 In time the Family Farm Market increasingly gave way to General Stores where goods of many types could be purchased all in one location. At these stores, one could often buy anything from feed and seed to nails to bolts of fabric, and of course food. These General Stores often became the focal point of the community. Not only could one get many of the things they needed or wanted, but could also catch up on the latest news, and see family and friends they might not get the chance to see otherwise. Going to the store was an event.
Time marches on and the General Store in turn gave way to "The Grocery Store", or "Super Market" and eventually to the chain store. Today we have the "Big Box Stores" and the "Super Stores" where you can buy just about anything under one roof. All this convenience comes at a cost. Food items are transported great distances and have lost much of their freshness and nutritional value. The personal service we once expected is missing, as is the local feel of the store. If you see family and friends there, it is more than likely only from across the multi-acre parking lot.
I am not saying all this is a bad thing. The reality of modern living sometimes dictates the way we shop. I am guilty of this kind of lifestyle, too. On my last trip to the W-Super Store, I was able to get shaving cream, a rake, a computer disc, and canned biscuits all in one stop.
There is, however, an option when it comes to fresh produce. It is the local Farmers Market. In the past decade or so, more and more people have become conscious of the benefits of buying locally when it comes to their food, and the local Farmers Market or farm stand has made a comeback. Today in most areas of the country many people are within a short drive of a Farmers Market. In Southside Virginia there is a market in, or near almost every community.

The Virginia Department of Agriculture and Consumer Services website states, "When you buy from local farmers, producers and processors, you're making a green choice, saving time, energy and expense because these sellers are located nearby, not across the country. Freshness, flavor and nutrition are optimal with Virginia products you buy directly from the farmer because they are harvested and prepared only when they are at their peak, and with reduced transportation time, they reach you quickly to preserve their outstanding qualities. Buying locally also keeps green dollars instate to help boost Virginia agriculture and the state's overall economic vitality. "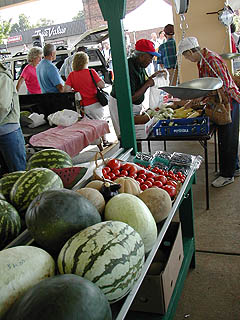 Although I do visit other markets when I get the chance, the Downtown South Boston Farmers Market is the one local to me. It has become part of my weekly routine to show up there on Saturday morning to do my "grocery shopping". Going to the market on a regular basis, I have met people who have become friends of a sort. I have gotten to know the vendors, and count on them to point me in the right direction for what I need, (and even give me a good-natured ribbing if I show up late and miss out on the best stuff). If I have something in mind to cook, I know one of them will usually have a recipe or suggestion. A couple weeks ago, one of the vendors at the market had a kind of squash I wasn't familiar with. When I asked her about it, she took the time to tell me what it was, how to cook it, and showed me how to pick the best ones. They were delicious. I can't remember that ever happening at the Super Store.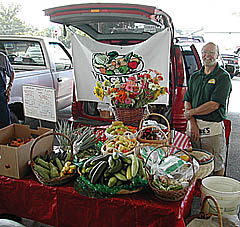 At the market you will often find cooking demonstrations or suggestions. At some markets the Virginia Cooperative Extension has provided information booths with free pamphlets on topics ranging from recipes to growing a drought resistant lawn. Topic experts and Master Gardeners are often on hand.
Many markets have special events, which combine entertainment with some of the best produce you can buy. Twice this summer, the Downtown South Boston Farmers Market has had music provided by Lawson Creek Grass Band. On Sept 20th the Martinsville Farmers Market will host "Great Goat Day" to "Celebrate the goats' role in the Farmers Market." Details were still taking shape at the time of this writing. On September 27th South Boston will celebrate the 17th annual Harvest Festival and the Farmers Market will be in full swing. Other markets around the area host similar events throughout the year. Contact your local market manager for a list of events
So if you are looking for an alternative to buying produce from the big all-in-one stores, or just want to spend an enjoyable morning seeing old friends or making new ones, visit your local Farmers Market. You'll be glad you did.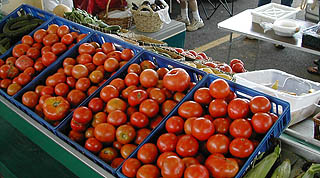 Resources and Credits
---
Ten Good Reasons to Shop at the Farmers Market**
Taste Real Flavors
Enjoy the Season
Support Family Farms
Protect the Environment
Nourish Yourself
Discover the Spice of Life ~ Variety!
Promote Humane Treatment of Animals
Know Where Your Food Comes From
Learn Cooking Tips, Recipes, and Meal Ideas
Connect with Your Community
**Reprinted with permission from
The Center for Urban Education about Sustainable Agriculture
For the full version visit - http://www.cuesa.org/sustainable_ag/issues/10reasons.php
For more information of the benefits of buying local food check out,
The Virginia Department of Agriculture and Consumer Services
Eat Local page.
or
www.localharvest.org
To find a Farmers Market near you -

The Virginia Department of Agriculture and Consumer Services offers a List of Virginia Farmers' Markets with around 130 markets.
The Local Harvest website has a searchable database of Farmers Markets showing over 100 markets in Virginia alone.
Click on http://www.localharvest.org/farmers-markets/ and you can search for markets near you by City, State, or Zipcode.
For the children, the USDA website has a free downloadable Coloring and activity book titled
"Having Fun At Your Local Farmers Market"