---
Parsley in your Herb Garden
(Herb of the Month)
---
Submitted by the Southside Virginia Herb Society
Parsley is a must for your herb garden
Parsley is a favorite culinary herb of the carrot family (apiaceae). It is a biennial herb meaning that the plant will grow foliage one year and foliage, flowers and seeds the next then die.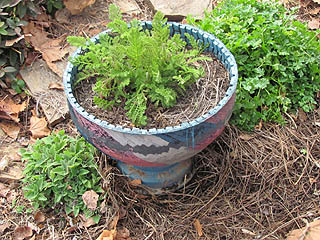 Flat leafed Parsley, on left mingling with Tansy and Catnip, is a carefree herb for your landscape beds. Herbs look great nestled in with flowering perennials and shrubs. Pinch off a few stems for a tasty addition to a tossed salad.

Petroselinum crispum or Curly Parsley is the type most often found at the garden center. P. hortense, Flat Leaf Parsley is a more flavorful type. All parts are edible, the leaves, seeds and roots can be used.

Originally a wild herb found around the eastern Mediterranean and Europe, it is now cultivated and grown around the world. The bright green-leafed parsley will generally overwinter in the Southside. The second year it produces its seeds so there are fewer leaves. The nearly white carrot-like roots are long and slender. The plants will grow about 18 inches high and spread out two or three feet in circumference.

Parsley seeds will germinate best after a 24-hour soak in water and are slow to germinate.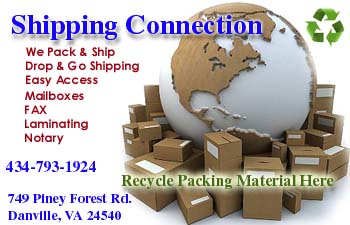 Raising plants from saved seeds is a bit tricky. Buying new plants each year is suggested. The plant requires full sun and well-drained soil. Water for the first three weeks after planting then let it receive moisture naturally through rain and dew. As with most herbs, parsley hates wet feet. The herb can be grown in a 10-inch pot or larger but thrives when planted in the ground. It is a favorite of caterpillars so plant enough for you and the caterpillars. The caterpillars will pupate into important pollinating butterflies.

Wait until the plant is sizeable and the leaves are well formed before harvesting. Early morning after the dew has dried is best for harvesting all herbs. Leaves may be dried but cut-up leaves frozen in ice trays with a small amount of water are more flavorful in soups and sauces.

Parsley, rich in Vitamin C, A, E and a number of minerals, adds flavor and zest to salads, soups, broths and a variety of pesto and sauce recipes. An essential oil can be made from the seeds as well as a tea from leaves.

Herb Dip or Salad Dressing


1 cup fresh parsley leaves
3/4 cup mayonnaise
3/4 cup olive oil (to be drizzled into the food processor slowly)
1/2 cup diced green chilies (optional)
1/4 cup red wine vinegar
1/4 cup sunflower, pumpkin or similar nuts
1 clove garlic
1/2 cup Feta cheese
Salt and pepper to taste

Place all ingredients into a food processor and slowly drizzle olive oil until mixture is liquid. If serving on a green salad, add extra feta and other vegetables of your choice. If using as a dip, add extra Feta. Cover and chill for one hour before serving.

Thin slices of the root are good additions to soups and stews. Pregnant women are cautioned to use only small amounts of this herb. Parsley adds gusto to any number of dishes including fish, poultry, hamburger, venison, potatoes, zucchini and tomatoes. A good summertime dish with fresh ingredients: add oregano, basil, parsley, diced onion and fresh chopped tomatoes to cooked hot or cold pasta with salt and pepper of course.

The name April is derived from the Latin Aperire, meaning �To Open�. One morning we wake up and suddenly it is green! That first green is neon to our eyes. April is called the �cruelest� month because we are convinced spring is here and then we get a hard frost that can kill fruit bearing buds. Since the peach blossoms are already open, this could be a reality this year. We need to spend our time cleaning up the winter accumulation of debris. Let the garden rest a bit longer. Everyone has his or her fingers crossed that the generally accepted last frost date of May 1 will hold. An old garden journal recommends you hold off planting tender plants until ten days after the dogwoods start blooming.

__________

The Southside Virginia Herb Society is a group of local enthusiasts interested in learning and sharing knowledge of gardening, crafting and cooking with herbs. Members come from Halifax, Mecklenburg, Lunenburg and Charlotte Counties.
For more information contact Kathy at 434-454-4208 or e-mail kathymmmg@hotmail.com.

__________