---
Freshwater Shrimp Harvest
---
Local "Seafood" in Southside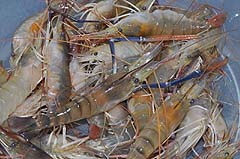 As more Virginia farmers are looking to expand and diversify they are considering farm products other than conventional agriculture. Many venture in to Agri-Tourism, into new and different crops, or value-added products.
One such farm product which has gained popularity in recent years is raising Freshwater Shrimp, or more correctly "Prawns" when referring to freshwater varieties. In addition to a viable cash crop, prawn farming can be a form of Agri-tourism, as pond-side sales are very popular. Customers have the unique opportunity to watch their food being harvested and processed. This makes for seafood as fresh as it gets.
In the past decade, this form of Aquaculture has become an increasingly popular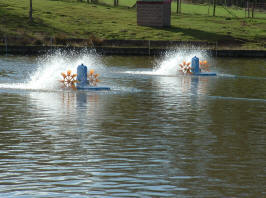 Prawn Pond Aerators provide improved oxygen levels for a healthy pond.

industry for Virginia farmers, and more prawn ponds are showing up around the region every year. While driving around rural Virginia you may have spotted a prawn pond and wondered what it was. A typical pond is between one-half and one acre and will have visible aerators.

When we heard about K&K Owen Farms in Chatham, VA having its "4th Annual Shrimp Harvest & Sale", we contacted Kevin Owen and were invited out to make a day of it. K&K is family-run operation owned by Kevin and Kent Owen. The Owens grow a variety of crops and have added prawns to their list. Kevin divides his time between farming and working as a Realtor for United Country Southern Properties.

The Owens started prawn farming after visiting an existing operation and doing some research. Along the way they realized it was a good way to support the community through local aquaculture. Studies have shown every job in agriculture and forestry supports 1.5 jobs elsewhere in the Virginia economy. Here was a way to keep more money and jobs in the community. They said, there has been a lot of curiosity about their prawn farming operation and people have told them they like the idea of locally grown seafood. We talked to one gentleman the day of the harvest who was interested in using some of his Virginia land for a prawn farm and had come to watch and learn.

There is a lot more to prawn farming than is obvious to the casual observer.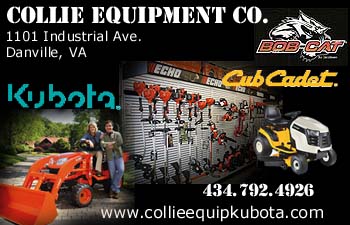 There are three phases in the culture of the freshwater prawn. The hatchery, nursery, and pond grow out. Since the hatchery and nursery phases are more labor and equipment intensive, most beginning farms in this area concentrate on the pond grow out phase and purchase juveniles from a supplier.
The climate in Southern Virginia is such that there are only enough warm days to mature one crop of prawns per year. The pond needs to be stocked early in the year with between 25,000 - 40,000 juveniles per acre. Kevin told us they stocked their pond with nearly 12,000 juveniles this year. The juveniles take from three to five months to mature to a size which can be harvested. This yields an average of between 300-500 pounds of mature shrimp for a half-acre pond like the one at K&K.
In the past K&K bought juveniles from a local hatchery, but due to a fire at the hatchery this year, they had to bring them from a hatchery out of state. The additional distance adds to the cost as well as the loss of juveniles in the transportation stage. After the pond is stocked, the prawn farmer has to combat factors affecting production such as disease, pollution, bird predation and weather. Kent told us they often see Herons or "Fish Cranes" at the pond helping themselves to a free meal. Drought and temperature play a part too, just like any other crop.
The day of the harvest is a long day for the crew.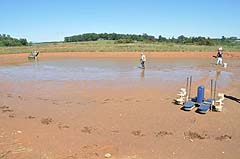 The prawn pond is drained as the crew watches.

The prawns are harvested by draining the pond through a pipe in the shallow end. K&K began draining their half-acre pond at 6:30 in the morning. By the time we arrived in the early afternoon, the water level was down to the shallow end and the shrimp were just beginning to come out of the pipe.

The whole Owen family participates on the day of the harvest. In addition to Kevin and Kent Owen, their wives Christi and Tammy, their children and several other extended family members and friends all pitched in.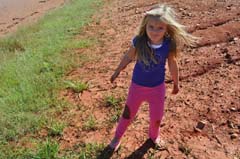 Five year-old Morgan Owen gets knee-deep in the prawn harvest.

When we first got out to the pond, Tammy Owen gave us the quick rundown and introduced us to five year-old Morgan Owen. Morgan wasn't pond-side more than a few minutes before she was literally knee-deep in things. We think Morgan may have been in either quality control or management as she seemed to be everywhere that day. As the Owens have been raising prawns for four years, prawn farming has always been part of Morgan's life.

The pond water is drained into a sluice or chute, where the prawns are netted by hand from the outflow. Once in the nets, fish and other aquatic life are culled from the shrimp.
| | |
| --- | --- |
| The pond water is drained into a sluice or chute | The prawns are netted by hand from the outflow |
This year there were a lot more fish than in the past. Kevin Owen explained why. To fill the shrimp pond they pump water up from another pond on the farm.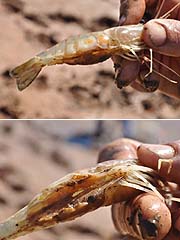 Kent Owen holds out a gravid female. Gravid females carrying eggs are termed "berried females." The bright-orange color of newly spawned eggs gradually changes to orange, then brown, and finally gray about 2 to 3 days before hatching.

This water is run through a filter system. Sometime during the overnight filling, the filter partially collapsed allowing fish eggs into the prawn pond. The large number of fish is a problem for the prawn pond. In addition to being competition for food for the maturing prawns, they create a lot of hand work separating them from the prawns as they are harvested. As the fish were pulled from the nets, they were placed in a large holding tank. The Owens planned to take them to another pond on the farm and release them.

Talking with the Owens they told us that the first year, they had quite a few fish. With better filtration the next two years they had only very few. Between the loss of juveniles in transit, the large number of fish and weather factors, this year's yield was expected to be low. They have had harvests which ran between 250 - 500 pounds of mature prawns, with last year being their best so far at about 500 pounds. This year they estimated would be around 300 pounds.

Not all of the prawns cooperate and come through the drain sluice. As the pond level gets lower many of them become grounded and must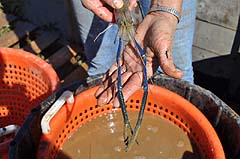 Blue-claw males are easily distinguishable and are characterized by long, spiny blue claws.

be picked from the pond bottom by hand. While Kent Owen was keeping an eye on things on the top side we asked him about the large number of prawns left landlocked. He explained the weather is a factor in the harvest too. On a nice day the prawns move with the water more, but on a cold, cloudy day they tend to sit still on the bottom making for a lot more hand-work.

After catching and culling, the prawns are then placed into tubs for transport back to the cleaning and chilling area. Here we got so see how meticulous K&K is about this phase of the harvest. We watched as the prawns were washed in several baths getting progressively cleaner before being placed in the chilling tank.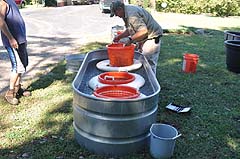 Kevin Owen places cleaned prawns in chilling tank. Carefully monitoring time and temperature.

Using a digital thermometer and stopwatch, time and temperature are carefully controlled.

After cleaning and chilling, the prawns are packed on ice and ready for sale. As the first few batches were ready for sale, people were already starting to arrive to get fresh locally raised prawns.

We asked if most of the prawns are pre-sold or sold the day of the harvest. Kevin said most will be sold on site, and whatever they have left will be taken to a local festival the next day and sold there.

We bought a couple pounds of the prawns to take home and sample for ourselves. One nice thing about buying local food is the opportunity to ask about the best ways to store and prepare it.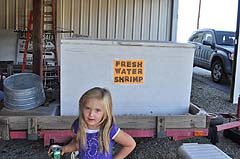 Morgan Owen guards the sales cooler as prawns await hungry buyers.

We came away with several good recipes, which are listed below. At the point of sale stand, K&K provides a printed list of recipes they got from another prawn farmer. Kevin's wife, Christi said her family likes them saut�ed in butter and garlic. Tammy Owen was good enough to e-mail us her favorite recipe for Shrimp (prawn) Scampi.

After a nice day at the farm, we said good-bye to the Owens and crew. With iced prawns in the cooler, we headed home to try some Virginia freshwater prawns on the grill. With much of the shrimp available in the grocery stores coming from overseas, it is nice to know these prawns come from right here in Southside Virginia. This time around we tried a suggestion we were told about before we left K&K; sprinkling the prawns with Old Bay seasoning, wrapping them in bacon with a slice of onion and charcoal grilling them on a skewer. The grilled prawns came out great. After tasting them, we have to admit, they taste just like...
...shrimp.

Info/Contacts

K & K Owen Farms, Inc.
4612 Climax Road
Chatham, VA 24531-3936
(434) 432-3716

Kevin Owen
434-441-0254
ke.owen1@gmail.com
Real Estate Website

Prawn Recipes

Broiled Greek Shrimp Scampi with a Parmesan Crust
(A family favorite - from Tammy Owen)

1/2 cup butter
2 tablespoons lemon juice
2 tablespoons minced garlic
1/2 teaspoon dried dill weed
1/4 teaspoon of salt
1/4 teaspoon of pepper
5 tablespoons dried bread crumbs
2 tablespoons shredded parmesan cheese
1 teaspoon dried oregano
1/2 teaspoon paprika
20 large shrimp,peeled and deveined

Preheat broiler with oven rack 6-8 inches from heating element. Melt butter in a saucepan over medium heat. Stir in lemon juice,garlic,dill,salt and pepper. Combine bread crumbs,parmesan,oregano and paprika in a small bowl and set aside. Coat a small casserole dish with nonstick spray and place on a baking sheet. Arrange shrimp evenly in the dish. Pour butter mixture over the shrimp evenly and top with the bread crumb mixture. Broil until the bread crumbs are golden brown, about 5 minutes. Then turn the oven to bake and cook additional 5 minutes.

*Prawn preparation and cooking tips