---
Southside Gardener
---
June To Do List for the Gardener
Contributed By William H. McCaleb
Master Gardener Coordinator
Virginia Cooperative Extension
What to do in June
PLANT
This is late for setting out perennials. If you must, be sure they are kept well watered and shaded from the hot summer sun for several days.
Scatter seed of forget-me-knots in damp shady spots.
PRUNE
Watch out for lilac borer and remove any infested branches.
Climbing roses bloom on old growth. Prune after they bloom.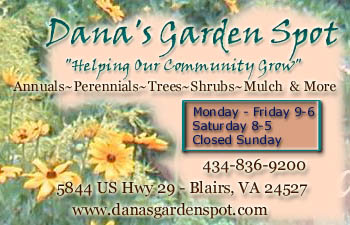 This is the last month to prune azaleas.
FERTILIZE
Fertilize azaleas and rhododendrons with 6-10-4 2# per 100 square feet for large plantings or use cottonseed meal or Holly-tone for individual shrubs after they bloom.
WATER
Watch the weather. If it rains less than one inch a week, your flowers will need watering.
CHORES
Raise clumps of daffodils if they are very large with a few blooms. Dig with a garden fork when tops are half brown.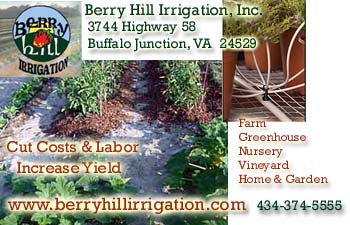 Loosen all around the clump and lift. Put in a pail of water or remove soil with hose. Never pull apart. Dry in a mesh bag in a cool dry place until October. Daffodils planted in beds should be divided every 4 years.
Divide and replant bearded iris between June and September. Good drainage is important to iris. Work a little sand or gravel into planning spot and plant so that the top of rhizome is left exposed. Cut foliage back to a fan of 4-6 inches.
You can safely move daylilies this month. Moving them while in bloom allows you to study color combinations.
Spray with Ferban those plants that are susceptible to mildew, such as hollyhocks, lilacs, monarda and phlox.
TIPS
When cutting rose blossoms, make the cut just above the 5-leaflet leaf. The new stem, which will grow at this point will be stronger and more likely to bear flowers than one from a 3-leaflet leaf.
To improve on rhododendrons, carefully remove the old blooms. The best time to do this is about 2 weeks after blooms have faded. The best method is by hand, so as not to harm the new leaf shoots under the blooms.
"Exercise for free – Grow A Garden This Year"
If you have questions about your landscape plants, you can also call the Extension Office and ask to speak to a Master Gardener or the Horticulture Technician.
_____________________
William H. McCaleb
Program Assistant, ANR
Master Gardener Coordinator
Virginia Cooperative Extension
171 S. Main Street
P.O. Box 757
Halifax, VA 24558-0757
434-476-2147
fax: 434-476-7777
http://www.ext.vt.edu