---
Of Birds and Wings
---
By Gertrude M. Slabach
Photos by Sarah Beth Slabach and Gabriel Burkey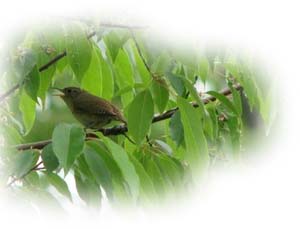 I noticed her the other Sunday morning when we were enjoying breakfast on the deck. Mrs. Wren fluttered from tree to hanging flower basket and back again. Soon her mate joined her, and both of them were swinging in the breeze as they perched on the hanging basket by the front porch.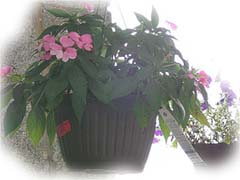 I told my gang we had a bird nest in the flowerpot, but nobody paid any attention. The next day when Dave watered the flowerpot, he startled Mama Wren and she fled her nest, momentarily.
I remembered another mama wren who built a nest in the clothespin bag on the back porch a few years back. That was when the porch was screened in and there were two holes, one near the top and one at the bottom of the screen. Sometimes she used the upper opening and other times she darted through the one at the bottom of the screen, especially when I startled her.
The morning I found the nest in the bag, I mentally accused my young son of stuffing leaves and twigs in the bag. I intended to discuss it with him when he got home from school. As I continued to empty the bag of leaves and twigs I found, instead, the remains of a wren's nest. Sure, I felt sad, but there was nothing I could do about it then since the nest had been demolished. The plucky wren merely built another nest, and I relinquished my clothespin bag to her. She warmed her eggs and eventually her birds hatched and then left to survive on their own. I called her Jenny, for she reminded me of the bird in a favorite childhood book*.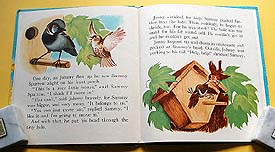 In the book, Jenny's mate Johnny looks everywhere to build a nest for Jenny, who will soon be arriving from the south. He builds nests in places high and low as well as dark and bright. Jenny arrives and scoffs at every nest he has built, and then she chooses to incubate her eggs in the house Farmer Brown has placed in a tree. This book was one of my favorites as a child, and also a top choice of my own children—small wonder, since I read it to them every spring when we saw birds building nests outside.
So when my Jenny Wren decided to re-build her nest in my clothespin bag, I allowed her to, and used her nest as a reason to use my dryer instead of hanging clothes out on the wash line. It was a busy summer, and it seemed that in no time the clothespin bag was empty again.
A few summers later, a bird claimed the wreath on the door of the front porch and built her nest there. When we discovered eggs in the nest, we quit using the front door because we didn't want to disturb the nest with our frequent entrance and exit through that door.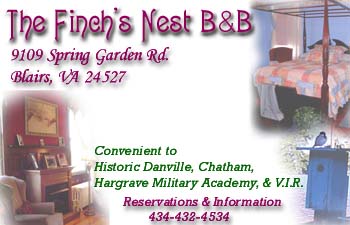 It was going to be a fun spring, I thought. I could easily pick the kids up and let them peer into the nest. We'd be able to watch the development of the young fledglings after hatching and, hopefully, be there to watch them practice their first flight.
Then one Sunday we came home from church to find scattered remnants of a nest and splattered eggshells on the porch. That afternoon, the boys found a large black snake that apparently thought he had staked his territory and was slithering through the side yard. We knew then what had happened to our nest. For once, I didn't hear about what a blessing it is to have black snakes around: they keep poisonous snakes and mice away, and they are our "friends." Dave never said a word as my boys decapitated the snake. While my kids didn't get to watch birth and life that spring, they did learn (again) that life is not always fair, and they learned (again) about death.
The loss of those unborn babies reminded me of another set of feathered parents who lost their newborn. My kids were much younger then, and we'd pick them up, lift the lid of the house, and let them peer inside at the tiny eggs in the nest. I had big plans for that spring also. We had a ready-made science class taking place in our back yard. Classes ended the day we heard the frantic cries of the bluebird pair as they swooped in frenzy around their birdhouse. Another large black snake had stuck his head into the nest, and they were helpless. Dave killed the snake, but not before the culprit had devoured all the hatchlings.
Then I remember the pair of bluebirds that built a nest in the birdhouse outside the kitchen window.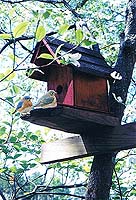 I claimed the pair as mine, and the kids knew to tread carefully in the side yard. On rainy days, the red walls and black roof of the bird house shaded by dogwood blossoms was a cheerful sight for sleepy eyes, especially when the brilliant blue of those birds flashed from limb to house as they brought twig after twig to build their nest. I had big plans for teaching my kids about life that spring. We were going to watch the eggs hatch and follow the flight of the fledglings as they left the nest. Until one day, a bullet found its way into the male bird, leaving the female alone and forlorn. She stayed a few days and then disappeared, leaving the eggs unattended in the nest. We didn't get to watch the babies hatch, follow the flight of the parents as they brought morsel upon morsel to feed their young, nor applaud from inside our windows as their offspring flapped their wings. **
So, while it is true that my kids missed out on watching Mother Nature take its course, it is also true that they learned a little more (again) about life—and death. I grieved and fretted at how unfair life was—that my son's first attempt at hitting a target ended with the loss of his mother's bluebird. He didn't intend to kill my bluebird but thought, instead, that it was a blue jay—and had followed the "no shooting in the yard" rule. We learned—yet again—that seasons come and go and that life gives and takes. We learned yet again to grieve—and to forgive.
The next year, two pair of bluebirds built their nest in the same set of bluebird houses. I never knew if it was the same female returning or just another pair of blue birds. At any rate, the sight of those bluebirds brought spring and healing to my heart. Each spring, I enjoy watching again as bluebirds build nests in the birdhouses outside my window.
This year, I've again watched the frenzied antics of birds building nests in the birdhouses.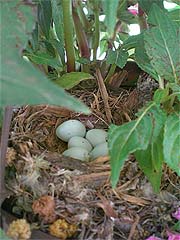 I can tell that eggs have been laid in those nests and that the parents are taking turns keeping those eggs warm.
In the hanging basket on the front porch, there are five eggs in the nest. Jenny Wren moves out of the way only long enough for Dave to water the plant. In a few weeks, those eggs will hatch and the parents will be kept busy feeding their young. Then later still, they will push their young out of the nest, teaching them to fly. Just like life. We build our nests, hatch our young, and care for them. We teach them what it means to soar and fly. We protect and nurture, and then, one day long before we're ready, it's time to release our offspring—and to say goodbye. In the grand scheme of life, we give them wings.
They grow up so fast. We're busy with paying bills, keeping laundry baskets from overflowing, and cleaning up the kitchen after cooking another meal. Seasons come and go. And then, one day, they begin to leave the nest. One by one. The noise from the chirping is diminished as each hatchling stretches his wings and flies away.
This month—this season—is a time of farewell and good-bye. Kids advance to the next grade (or stay behind one more year), or graduate and soon head off to college or to a new job.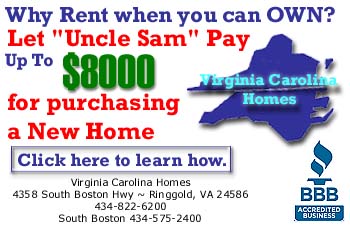 Marriage ceremonies are performed, and we bury the old (and sometimes the young). Time just keeps marching on—and while I would not stop time if I could, there are days when I wish I could go back and freeze just a moment or two. It doesn't happen that way. My fledglings are growing up and stretching their wings. They are learning to fly.
I can think of no better way to say, "I love you" than to allow them to expand those wings. I want them to soar higher than they dreamed they could, longer than I ever could, and farther than they thought they would. Fly on, my fledglings. May you mount up with wings like eagles! (Isaiah 40:31)
*[Jenny Wren's New House by Kay Patton. Copyright 1954 by Whitman Publishing Company, Racine, Wisconsin.]
Book Photo Courtesy of ChildhoodBooks.com
** [Ref: Bluebirds Forgiveness and Spring]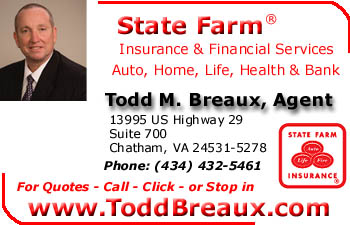 __________
Born and raised in western Maryland, Gertrude Slabach has claimed Southside Virginia as home for over twenty four years. She is an RN and works part-time at Fuller Roberts Clinic in South Boston, Virginia.
Gertrude and her husband Dave have six children; four sons and two daughters.
She is the author of three books: Aren't We Having Fun Dying?!, Southside Glimmers, and Always Mama's Girl. The books can be purchased at Windmill Farm Bake Shop, the South Boston-Halifax County Museum, or by contacting her at:
gertslabach@DiscoverSouthside.com
Read more about Gertrude Slabach's Books in print here >>>
__________