---
Homecoming
at Danville Community College
---
Focus on Alumni and Family
By Marie R. Harris
Homecoming at DCC focuses on alumni and family members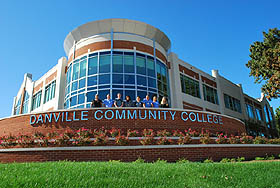 from Danville Technical Institute, Virginia Polytechnic Institute-Danville and Danville Community College, a group comprising over 75,000 individuals. "We look forward to seeing many people on campus who have not seen the facilities up close in a number of years. They will find interesting, hopefully exciting changes," said Connie Wann, secretary for the DCC Alumni Council.
"Our labs and instructional facilities show how rapidly technology has become an integral component in training in various areas, whether technical or liberal arts. They'll really get a close-up look at the medical fields that will serve the public for the next 20 to 30 years, as they tour Foundation Hall with medical and dental students at the end of Homecoming 2010."
During dinner, present DCC students from six organizations and classes will be recognized: Student Leaders, the Justice Club, Entrepreneur Club, Knights baseball team and nursing and dental students. "We are very excited about our second alumni homecoming at DCC.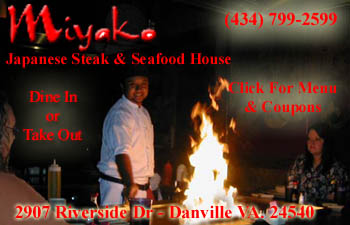 We hope that it will renew old friendships, establish new ones and promote a sense of pride and unity in our graduates as well as in our present students. DCC is an amazing institution that deserves recognition; our alumni deserve the same as well," commented Debra Carlson, DCC Alumni Council president, concerning the day's activities.
Outdoor festivities also include the firehouse manned by a local firemen, a popcorn machine constantly dispensing free popcorn and the batting cage, all for children who may be attending with parents.
While children play, alumni will be able to see construction underway and almost complete for the new student center reaching its final construction stages adjacent to the Charles Hawkins Engineering and Technology Building entrance. This is the third building to be constructed on campus in the past three years. It is unique cost wise, since it has been constructed totally with funding gifts from local organizations and individuals. Architectural drawings of the internal layouts will be available, giving alumni information on how the third new building will appear internally upon completion.
"Construction means change for the Danville Community College campus—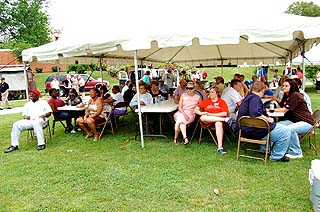 change that signifies what will be offered in the future for all incoming students and also represents the rich commitment to the campus that all alumni can be proud of," explained Shannon Hair, president-elect for the DCC Alumni Council.
Externally, alumni will see the Whittington W. Clement Learning Resources Center and the Hill and Hawkins facilities. Instructional buildings in the alumni festivities lawn area are home to labs and classrooms in air conditioning and refrigeration, industrial electrical principles, auto body mechanics, automotive analysis and repair, electrical/electronic equipment servicing, electrical/electronics technology, precision machining technology, welding, building trades and graphic imaging technology.
Shannon Hair, further said, "It is important to showcase the campus and highlight the history of the longevity of DCC to all the proud alumni by providing homecoming events on campus and campus tours."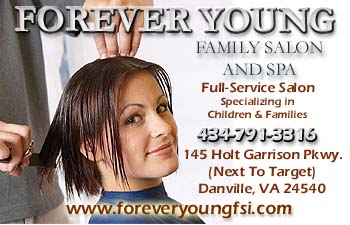 Tours after dinner will be conducted of Foundation Hall, the new health sciences building, which is expected to become the anchor building in the community's vision of the campus, as the old "Castle" building once was the anchor building.
During this second homecoming, Dr. Carlyle Ramsey, DCC president, will welcome alumni with an update on DCC's recent history that encompasses 44 years as a community college and 74 years as three colleges on the campus site.
Throughout the event, alumni will be able to walk the rapidly expanding campus, meet friends and former faculty members, meet present student representatives, discuss the future offerings of the alumni association and a new honors program to be announced, participate in drawings for DCC memorabilia and make purchases in the DCC bookstore. Items in the bookstore available for purchase include shirts, hats, mugs and book bags, all with DCC logos, and the DCC History, a 396 page history of the three campus institutions with over 150 photographs, published in 2006. Graduates who wish to find former classmates will be able to register by decades and be directed to areas to meet throughout the event.
Alumni from the three institutions comprising Danville Community College number 75,000 individuals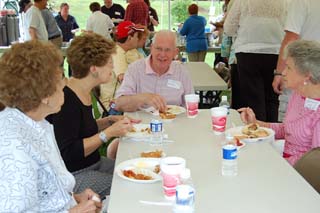 who live in regions throughout the U.S. as well as in many foreign countries. Because DCC was created in 1966 by act of the Virginia General Assembly from two campus institutions operating from 1937 onward, alumni numbers exceed other community colleges in the state. Community college alumni are considered individuals who have successfully completed degree or certificate programs as well as those who have passed at least one credit class. Sixty percent of residents in the Danville/Pittsylvania County/Halifax County region have taken classes at DCC.
Commenting on this fact Shannon Hair continued, "Throughout the previous decades of our region's economic downturn with a loss of both textile and tobacco, DCC has been the beacon of hope for all adults interested in furthering their education and in re-crafting their workmanship for better placement or re-entry into our community. This campus has touched so many people. Those single- or multiple-class alumni are just as interested in their college as diploma track graduates; because they were involved in upgrading of skills, retraining or engaging in new pursuits while on campus.
Parking for the event is available at Wyatt Building, Hill Building and Hawkins EIT, all accessible off Kemper Road. A paved walkway is present for handicapped accessibility.
Tickets for the Alumni Homecoming for Danville Community College and its former institutions are on sale for the April 24 event. Numerous activities along with barbeque dinner will occur on the athletic field adjacent to Foundation Hall and the Hill Building off Kemper Road and Neathery Lane. Events begin at 3 p.m., dinner begins at 4:30 p.m. and tours of Foundation Hall begin at 5:30 p.m. before the closing of the annual homecoming at 6 p.m.
Dinner tickets for $5 for each alumni and family member may be purchased daily in the Foundation Office, Room 211, Foundation Hall, South Main Street or may be purchased by mail with checks made out to the "DCC Educational Foundation."
Tickets purchased by mail will be held and available at the event entrance. Checks should be mailed to Styphenia Reliford, DCC Foundation Office, 1008 South Main Street, Danville, Virginia, 24541. For further information, call 434-797-8437, or e-mail alumni@dcc.vccs.edu.