---
Southside Gardener
---
This month's To Do List for the Gardener
Contributed By William H. McCaleb
Master Gardener Coordinator
Virginia Cooperative Extension
SPRING PLANTING
Plant azaleas. Be sure to choose them when they are first coming into bloom to be sure of color. All the "Robin Hill" and "Glen Dale" strains do well in our area. They are hardy to 0 degrees.
Clematis can now be planted where they receive six or more hours of sunlight. They grow particularly well in an eastern exposure. They like their heads in the sun and feet in the shade.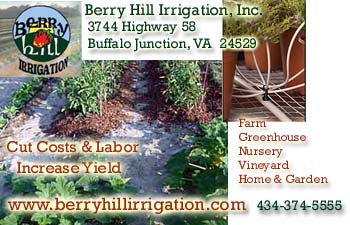 The Montanans are vigorous and ideal for covering large areas. There are very few varieties of clematis that appear to be successful in partial shade. The viticella varieties have smaller leaves and are said to be less susceptible to wilt. If their roots get too dry, they do get brittle and usually do not recover so if you are away on vacation, be sure to have a neighbor water them once a week if no rain.
PRUNE
Spring flowering shrubs, such as spirea, forsythia, and quince, should be pruned soon after blooming. Cut out 1/3 or more of old wood at this time, as well as spindly or out-of-line branches. This will give the pruned plant the rest of the season to put on new growth. The blooms form on last years' growth, not new growth.
Did you know...?
General Facts About Trees

• In one year, an acre of trees can absorb as much carbon as is produced by a car driven up to 8700 miles.

• Trees provide shade and shelter, reducing yearly heating and cooling costs by 2.1 billion dollars.

• Trees lower air temperature by evaporating water in their leaves.

• The average tree in metropolitan area survives only about 8 years!

• A tree does not reach its most productive stage of carbon storage for about 10 years.
Beautyberry can be pruned to the ground. It likes to be pruned and produces nice purple berries on new growth. Dwarf fothergilla should be pruned after it blooms. Cut all dead wood from lilacs and remove spent blossoms.
FERTILIZE
Feed needle evergreens with 10-10-10 or 5-10-5 if needed.
For healthier bloom and growth, feed lilacs with dehydrated manure and lime.
To promote spectacular blooms in summer on your crepe myrtles, fertilize lightly this month, and again in July, with 5-10-10 or another high phosphorus fertilizer. Crepe myrtles bloom best when planted in full sun. There are no known crepe myrtles that will bloom in partial shade or full shade.
MULCH
Mulch your flower beds to improve the texture of the soil and to conserve moisture.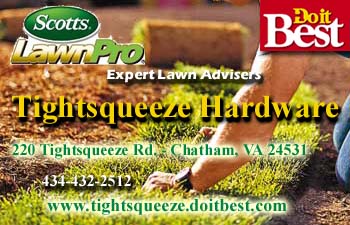 If your bulbs have already come up, be careful not to damage the foliage with the mulch.
CHORES
Divide summer blooming perennials if not done last fall.
Shasta Daisies, phlox, stokesias, asters, rudbeckia, coreopsis all need dividing every 2-3 years.
When dividing ornamental grasses, discard the center portion.
Divide chrysanthemums. Discard the old plant centers and replant the fresh shoots.
Check boxwoods for leaf miners and aphids. If investation is found, contact the Halifax Extension Office for recommendations.
Begin to spray tea roses, which are susceptable to black spot disease. Spray every 7-10 days with a fungicide recommended for black spot control.
Try to only use insecticides when absolutely necessary.
"Exercise for free – Grow A Garden This Year"
If you have questions about your landscape plants, you can also call the Extension Office and ask to speak to a Master Gardener or the Horticulture Technician.
_____________________
William H. McCaleb
Program Assistant, ANR
Master Gardener Coordinator
Virginia Cooperative Extension
171 S. Main Street
P.O. Box 757
Halifax, VA 24558-0757
434-476-2147
fax: 434-476-7777
http://www.ext.vt.edu