---
Container Gardening - Part 1
---
Building a Raised Bed Garden
If you live in a situation where a conventional garden is not an option, you might want to consider some form of container garden. A container garden is just what it sounds like. In its simplest form it is a box or other container, which holds the soil in which you plant whatever you plan to grow. It can be anything from a window box to huge framed area in a field. People have used everything from large flowerpots to old tires, from bathtubs and kiddie pools, to old truck beds for a container garden.
When we decided to put in a vegetable garden we realized we had no really good choice of location. Of the available places, none would quite work out for a conventional garden plot. Some areas were too heavily shaded by mature trees, while others were in the way of existing paths or other farm traffic.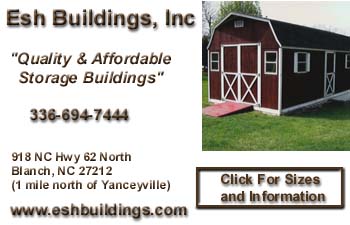 Some places that would work otherwise were either in the cattle pasture, or just too far from the house and water sources. The only decent location was in the middle of the back yard and was just not realistic to plow up. So we started looking at the idea of a raised bed garden and the project began. Raised Bed Gardens are one form of container garden. Usually a wooden frame filled with soil.
We make no claims on being any kind of expert at gardening. Most of our past adventures have been only marginally successful. If we managed to produce enough to eat, it was almost by accident. Undaunted by our past history we were determined to grow vegetables this year.
When deciding on a name for this series of articles, we passed over several good ones.
Mr. Brown Thumb Plants a Garden.
Killing Innocent Plants for Fun and Profit.
Are all my Plants Supposed to be Brown and Crackly?
After deciding those were just too negative, we settled on the current title "Container Gardening."
Knowing we would need all the help we could get if we were to pull this off, we enlisted the help of some great folks who are either suppliers of products we might use, expert gardeners, or just very good at holding our hand when we need it. In other words, we called in all the favors we could muster.
If we succeed, the people and businesses who provided the help, advice, products and services, deserve all the credit. So, the bottom line is that if we can do this, you can too.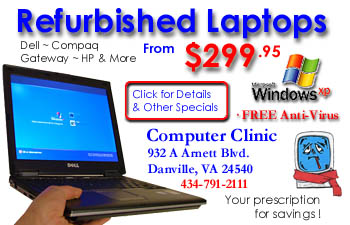 Throughout this project we will be buying local products and getting help, advice and services from businesses or organizations in the area. Did we mention, "Buy Local"?
To start off we asked about the reasons and methods for raised beds. Would it be practical for our purposes? What would it take? What size beds should we build and how to build them? First, we talked to Bill McCaleb, Master Gardener Coordinator for the Virginia Cooperative Extension. (Bill also contributes the great tips and info for our monthly column The Southside Gardener). Bill told us that a raised bed was a good project well-suited to this area and gave us some pointers.
Raised beds are good if you have a situation like ours, or if you have poor soil or drainage problems. In a raised bed you can mix your own soil blend, adding compost or fertilizer and some sand or other aggregate to promote drainage. In general, you can control your growing environment.
Bill recommended an excellent publication on Container Gardens from the Virginia Cooperative Extension. Written by Associate Professor Alex Neimiera from Virginia Tech, this is a great intro to container gardening. He strongly suggested that in building the frame we use either untreated lumber, or lumber that has been treated without the use of chemicals. For our project we plan to build two beds of Four Feet by Eight Feet each. The size is manageable, and with common lumber sizes available will make for an easy build and little waste. We looked for untreated lumber in some of the local lumberyards and couldn't find the materials we wanted. So we visited a local saw mill and acquired some 6"x6" rough cut "culls."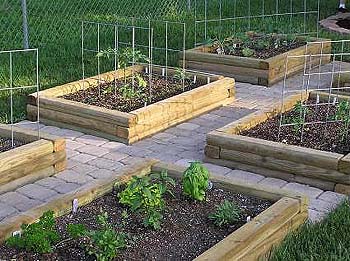 We plan to build 2 - 4' x 8' beds similar to these, using rough cut 6"x6" untreated lumber

These culls are lumber, which wasn't quite up to the standard for building, as they might have a crack, warp or knot hole. While not the best for building, they are fine for our use and are much cheaper than premium lumber. Although the untreated lumber will not last as long as treated lumber in ground contact, we think they will last three to four years and will not leach any chemicals into the soil. We will be stacking these 6x6's two high for an approximately 12" deep box.

For soil, you can use soil from your location, and add compost and other amendments, or bring some soil in. In the interest of time and labor and the best hope for our project, we are getting a load of already mixed soil from Dana's Garden Spot in Blairs. Dana's sells a nice mix of topsoil, and compost with some sand already added. We plan to fill the beds to eight inches deep and Dana estimated we would need about two and a half to three yards of soil mix.

When we were at Dana's she had just gotten back from a seminar on "Square Foot Gardening" and suggested we consider using some of the principles of this growing model. Square Foot Gardening is a plan where you intensely manage each square foot as if it were its own garden. This had also come up in conversation with Bill McCaleb. He said "Square Foot Gardening is sure a good way to grow a lot in a small area." Although plans were not final as of this writing, we may do one bed in conventional rows and one using the Square Foot methods and compare the results.

Since we have been known to either under or over water our plants, we will be using a drip irrigation kit to help keep us out of trouble. The kit we will be using is a Drip Kit for Raised Beds from Berry Hill Irrigation in Buffalo Junction.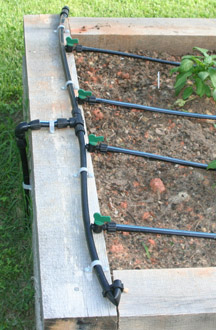 The folks at Berry Hill say this kit is good for up to eight 12.5 ft Long Rows,. This should be perfect for our two eight-foot long beds with four rows in each.
For plants and seeds we will be going to local sources too. One source for the plants will be Reese's Farm Fresh in Scottsburg. We like Reese's plants because they start most of the plants they sell in their own greenhouses. Anything they don't grow themselves, they make every effort to get from local and/or trusted sources.
For additional plants, on the first Saturday in May, the Halifax Cooperative Extension Master Gardeners will hold their annual plant sale. Starting at 7:30am on the 'green' in front of the FSA building in the Town of Halifax. They generally have everything from veggies, herbs, perennials, annuals, as well as shrubs and trees. We plan to be there to see what goodies we can pick up.
While we don't plan to attempt fully organic growing, we do hope to keep this as close as possible and use as many all natural methods and chemical-free products as we can. If we are going to grow our own produce we want it to be as healthy as it can be. The use of soil and plants from a known source, untreated lumber, and either our own compost or natural fertilizer should go a long way toward achieving this goal.
This is the first in a series of articles we will be running on a monthly basis through the growing season. We will try to have each installment out in time for you to follow along if you would like to try this on your own.
Wish us luck.
See a few pictures of getting the area ready for the raised beds.
Check out the rest of the series
Container Gardening - Building a Raised Bed Garden Part 2
Container Gardening - Building a Raised Bed Garden Part 3
We would like to thanks the following people and businesses for their help in this project. Without them this would not have been possible.
Berry Hill Irrigation, Inc.
3744 Highway 58
Buffalo Junction, VA 24529
Toll Free: 1-800-345-DRIP (3747)
Local or Outside the U.S.:
434-374-5555
www.berryhilldrip.com

BLC Building Centers
Boston Lumber Company
1099 Philpott Rd. (Hwy 58)
South Boston, VA 24592
434-572-6991
www.blcbuildingcenters.com

Dana's Garden Spot
5844 US Hwy 29
Blairs, VA 24527
434-836-9200
www.danasgardenspot.com

Reese's Farm Fresh Produce
8121 James D. Hagood Hwy
Scottsburg, VA 24589
434-454-6808
www.reesesfarmfresh.com

Tightsqueeze Hardware
220 Tightsqueeze Rd.
Chatham, VA 24531
434-432-2512
www.tightsqueezehardware.com

William H. McCaleb
Program Assistant, ANR
Master Gardener Coordinator
Virginia Cooperative Extension
171 S. Main Street
P.O. Box 757
Halifax, VA 24558-0757
434-476-2147
www.ext.vt.edu