---
Wedding Event Planning Tips
---
Advice for Planning YOUR Event
By John C. Carver
Bearfly Designs
General
This is YOUR wedding! Ask for what you want, but be prepared to compromise. Be a well-informed client so that you understand the process of creating a beautiful and successful wedding celebration. Learn everything you can.
If you have decided on a particular date, time or something that is truly important to you, don't be afraid to hold vendors to these requirements. Some vendors or venues will try to talk you into times, dates, menu selections, etc. that are more convenient for them. An offer of these things is acceptable (especially if they can save you some money or give you more options) but if a vendor won't budge, keep looking for the company that will do YOUR wedding.
Having said this, be prepared to be reasonable. Please do your best to avoid being a "zilla" (bride or otherwise).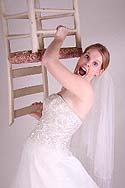 Keep in mind the old adage of getting more flies with honey than vinegar. Not all things are possible in all places or within all budgets. It could be, for instance, that there is not enough ceiling height or the venue has restrictions on open flames or what you'd like to do costs way more than you have budgeted. Your vendors can help you work out options to get the general look and feel of what you want to do and still keep within the parameters of reality.
From your very first meeting, your planner and the group of vendors you choose should make you feel that YOU are their priority on this most important day! You may be surprised at the information you can get from these sources. Most vendors have been doing weddings for several years and can provide insight to make your day even more special. Beware, however, of the vendor who just wants to "upsell" you simply to make more money for themselves.
It is the rare vendor who can do everything. They may need to bring in other vendors to help them. This is ok.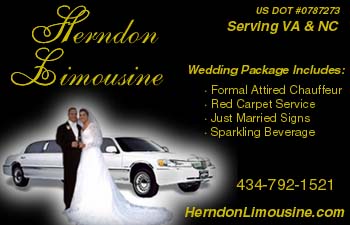 The true pro can admit when there is someone better equipped to handle certain situations and hire a sub-vendor or recommend to you another vendor. You should not feel badly about comparison shopping. Sometimes there really is only one vendor option. Maybe they are a family friend. Maybe you know their work and you only want to work with that one vendor. Maybe it is a simple as that one special touch you want is only available through one vendor.
Budget tips
There are three basic budgets to keep in mind while planning. The first is money. Settle on a figure and stick to it as best you can. Spend your money, yes – but spend it well. You shouldn't have to go broke to get married. If you share this information with an honest vendor, it will give him or her a good idea of how to give you the most value for your money.
The second consideration is the facility or venue. This is where you ask the questions about can do or can't do.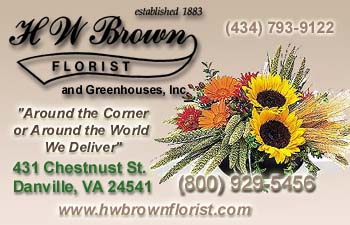 How much electric service is available for a band, what is the ceiling height, how am I allowed to decorate, what are your clean-up policies, is it an alcohol- and/or smoke-free facility, etc.
The final, and most often overlooked budget item, is time. Banquet halls and hotel venues, in particular, may have very tight schedules. The Lions Club is having a dance on Friday night and your wedding reception is Saturday evening. That leaves your vendors very limited time to accomplish what needs to be done for your big event. For your vendor, it translates into adding additional labor, which translates into more money from you.
Please keep in mind that the people working for you are running a business. This includes payroll, insurance, business overhead costs, etc. Labor and design time cost money. You may be able to find a particular "must-have" product less expensively through a source other than your vendor, but it is often design and labor that will increase your cost of that product. Somewhere along the line, is someone going to have to do something with it (put it together, electrify it, hang it, make it beautiful, etc.)? Sometimes it is less expensive to do it yourself, but think about if you can or should or even want to. Certain things take a large amount of skill to do well and safely.
Planning Tips
Give consideration to enlisting or hiring a planner/director or mistress of ceremonies to help you with your wedding day coordination. For all the planning, the actual wedding ceremony and reception go by very quickly!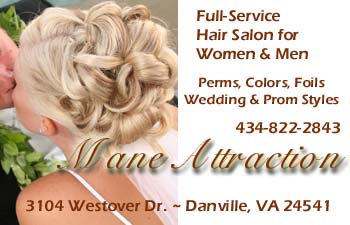 You deserve the opportunity to enjoy it! Spend time talking and dancing with family and friends rather than worrying about the little details of table settings, who has to be paid when, does the band or DJ have enough extension cords, is the coffee hot, etc.
Have your planner make up a rough itinerary for the day. This will help everyone get through the day much more efficiently. Don't freak out, however, if things sometimes take a little longer than expected. You may find that you must wait for that special aunt to come in from out of town and things need to be moved around a little to make sure she is there for a special toast. Any number of things can happen (we are talking about real life here). It is in how you and your vendors handle these bumps that makes the difference between a successful, wonderful wedding and potential disaster. Ask your vendors about "disaster possibilities" and get an idea of how they would handle the unexpected. All vendors have "war stories".
Venue Considerations
Most people get married or hold their reception in a particular place because they have a fondness for it. However, why should your wedding look like EVERY OTHER wedding in the same place? In many catering halls, for example, there is a "usual format", unless you request something specific. It is YOUR wedding, so you should feel free to ask for what you want. And you should be able to get it, if it is possible, without a fuss. Consider specific-to-you decorations or specialty lighting or a unique set up in the room. Dare to be different. Most catering halls have their chandeliers and or other lights on dimmers. You can use these to help create a wonderful romantic look. Every place has its special quirks, and most venues have printed material spelling out "do's and do not's". Ask about anything that concerns you. If you and your vendors know about all of these things early and are prepared to deal with them, your day will go that much smoother.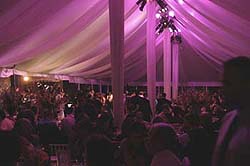 Tented weddings offer special opportunities. If you have the space for it, you can often get more people under a big tent than you can in the local catering hall. You have both inside and outside all at once. There are lots of good things about tents. They are a blank canvas for your designer vendors. A good designer can create almost any look in a tent from a deep forest to a starry sky to color washes to, well, pretty much anything you can think of!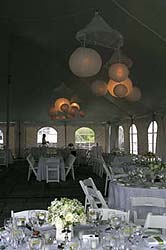 Tents also present certain challenges. The ceiling is soft, so there are limited places from which to hang things without specialty rigging. Electricity is a big consideration. If there are limited electrical outlets available near the tents location, this may limit what can happen underneath. Coffee pots, the DJ or band, warming pans, any type of lighting…all of these need electricity. You may have to have a generator or two. They are usually well worth the expense. Keep in mind that the general home-style generators are quite loud and will need to go a ways away from the party so folks can hear each other rather than the generator. You may need to have someone refuel them during the party. The tent rental company will often have generators that are quieter and will run for more than the length of your event with no problem.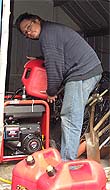 They cost more than borrowing your second cousin's uncle's, but if you have to yell at your guests to be able to be heard or have to shut certain things down periodically to refuel, you will have to decide if it's a worthy expense.
Keep in mind that most places will have at least some sort of restriction. This could be anywhere from only allowing LED candles with no live flame, not being allowed to put screw or tapes into or on the walls, no shooting off fireworks inside, or as simple as keeping things below a level where the neighbors call the cops on you. Some parks or municipalities have sound ordinances, fire bans, etc. Find out what those things are. Most of them are very easy to work around without a problem if you know ahead of time. If you have your heart set on something special and the venue will not allow it for some reason, decide if this is the venue for you. For example, if you want a bon fire out back for an after-party, make sure the venue allows it.
There are so many ways and places to get married. Catering halls, tents, barns, camp halls, fire houses, Elks Club, parks, fields, factory buildings, pavilions, parking lots, your back yard, almost anywhere. If it is right for you, DO IT! Just keep in mind that every wedding ceremony and reception venue holds opportunity and challenges.
__________
John C. Carver and Rita Kogler Carver - BearFly Designs, LLC
The Principals of BearFly Designs, LLC, John C. Carver and Rita Kogler Carver, have been involved in the Performing Arts since the late 1970's. They have worked in all facets of the industry including design, production, sales and management. They have worked extensively in the United States, and around the globe, doing Theater, Dance, Events, Opera, Concerts, Television, Film and more. They have one EMMY AWARD, two AXIEM AWARDS and numerous nominations between them.
John and Rita have worked in virtually every type of venue imaginable from outdoor theaters and barns to Broadway to major television networks. Complementing this extensive experience is a long shop tenure with various manufacturers and rental companies.
Visit their website at: www.bearflydesigns.com
__________