---
Southside Gardener
---
This month's To Do List for the Gardener
Contributed By William H. McCaleb
Master Gardener Coordinator
Virginia Cooperative Extension
INDOOR PLANTS
Give your house plants a shower this month and spray off the winter blues. Place plants in the tub and spray them down with tepid water. Not only is dust rinsed off, improving light absorption,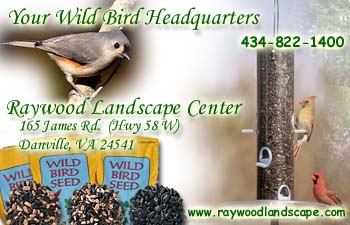 but pests such as aphids and spider mites are washed down the drain, too. Removing dust will also help to clear out clogged pores on the leaf surface, allowing the plant to "breathe" better. Let your plants sit in the tub for about an hour to allow excess water to drain off. Then empty standing water out of the plant trays before returning them to their usual place in your home.
Pruning Roses
If you didn't prune your roses in the autumn, you really must do them now. Take out all the dead-wood and reduce the long shoots back by a third to two-thirds and prune to an outside facing bud. This will prevent growth from congesting the center of the plant. The harder you cut your roses back, the fewer flowers you'll get, but the bigger the rose will be. If you only cut them back lightly, you'll get more flowers, but they'll be much smaller.
Chill air and wintry winds! my ear
Has grown familiar with your song;
I hear it in the opening of the year,
I listen and it cheers me along.

- Henry Wadsworth Longfellow
RECIPE:
Cornbread
3 cans pinto beans, drained and rinsed
Green pepper, chopped
Onion, chopped
Tomato, chopped
Chopped pickle
3 c. mayonnaise
1 c. pickle juice

Crumble cornbread into serving dish.

Layer beans, green pepper, onion, tomato and pickle.

Combine mayonnaise and pickle juice (if you do not have enough pickle juice to make 1 cup, add vinegar). Spread over salad.
- Brenda McDannald, Master Gardener
"Exercise for free – Grow A Garden This Year"
If you have questions about your landscape plants, you can also call the Extension Office and ask to speak to a Master Gardener or the Horticulture Technician.
_____________________
William H. McCaleb
Program Assistant, ANR
Master Gardener Coordinator
Virginia Cooperative Extension
171 S. Main Street
P.O. Box 757
Halifax, VA 24558-0757
434-476-2147
fax: 434-476-7777
http://www.ext.vt.edu