---
Wedding Jitters
---
The Funny Side of Marriage, Weddings
and Relationships in General
Wedding Jokes, Quotes and Cartoons
jitĚter - (j`t`ur)
intr.v. jitĚtered, jitĚterĚing, jitĚters
1. To be nervous or uneasy; fidget.
2. To make small quick jumpy movements.
3.Laughing uncontrollably at the collection of wedding jokes, quotes and cartoons in the Discover Southside Bridal Edition.
n.
1. A jittering movement; a tic.
2. jitters A fit of nervousness. Often used with the.
3.A collection of wedding jokes and cartoons in the Discover Southside Bridal Edition.
Synonyms & Related Words
pl.n. Slang cold feet -
Timidity that prevents the continuation of a course of action;
"I was going to marry him, but I read Wedding Jitters in Discover Southside and got cold feet"
---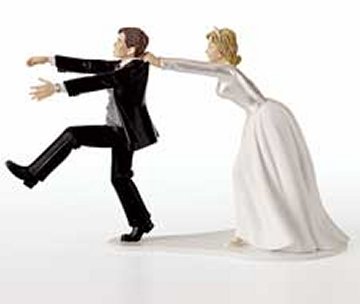 Funny Wedding Cake Topper
---
Walking Down the Aisle
While walking down the aisle, there are 3 words on a woman's mind: "Aisle, Alter, Hymn!"
---
Wedding Escorts
A little girl was at a wedding with her parents. After the wedding, she asked her mother why the bride changed her mind. "What do you mean?"responded her mother. "Well, she went down the aisle with one man and came back with another."
---
Why A Bride Wears White
A little girl at a wedding asked, "Mommy, why do brides always wear white?" The mom replied, "Because they're happy, dear."
Halfway through the wedding the girl whispered, "Mommy, if brides wear white because they're happy, then why do men wear black?"
---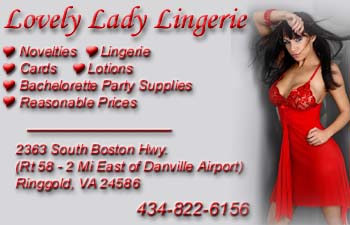 ---
Wedding Vows
During the wedding rehearsal, the groom approached the pastor with an unusual offer: "Look, I'll give you $100 if you'll change the wedding vows. When you get to the part where I'm supposed to promise to love, honor, obey and be faithful to her forever, I'd appreciate it if you'd just leave that part out.
He passed the minister a $100 bill and walked away satisfied.
On the day of the wedding, when it came time for the grooms vows, the pastor looked the young man in the eye and said: "Will you promise to prostrate yourself before her, obey her every command and wish, serve her breakfast in bed every morning of your life, and swear eternally before God and your lovely wife that you will not ever even look at another woman, as long as you both shall live?"
The groom gulped and looked around, and said in a tiny voice, "Yes", then leaned toward the pastor and hissed: "I thought we had a deal!"
The pastor put a $100 bill into the grooms hand and whispered: "She made me a better offer."
---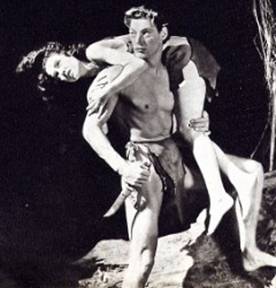 Early Marriage Proposals
---
Golden Wedding Anniversary
A couple was celebrating their golden wedding anniversary. Their domestic tranquility had long been the talk of the town. A local newspaper reporter was inquiring as to the secret of their long and happy marriage.
"Well, it dates back to our honeymoon," explained the man. "We visited the Grand Canyon and took a trip down to the bottom on the canyon by pack mule. We hadn't gone too far when my wife's mule stumbled. My wife quietly said, 'That's once.'
"We proceeded a little further and the mule stumbled again. Once more my wife quietly said, 'That's twice.'
"We hadn't gone a half-mile when the mule stumbled the third time. My wife quietly removed a revolver from her pocket and shot the mule dead.
"I started to protest over her treatment of the mule when she looked at me and quietly said, 'That's once'."
---
Newlywed Conversation
"Dear, don't expect the first few meals to be great. It takes time to find the right restaurant."
---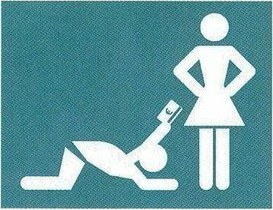 ---
Marriage Seminar
While attending a Marriage Seminar dealing with communication, Tom and his wife Grace listened to the instructor, "It is essential that husbands and wives know each other's likes and dislikes." He addressed the man, "Can you name your wife's favorite flower?" Tom leaned over, touched his wife's arm gently and whispered, "It's Pillsbury, isn't it?
---
WEDDING DRESS FOR SALE.
Worn once by mistake. Call Stephanie. 555-1212
---
---
If your wife laughs at your joke, it means you either have a good joke, or a good wife.
---