---
Editor's Page
---
State Park closures - Hey brother can you spare a dime?
"Every time I close the door on reality,
it comes in through a window."

~Ashleigh Brilliant
A friend sent me a headline the other day about the list of state parks slated for closure under Gov. Bob McDonnell's proposed budget cutting plan. According to several sources, this is part of a budget cut trying to fix a $2 billion budget shortfall. On the surface it appears closing these parks might save the state about $500,000 a year. Sounds to me like trying to prop up a house with a toothpick.
Before you think I don't see the forest for the trees (pun intended), I do realize when faced with a massive debt, you have to cut corners wherever you can. But is closing a few parks the answer? I don't think so.
First of all, let's take a look at park usage in today's world. As we try to fight obesity and stress, doctors and other health pundits consistently recommend more exercise and outdoor activity.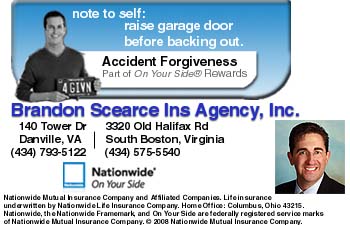 With increasing urban population, state parks are one of the few options available. Why would we close off more and more places to get low-cost outdoor recreation? In this time of economic stress, people are trying to save money by doing more things closer to home. For many, especially those with young families, state parks are one of the few viable forms of affordable recreation.
After doing some more reading, and getting some "Sadistics" [Numbers that make you cry], I learned a few things that made this proposed course of action even more disturbing. Virginia is already way behind other states in supporting its state parks. According to the National Association of State Park Directors, "Last year Virginia ranked 46th in parks spending per capita and 47th in percentage of state general funds devoted to parks."
Forgetting for the moment that it is pretty much a given that every tourism dollar contributes more than a dollar back to the communities, let's look at some other numbers.
While I make no representation of being an economic wiz or even particularly good at math, these figures seem to add up.
According to the Census Bureau, the estimated population of Virginia in 2008, was 7,769,089. ( http://quickfacts.census.gov/qfd/states/51000.html )
State park attendance in 2007 was 7,452,271 ( www.dcr.virginia.gov/state_parks/funfacts.shtml )
Growth in State park attendance for the 14 years between 1994 and 2007 was 3,054,283 for an average growth of 218,163 visitors per year. If we use these numbers for projected growth, we would see approximately 8,106,760 park visitors for the year 2010.
If you are still with me at this point, here is my suggestion. Let's put up an honor box at each of the state parks. If, on average, each park visitor only put in 10 cents - just one dime - it would net the state $810,676.* That should cover the $500,000 they think we will save by closing the parks, with a little over $300,000 to spare.
Hey brother can you spare a dime?
This column could also have been called "Pass the plate" or "Put a quarter in the Jukebox", but a dime looks like it would be enough to get the job done.
* Revenue of $810,676 would, of course, be reduced by the cost of the actual boxes and the bureaucratic red tape and overhead costs of collecting all those dimes.
______
FOLLOW UP: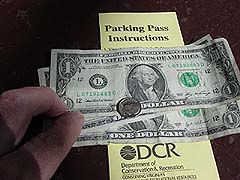 On a recent trip to Occoneechee State Park since they already have a collection box and three-dollar admission in place, we put a dime were our mouth is.
Just thought you might like to know.
______
Thanks again to all who contributed to this issue, and please support our advertisers
WB Carver - Editor/Publisher
Opinions expressed here are the sole responsibility of the author. No endorsement by any advertisers or other parties is implied in any way.